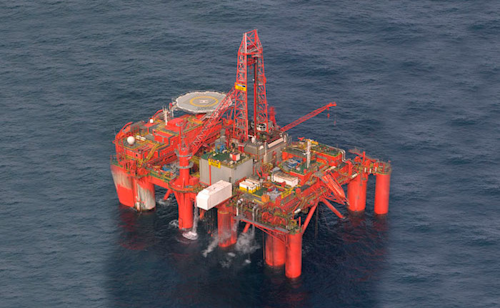 (Courtesy Dolphin Drilling)
Offshore staff
LONDON – Dolphin Drilling's semisubmersible Borgland Dolphin has P&A'd i3 Energy's 13/23c-9 pilot well on the Liberator field in the UK central North Sea.
This followed completion of a vertical seismic profile survey and shear wave sonic logging.
Soon the rig will mobilize to drill the Serenity SA-01 well, the second in the current program, and operations will start following the receipt of consent from the UK's regulatory authorities.
To minimize standby costs, the rig has been down-manned. Once drilling gets under way, the well is expected to take around four weeks to complete.
i3 Energy has acquired a recently processed 3D seismic data set that it plans to integrate into its modeling ahead of drilling the LA-03 appraisal well at Liberator.
The data should allow application of an inversion process, facilitating further interpretation of the channel sand architecture. Results will be integrated with i3's existing mapping to confirm that LA-03 well, on the western part of the Liberator structure, is at an optimal location.
09/20/2019