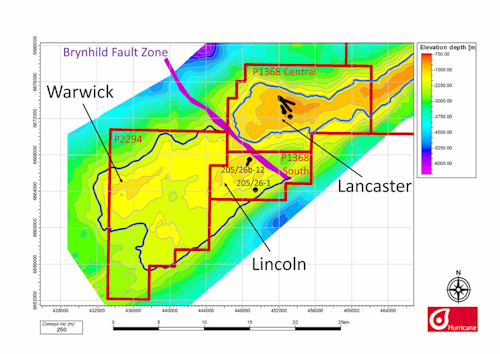 (Courtesy Hurricane Energy)
Offshore staff
GODALMING, UK – The Lincoln Crestal well west of Shetland has reached TVDSS of 1,780 m (5,840 ft), according to Hurricane Energy.
This is the second of three back-to-back wells the company and partner Spirit Energy are drilling in the Gretater Warwick Area, using the semisub Transocean Leader.
Lincoln Crestal, spud on July 12, has intersected a 720-m (2,362-ft) horizontal section of fractured basement reservoir. Currently the rig crew are preparing for drillstem testing.
Hurricane also provided an update on the Lancaster field early production system in the same area, which started on May 11.
Since first oil, production has been constrained by the use of only one of two subsea flowlines, for operational reasons. This has limited maximum throughput capacity and activities needed to improve understanding of the fractured basement reservoir performance.
However, both flowlines are now in service. The company's analysis of water production indicates the presence (within expected ranges) of stranded or perched water, but no signs of aquifer water.
Water cut analysis should improve now that both flowlines are available and allow for flow rate variation to be performed from the wells, in order to optimize performance.
Upcoming tasks over the next few months will include fuel gas compressor commissioning to reduce long-term flaring levels and opex; and produced water system commissioning.
09/03/2019