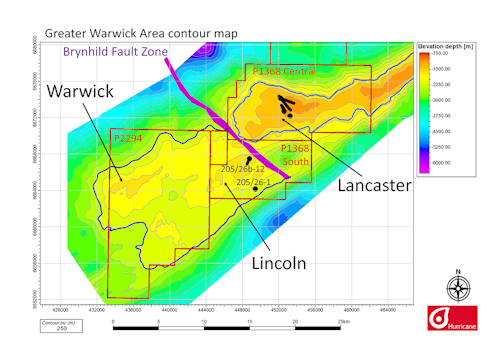 Hurricane Energy
Offshore staff
GODALMING, UK – Hurricane Energy and partner Spirit Energy will P&A the 205/26b-13Z (Warwick Deep) well west of Shetland, after completing a drillstem test.
The well, which was drilled to 1,964 m (6,443 ft) TVDSS, included a 712-m (2,336-ft) horizontal section through fractured basement reservoir.
Initial analysis suggests the well intersected a poorly connected section of the fracture network within the oil column. The well did not flow at commercial rates, and delivered a mixture of drilling brine, water, oil and gas.
Following the P&A, the semisubmersible Transocean Leader will drill the 205/26b-B 'Lincoln Crestal' well, the second of three planned wells on the Greater Warwick Area.
Spirit farmed in to the surrounding P1368 South and P2294 licenses last September.
Dr. Robert Trice, Hurricane's CEO, said: "We were initially encouraged by hydrocarbon shows and gas ratio analysis indicative of light oil, however, drillstem testing has clearly demonstrated that Warwick Deep cannot be considered suitable as a future production well…"
He added that Lincoln Crestal (assuming a successful outcome) is now the preferred candidate for a tieback to the FPSO Aoka Mizu, currently performing early production system operations at the Lancaster field.
07/01/2019