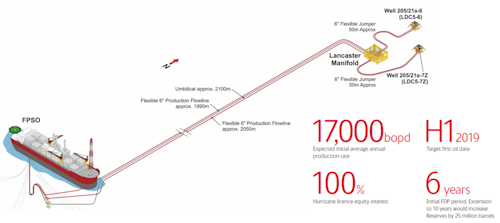 Hurricane Energy
Offshore staff
GODALMING, UK – Hurricane Energy has issued an update on the progress of the early production system (EPS) at the fractured basement Lancaster oil field west of Shetland, which started operating on May 11.
Initially each of the two wells (205/21a-6 and 205/21a-7Z) underwent separate tests before both flowed together to achieve first oil.
During the shut-in periods the flowlines were circulated (pigged) to diesel, in line with the company's flow assurance strategy.
The individual flow tests, which did not require downhole electrical submersible pumps, delivered initial stable flow rates of up to 16,500 b/d on both wells, with results suggesting only low drawdowns would be needed to achieve high natural production rates.
Data collection during the start-up phase included measuring interference between the wells, which proved to be instant. Although this appears to be a positive indicator for fracture network connectivity, there is also a risk that the two wells may act like a single wellbore.
Hurricane therefore plans careful management of increased flow rates between the two wells.
Shut-in tests identified no pressure barriers and confirmed the strong dual porosity dip and late time drop, which indicates the contribution of an extended network of fractures, joints, and micro-fractures.
While the 205/21a-6 well produced dry oil, the 205/21a-7Z well had a water cut of up to 8%. The water cut does not change with drawdown and appears to be perched water rather than early breakthrough of aquifer water.
Initial pigging runs indicated minimal wax build-up. Longer-duration pigging intervals are now being tested, and Hurricane expects its initial flow assurance assumptions will prove to be conservative.
07/11/2019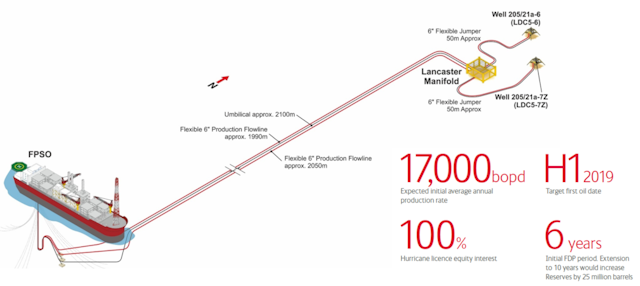 Early production system at the fractured basement Lancaster oil field west of ShetlandHurricane Energy