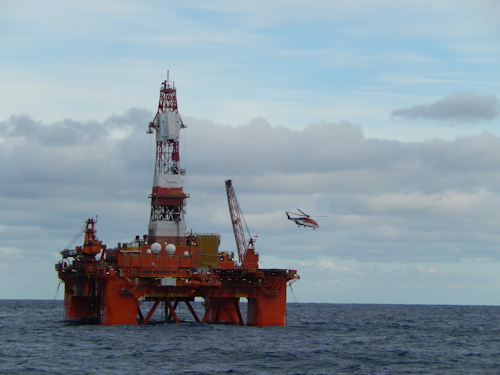 (Courtesy Transocean)
Offshore staff
KASSEL, Germany – Production drilling has started on the Dvalin gas field development in the Norwegian Sea, operated by Wintershall Dea.
The four-well program, conducted from the semisubmersible Transocean Arctic, should take around a year to complete.
Activity since April at the field, 259 km (161 mi) north of Kristiansund has included installation of pipelines and the subsea manifold at a water depth of 400 m (1,312 ft).
Earlier this month a 3,500-metric ton (3,858-ton) processing module was lifted on to Heidrun platform which will start receiving Dvalin's gas in 2020.
Four subsea wells will be tied back to Heidrun via a 15-km (9.3-mi) pipeline. From there, production will connect via a 7.5-km (4.67-mi) spur line to the Polarled gas transportation system, finally landing ashore to undergo further processing to dry gas at the Nyhamna terminal.
Dvalin holds estimated reserves of 113.3 MMboe.
08/12/2019