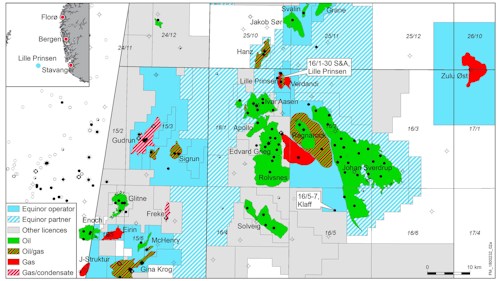 Equinor
Offshore staff
STAVANGER, Norway – Equinor has discovered oil in the Lille Prinsen Outer Wedge structure on the Utsira High in the Norwegian North Sea.
The well was drilled on licence 167, 1 km (0.62 mi) west of last summer's Lille Prinsen Main oil find and 5 km (3.1 mi) northeast of the Ivar Aasen field.
Equinor estimates volumes in the main reservoir in the 5-25 MMbbl range, but it is not clear yet whether the accumulation is commercial.
Evaluation of further segments of Lille Prinsen, and earlier discoveries in shallower formations, will determine the need for further appraisal.
Recently the company made another small oil discovery on the Klaff prospect in PL 502, 1 km west of the Johan Sverdrup field in the same region.
This was in fractured basement rock, and it is unclear at present whether the oil is recoverable. Pending new information and interpretation of acquired data, the preliminary interpretation is that the well was dry.
Elsewhere in the North Sea, Aker BP has permission from Norway's Petroleum Safety Authority to drill two appraisal wells in block 25/4 on PL 203, using the semisub Deepsea Stavanger.
Drilling operations on wells 25/4-14 S and 25/4-14, both east of the company's Alvheim field, should begin during the second half of August and continue for 22 days.
07/26/2019