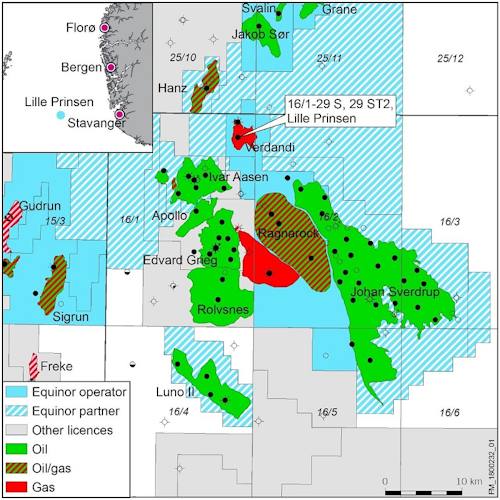 Offshore staff
STAVANGER, Norway – Equinor has proven more oil in the prolific Utsira High region of the Norwegian North Sea.
The semisubmersibleDeepsea Bergen drilled well 16/1-29 S on the Lille Prinsen prospect in 114 m (374 ft) water depth in license PL167. Equinor estimates recoverable reserves in the range of 15-35 MMboe.
According to the Norwegian Petroleum Directorate, the well encountered a 95-m (311-ft) oil column, and an oil/water contact at 1,947 m (6,388 ft) below the sea surface.
Nicholas Ashton, senior vice president, Exploration, Norway & UK at Equinor, said: "This is a good discovery which we expect will be commercial. In addition, the results from the drilling indicate an upside potential in this discovery."
The well made a further discovery with good reservoir quality over the main structure, however the potential volume remains to be determined. In addition, it appraised the 2004 gas discovery Verdandi 2 km (1.2 mi) to the north, where the estimate of 4-11 MMboe is unchanged.
Further work will be needed to assess whether these two shallower reservoirs can be commercially developed.
Once the company and its partners are clearer on the full potential of the production license, they will consider a development through existing infrastructure in the area.
TheDeepsea Bergen will next drill appraisal well 15/3-10 in PL025 in the central Norwegian North Sea for Equinor.
06/08/2018