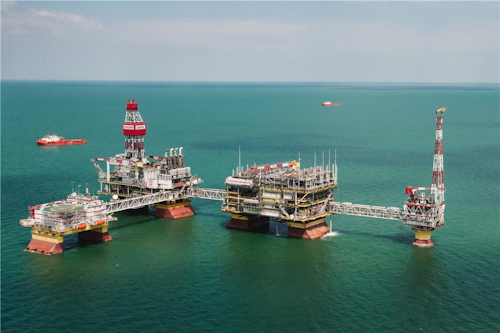 Lukoil
Offshore staff
MOSCOW – Lukoil has commissioned two more production wells at the V. Filanovsky field Phase 2 development in the Russian sector of the Caspian Sea.
The eighth well features a 3,439-m (11,283-ft) long horizontal section with a TD of 5,153 m (16,906 ft), while the ninth well has a 629-m (2,063-ft) long horizontal section and a TD of 2,540 m (8,333 ft).
Both are monobore wells with a daily initial flow rate in both cases of more than 1,000 metric tons (1,102 tons). They are helping to maintain overall output from the field at the planned level of 6 MM metric tons/yr.
Lukoil has also completed a fourth well at the wellhead platform for Phase 2 of the Yury Korchagin field development in the same sector, with a 4,276-m (14,029-ft) long horizontal section and an intelligent completion system that allows real-time control of operation, depending on conditions.
Phase 2 drilling increased oil production from the field by 27% during 1Q 2019, compared with the same period in 2018.
The company's third Russian Caspian development, the Rakushechnoye field, is due to deliver first oil in 2023 at an annual rate of 1.2 MM metric tons (1.32 MM tons).
07/01/2019