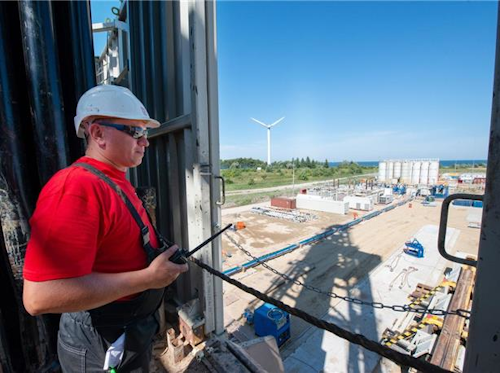 Lukoil
Offshore staff
MOSCOW – Lukoil claims to have set new records for horizontal drilling in the Baltic Sea with two recently completed wells on the D41 offshore field in the Russian sector.
Both wells were drilled into the sea from an onshore site: one is 7,947 m (26,073 ft) long with a horizontal section of 616 m (2,021 ft), and the other is 7,517 m (24,662 ft) long well with a 439-m (1,440-ft) horizontal borehole.
The company has constructed similar wells at the Yury Korchagin field in the northern Caspian Sea, where the longest well extends more than 8 km (4.97 mi).
Lukoil added that its development solution for D41 and the design of the onshore cluster well minimize environmental impact and provide continuous remote monitoring of process flows together and contained waste disposal.
The company has been developing offshore fields in the Baltic since 1995, commissioning Kravtsovskoye (D6) in 2004.
It undertook exploration and appraisal drilling at D41 from a jackup in 2014. Following confirmation of the production license for the field by Russia's Ministry of Natural Resources and Environment in April 2016, development drilling began last August.
After 2020, the company plans to develop the D33 and D6-South fields.
05/17/2019