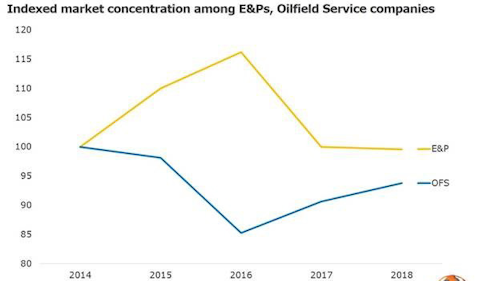 Rystad Energy ServiceCube
Offshore staff
OSLO, Norway – Oilfield service companies are starting to increase prices for products and services, according to consultant Rystad Energy.
"Oil and gas investments are on the rise, and so too is the pricing power of service companies," said Audun Martinsen, head of oilfield service research.
"After losing pricing power in 2015 and 2016, oilfield service companies have since regained some of the lost ground, thanks first and foremost to industry consolidation among players that has concentrated the market over the past couple of years.
"Pricing power is likely to be further strengthened within the service industry, as orders are anticipated to rise across the supply chain, coupled with capacity adjustments intend to avoid oversupply in 2019 and 2020."
Many oil and gas companies scaled back their investments in 2015 as oil prices fell, and the smaller players were forced to cut costs.
"This trend continued in 2016," Martinsen said, "but in 2017 and 2018 more E&Ps could finally finance their ambitious operations growth through improved operational cash flow, leaving market concentration levels in 2018 on par with those seen back in 2014."
Rystad's analysis suggests that the Big Four of Schlumberger, Halliburton, BHGE, and TechnipFMC, and the next 10 largest service companies, started to lose market share to smaller players in late 2015.
But market concentration was re-established in 2017 and 2018 following various major M&A deals in the industry.
"Even though the oilfield service market has become more concentrated at the same time as the buyer side has become more fragmented, there are also other factors which impact pricing power," Martinsen said.
"Some segments, despite being more concentrated, are still heavily challenged by oversupply, forcing companies to adjust their capacity before prices improves."
06/20/2019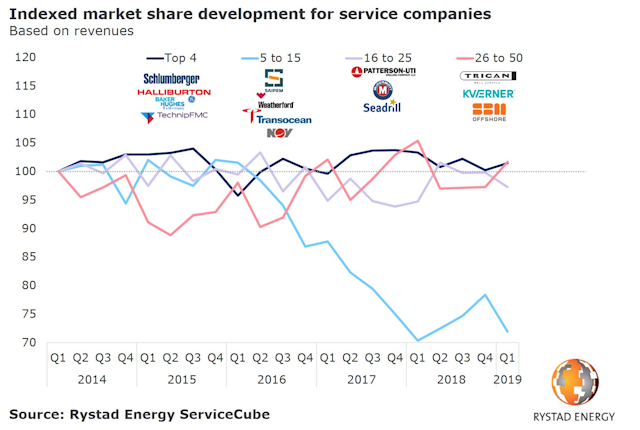 Rystad Energy ServiceCube