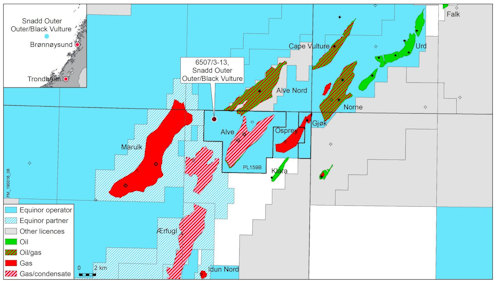 Equinor
Offshore staff
STAVANGER, Norway – Equinor's latest completed well in the Norwegian Sea has led to two discoveries in the Norne area.
The semisubmersible Transocean Spitsbergen drilled the Snadd Outer Outer/Black Vulture prospects in production license 159B.
There were two reservoir objectives: an upper drilling target with an estimated 2-12 MMboe, and a lower target holding potentially 1-48 MMboe recoverable.
"We are very pleased with the results of both targets," said Nick Ashton, Equinor's senior vice president for exploration in Norway and the UK.
"The volumes are broadly estimated, and operational challenges prevented side tracking. We are evaluating both the time and place for further delineation to give us more accurate volume estimates."
Well 6507/3-13 started drilling on April 27, 14 km (8.7 mi) southwest of the Norne field in the northern Norwegian Sea.
The well was drilled initially to a depth of 2,800 m (9,186 ft), proving gas in Snadd Outer Outer, and then to 3,200 m (10,498 ft), where it hit oil in Black Vulture.
Analysis to date suggests a total of 3-60 MMboe.
"The deepest target is following up the Cape Vulture discovery of 2017, offering further opportunities on the Nordland Ridge, and we are very happy about today's discovery," Ashton said, adding that a tieback to the Norne FPSO was a possibility.
"Snadd Outer Outer/Black Vulture and Cape Vulture combined have in fact proven to be a success story for cretaceous reservoirs off the coast of Nordland, encouraging us to pursue further opportunities in the area going forward."
Since 2017, Equinor has been operator or partner in 11 finds from eight wells drilled in the Norwegian Sea.
Wells on the Carmen and Osprey prospects in 2017 proved resources of 10-39 MMboe. Last year's wells on Hades and Iris, Balderbrå and Cape Vulture combined proved 134-435 MMboe, and this year Ragnfrid North, Jasper, and Snadd Outer Outer/Black Vulture have proven between 12-101 MMboe.
That gives a total volume in the range of 156-575 MMboe, and it appears that more than 80% could be commercially viable. 
The Transocean Spitsbergen now heads south to PL 502 in the North Sea to drill the Klaff exploration well for Equinor.
Equinor was less successful with its latest wildcat well in the Norwegian Barents Sea, 8 km (5 mi) southeast of the 7435/12-1 (Korpfjell) gas discovery in PL 859.
According to the Norwegian Petroleum Directorate (NPD) some thin sandstone layers in the Triassic revealed traces of gas, but otherwise the well was a dry hole.
The semisub West Hercules will now drill wildcat well 7324/6-1 for Equinor in Barents Sea license PL 855.
Aker BP has received the NPD's go-ahead to drill exploration well 25/2-20 in PL 442 in the North Sea, 20 km (12.4 mi) east of the Frigg field, using the semisub Deepsea Stavanger.
The company has been working on a multi-field hub development in this area.
06/17/2019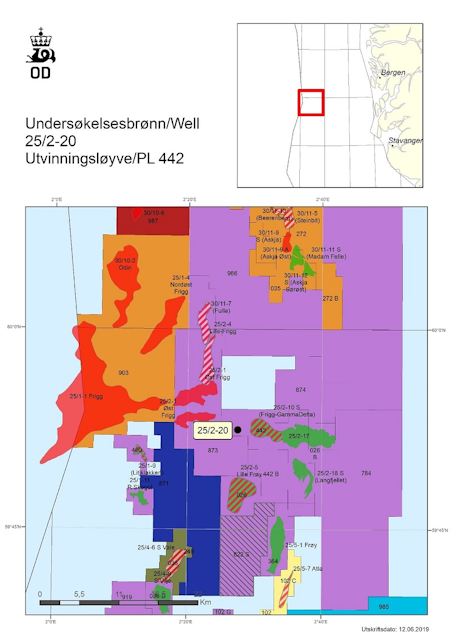 Exploration well 25/2-20 will be drilled in PL 442 in the North Sea.Norwegian Petroleum Directorate