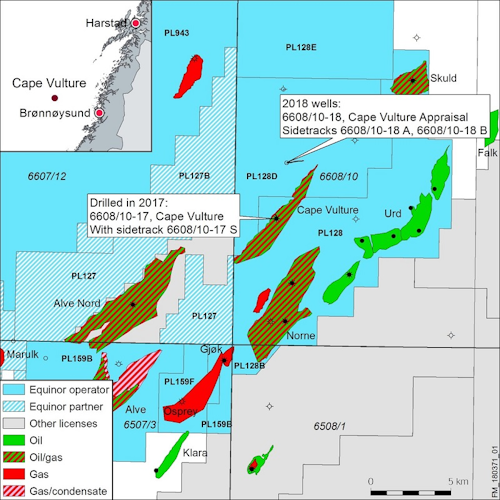 Offshore staff
STAVANGER, Norway – The semisubmersible Songa Encourage has completed appraisal drilling on the 2017 Cape Vulture discovery in license PL 128 off the Nordland coast in the Norwegian Sea.
According to operatorEquinor, results suggest 50-70 MMbbl of recoverable oil. This is more than twice the remaining oil reserves presently scheduled to be produced through the FPSO on the Norne field, 7 km (4.3 mi) to the southeast, which would likely host the Cape Vulture development.
Following progressive satellite tie-ins to Norne over the years, the productive life has been extended to 2036 and the new find should extend operations further.
According to Nick Ashton, Equinor's senior vice president Exploration, Norway & UK, the appraisal program has also confirmed a new play on the Nordland Ridge area.
"We intend to take new approaches and try out new and untested ideas to unlock the remaining commercial resources on the Norwegian continental shelf (NCS)," he said. "This is in line with Equinor's recently updated roadmap for the NCS, which aims to secure activity for many decades to come.
"The Cape Vulture discovery also opens additional opportunities in the area. As an immediate consequence we will already next year drill a well on a similar prospect on the Nordland Ridge. We are also maturing other opportunities for the coming years that may help substantially increase the reserves around the Norne field."
Siri Espedal Kindem, the company's senior vice president, Operations North, added: "Our exploration people have been scrutinizing the area for more than 40 years, and they are still cracking codes."
Norne was the first field development off Nordland, coming onstream in 1997. Remaining recoverable oil reserves in the fields producing through the FPSO (Norne, Alve, Urd, Skuld, and Marulk) are estimated at around 40 MMbbl, with recoverable gas reserves from these fields totaling around 80 MMboe.
10/04/2018