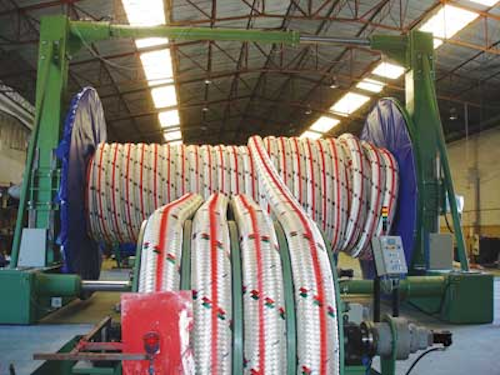 As upstream oil and gas developers advance their development plans for the deepwater Gulf of Mexico, midstream companies have announced new pipeline systems that will move this production to market.
For example, Williams Partners L.P. and DCP Midstream Partners, LP, recently announced plans to extend the Discovery natural gas gathering pipeline system into the deepwater GoM.
The new pipeline, to be called the Keathley Canyon Connector, will involve the construction of a 215-mi, 20-in. pipeline. It will gather production from the Keathley Canyon, Walker Ridge, and Green Canyon areas in the central deepwater Gulf. The companies have reportedly signed long-term agreements with the Lucius and Hadrian South owners for natural gas gathering and processing services for production from those fields.
Plans call for the Keathley Canyon Connector to originate in the southeast portion of the Keathley Canyon area and terminate into Discovery's 30-in. mainline near South Timbalier block 283. The pipeline will be capable of gathering more than 400 MMcf/d of natural gas.
Construction is expected to begin next year, and work toward a mid-2014 in-service date. Total capital expenditures are estimated to be approximately $600 million.
In addition, Enterprise Products Partners L.P. and Genesis Energy have announced plans to build a new crude oil gathering pipeline in deepwater Gulf. The companies say they have executed crude oil transportation agreements with a consortium of six GoM producers. These agreements will provide the necessary support for construction of a new crude oil gathering pipeline serving the Lucius development area.
The producer group is comprised of Anadarko U.S. Offshore Corp., Apache Deepwater Development LLC, ExxonMobil Corp., Eni Petroleum US LLC, Petrobras America Inc., and Plains Offshore Operations Inc. The pipeline will be constructed and owned by Southeast Keathley Canyon Pipeline Co. (SEKCO), a 50/50 joint venture between Enterprise and Genesis. Enterprise will serve as construction manager and operator of the new pipeline, earning fees for both services.
The 149-mi, 18-in. SEKCO oil pipeline is being designed with a capacity of 115,000 b/d and would connect the Lucius truss spar floating production platform to an existing junction platform at South Marsh Island 205. There, it would connect to the Enterprise-operated Poseidon pipeline system. The SEKCO oil pipeline is expected to begin service by mid-2014.
Contracts awarded for Lucius project
Two key contracts were awarded in January for the development of the Lucius field in the deepwater Gulf. Lankhorst Ropes will manufacture the mooring rope and FMC Technologies Inc. will supply subsea systems and related services.
The field is located in the Keathley Canyon block 875, in about 2,165 m (7,100 ft) of water, and will be developed with a truss spar floating production facility. It is being developed by Anadarko Petroleum Corp., which is operating the unit with a 35% working interest. Its partners include Plains E&P, ExxonMobil, Apache, Petrobras, and Eni.
Technip USA Inc. has contracted Lankhorst Ropes to manufacture the polyester mooring ropes for the spar hull. The Lankhorst production facility in Portugal will supply a total of 31,400 m (just over 103,000 ft) of their Gama 98 polyester deepwater mooring rope with 1907 tf (4200 kips) minimum breaking load. Production began in January.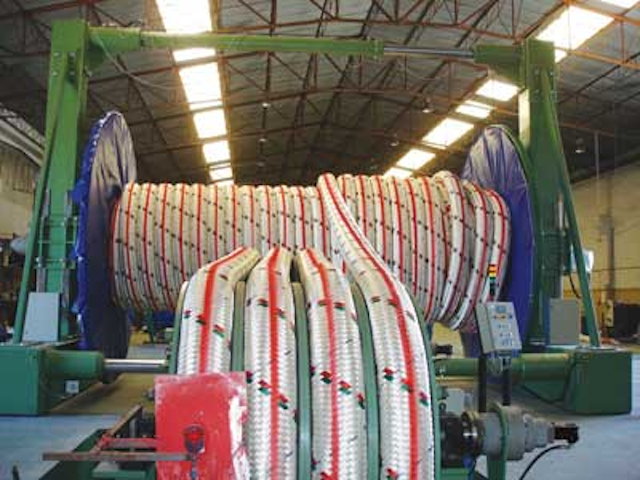 In January, Lankhorst Ropes began production of their Gama 98 polyester deepwater mooring rope at their facility in Portugal. The company will supply a total of 31,400 m of rope for the Lucius project.
The spar is currently under construction at Technip's facility in Pori, Finland, and will be the largest of Anadarko's operated spars. Anadarko selected Technip to engineer, construct, and transport the truss spar hull last August. The 23,000-ton spar is designed to produce 80,000 bpd of oil and 450 MMcf/d of gas. First oil from the project is scheduled for 2014.
Also in January, FMC signed an agreement with Anadarko to provide subsea systems and life-of-field services for Lucius. Its scope of supply includes five subsea production trees and two manifolds. The equipment will be supplied from the company's operation in Houston and deliveries are expected to begin in 4Q 2012.
The Lucius production area is estimated to have more than 300 MMboe, with relatively shallow and highly productive reservoirs, primarily comprised of crude oil.
Exxon, Statoil get Julia field lease extension
Exxon Mobil Corp. and Statoil ASA will keep leases covering the Julia oil field in the deepwater GoM following a settlement with the US Department of Interior. Exxon and Statoil agree to begin production by mid-2016 from an offshore installation and to pay additional fees to retain the giant prospect, according to a report from the Wall Street Journal. Exxon had previously applied to extend its 10-year lease for an additional five years, but the DoI denied the extension at that time, saying the operators had not set a specific development plan for the field.
Enbridge investigates leak near Stingray natural gas pipeline
Enbridge is investigating the report of a small natural gas leak in the West Cameron block 275, about 66 mi (106 km) off the coast of Louisiana. A helicopter flyover has been completed, and a three-foot diameter patch of bubbles has been spotted on the water surface in the vicinity of the Stingray natural gas pipeline.
"The Stingray Pipeline continues to operate under normal operating parameters at this time, in accordance with regulatory standards and guidelines, and we are in contact with regulatory authorities," said Terrance L. McGill, senior vice president of natural gas operations and engineering for Enbridge.
"A dive boat has been dispatched to the location, and we will commence an investigative dive as soon as weather conditions permit," McGill added. "If a leak is confirmed as a result of the diving activities, we will immediately begin repairs. We do not anticipate any potential business interruption to be material."
Cascade/Chinook start imminent, says Petrobras
Petrobras expected to start production of the Cascade/Chinook fields in January, according to a report by the company.
More Offshore Issue Articles
Offshore Articles Archives
View Oil and Gas Articles on PennEnergy.com