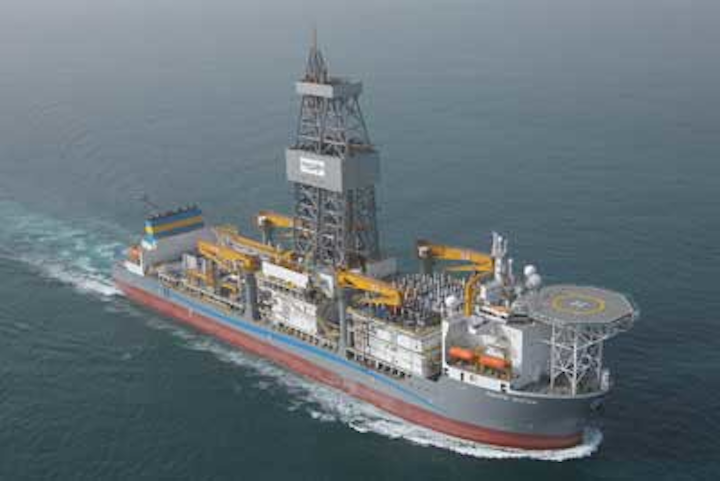 Jerry Greenberg
Special Correspondent
The deepwater rig fleet has grown dramatically since 2010, the last time the Worldwide Survey of Deepwater Drilling Rigs was published byOffshore. The deepwater rig survey is conducted every other year, alternating with the jackup rig survey. It is published on the Deepwater Drilling Rigs pullout poster contained in this issue.
Conducted this past May, the survey represents a snapshot of the existing operational deepwater rig fleet capable of drilling in 4,000 ft of water or more. New rigs with a construction delivery date of 2012 are included in the survey if they are expected to be delivered from the shipyard by the end of July.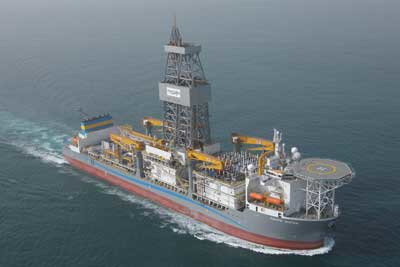 ThePacific Mistral is one of three new Pacific Drilling drillships delivered during 2011. All are Samsung 12000 designs rated for operating in up to 12,000 ft of water.
The results of the 2012 survey illustrate the expansion of the deepwater rig fleet in sheer numbers and the growth of individual drilling contractors as a result of new rig deliveries. In some cases, that growth has been made possible through the acquisition of other drilling contractors.
The growth of the deepwater rig fleet has been remarkable from 2008 to 2012, tallying an impressive 56% increase in that timeframe. It is perhaps not a surprise that all of the growth of the past four years has taken place among dynamically positioned rigs. Some of the more recent additions to the global deepwater rig fleet are designed to operate in up to 12,000 ft of water.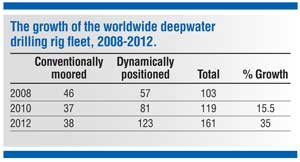 This year, several contractors reported larger deepwater rig fleets, the result of a mix of newbuilds during the past two years, or acquisitions; or both. For example, Ensco plc in the 2010 survey listed four deepwater rigs, all semisubmersibles, and included theENSCO 7500 and the newer ENSCO 8500, 8501, and 8502. This year the company's fleet grew with the addition of three new 8500 series rigs. The company also acquired Pride International, which came with two moored semisubmersibles, four DP semis, and three DP drillships. Pride also had numerous deepwater DP drillships under construction at the time of the acquisition. The end result is that Ensco now has two deepwater moored semisubmersibles and 17 DP semis and drillships, with two more drillships under construction.
Transocean also increased its deepwater fleet. In the 2008 survey, the company operated 12 moored rigs and 24 DP units. The company also had eight rigs under construction at the time. In 2010, the contractor still had 12 moored rigs but its DP fleet grew a net of seven units to 31, including eight newbuilds but minus theDeepwater Horizon. This year, Transocean's moored rig fleet dropped by one rig to 11 but its DP vessels rose to 36, a combination of acquiring two rigs from Aker Drilling and the delivery of several new rigs. The company still has two drillships under construction.
Noble Drilling also experienced an expanding deepwater rig fleet, primarily through the acquisition of Frontier Drilling, which operated theFrontier Driller (now Noble Driller) moored semisubmersible. Frontier also had three drillships under construction, two of which were delivered, the Noble Bully I and Noble Globetrotter I. In addition, the contractor still has five drillships under construction, three for delivery in 2013 and two set for delivery in 2014. The acquisition also included two shallow water drillships and an FPSO.
Ocean Rig increased its deepwater fleet by four units in the 2012 survey, adding four Saipem 10000 design drillships to its fleet during 2011. Also, Pacific Drilling, which was in the 2010 survey with itsPacific Bora, a 10,000-ft water depth rated Saipem 10000 drillship, added three Saipem 12000 design drillships to its fleet during 2011. The company also has two additional deepwater drillships scheduled for delivery in 2013.
Additions to the survey
Several contractors are new to the 2012 survey, all the result of newly built dynamically positioned deepwater rigs. Songa Offshore is new in this year's survey. The company took delivery last year of itsSonga Eclipse semisubmersible designed for 10,000 ft; it is presently equipped for 7,500-ft waters.
China Oilfield Services Ltd. (COSL), which operates primarily jackups, now owns theHYSY 981 semisubmersible, rated for nearly 10,000 ft of water.
Vantage Drilling is another new company this year, joining the deepwater ranks with two Daewoo Shipbuilding design drillships. One, thePlatinum Explorer, is equipped to operate in up to 10,000-ft waters. The other rig, Titanium Explorer, is equipped to drill in up to 12,000 ft of water. Both are rated to 12,000-ft operating depths.
Looking ahead
Looking to future deepwater rig surveys, there are a number of companies that will join the survey for the first time or at least add deepwater units. These include Atwood Oceanics, which has four conventionally moored semisubmersibles. The contractor also has a semisubmersible and a drillship, each rated for 10,000 ft of water, scheduled for delivery in 2012 and 2013, respectively. Another contractor with new deepwater rigs under construction is Dolphin Drilling, which has a drillship set for delivery in 2013. Vantage Drilling is building two more deepwater drillships, theDalian Developer and the Tungsten Explorer, both scheduled for delivery in 2013.
Sevan Drilling, which currently operates the uniqueSevan Driller, a circular shaped semisubmersible, has two additional semisubmersibles under construction in China for delivery in 2013 and 2014.
Finally, Rowan Co.s has three drillships under construction. These will be its first three floating rigs – a notable development for Rowan, which has been a jackup rig contractor since its inception.
TheRowan Resolute and Rowan Renaissance are scheduled for delivery in 2014, while the Rowan Reliance will be delivered in 2015. The rigs are rated to drill in up to 10,000 ft of water.
More Offshore Issue Articles
Offshore Articles Archives
View Oil and Gas Articles on PennEnergy.com