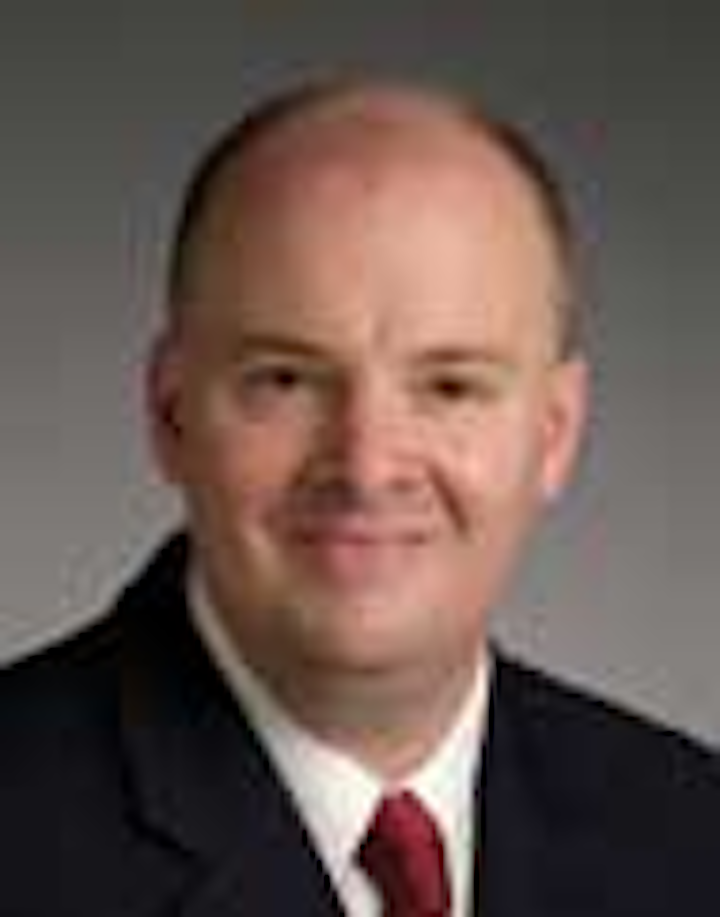 | | | |
| --- | --- | --- |
| | | Bruce Beaubouef • Houston |
Work is proceeding on a number of deepwater production efforts in the Gulf of Mexico, and recent announcements regarding the Big Bend, Dantzler, and Jack/St. Malo projects are providing fresh evidence of the Gulf's vitality as an E&P region.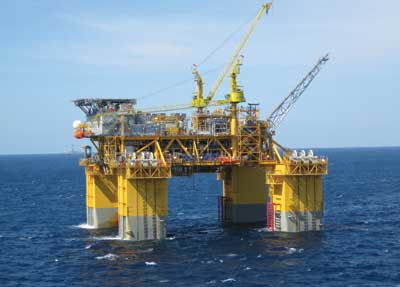 Noble Energy says it will produce the Big Bend and Dantzler fields via tiebacks to the Thunder Hawk DeepDraft Semi located in 6,060 ft (1,847 m) of water in the Gulf of Mexico. (Photo courtesy SBM Offshore)
Some projects are making use of existing infrastructure by tying back to floating production facilities already in place, and some are deploying huge new deepwater production facilities.
In mid-September, SBM Offshore reported that it had signed a production-handling agreement with Noble Energy to produce the Big Bend and Dantzler fields to the Thunder Hawk DeepDraft Semi located in 6,060 ft (1,847 m) of water in the Gulf of Mexico.
First oil from the Big Bend and Dantzler fields is expected in late 2015 and 1Q 2016, respectively. At these levels, both fields will use a maximum of 85% of total daily asset capacity. Brownfield construction to upgrade the facility will be handled by Noble Energy.
The Big Bend field is 18 mi (29 km) from the Thunder Hawk platform in 7,200 ft (2,195 m) of water in Mississippi Canyon block 698. Noble Energy operates a 54% working interest in Big Bend, alongside W&T Energy VI LLC (a wholly owned subsidiary of W&T Offshore Inc.) with 20%, Red Willow Offshore LLC with 15.4%, and Houston Energy Deepwater Ventures V LLC with 10.6%.
The Dantzler field is 7 mi (11 km) from the Thunder Hawk platform in 6,580 ft (2,006 m) of water in Mississippi Canyon block 782. Noble Energy operates Dantzler with a 45% working interest. Additional interest owners are entities managed by Ridgewood Energy Corp. (including ILX Holdings II LLC, a portfolio company of Riverstone Holdings LLC) with 35%, and W&T Energy VI with 20%. Big Bend and Dantzler will be developed via a dual pipe-in-pipe loop system.
The Thunder Hawk DeepDraft Semi, installed in July 2009, was developed as a steel catenary riser-friendly floater solution. The deck and hull can be integrated quayside, avoiding costly offshore lifting and system commissioning operations.
"The Thunder Hawk platform allowed for a cost-effective development solution for Noble Energy and its partners," said SBM CEO Bruno Chabas. "The deepwater semi solution offers numerous advantages for subsea developments including reduced development capital, lower operating costs, and an accelerated development schedule."
Also in mid-September, McDermott International Inc. said it had completed its work on the Jack and St. Malo project for Chevron USA Inc. The project involved the installation of jumpers, flying leads, subsea pump stations, umbilicals, and subsea landing of some of the industry's largest and complex umbilical end terminations to a host floating production platform in 7,200 ft (2,195 m) of water 279 mi (449 km) offshore Louisiana. The project is part of the first stage of development of the Jack South, St. Malo South, and St. Malo North drill centers.
McDermott says it executed in-house fabrication of 21 high-specification rigid flowline, manifold and pump jumpers, and installed the structures using theDerrick Barge 50 (DB50) with its specialized deepwater lowering system.
In addition, theDB50 installed more than 80 flying leads, five additional rigid production well jumpers, and other subsea control and production boost components. DB50 was assisted by a fleet of up to 12 support vessels delivering material from various Gulf Coast fabrication and staging facilities to the offshore installation site.
Additionally, three control and two power umbilicals totaling 65 mi (105 km) were transported and installed by the subsea construction vesselNorth Ocean 102, along with other related subsea structures.
TDW performs subsea pressure isolation job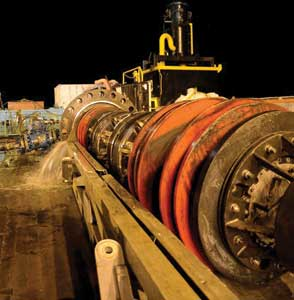 T.D. Williamson recently used its SmartPlug tool to isolate pressure in a GoM riser so that a wye could be safely installed in advance of a tie-in to a new deepwater oil and gas system in the Gulf of Mexico. (Photo courtesy T.D. Williamson)
T.D. Williamson (TDW) says it was recently retained to isolate pressure in a GoM riser so that a wye could be safely installed and so that divers, who would be working 228 m (748 ft) subsea near the open end of the line, would be safe.
For this job, TDW developed a custom solution that provided the dive specialist with a safe, reliable method of isolating the riser and platform from the section that was to be prepared for the wye installation.
Before the line was isolated, it was imperative to determine whether the line was piggable, and that the specially sized (or engineered) SmartPlug tool would be able to negotiate the tight bends in the riser to reach the set location. TDW conducted a piggability and pipeline stress simulation study by bi-directionally running a modified gauge pig to simulate the exact path of the isolation tool during the forthcoming operation. The study confirmed that the plugging tool would successfully traverse the piping and reach its target destination.
Working from the platform, the TDW crew launched the tool into the riser. As it traveled through the riser, the team onboard the support vessel used its remote-controlled SmartTrack tracking and monitoring system – which uses two-way, through-wall electromagnetic communication between a transponder and a receiver – to track the tool's progress, control its speed, and monitor conditions in real time. When it reached its subsea set location of 228 m (748 ft), the tool was set into position, where it remained for 3.5 days, isolating the riser against a pressure of 63 bar (914 psi).
With the line safely isolated, divers cut the line in preparation for the tie-in. Throughout the operation, divers worked near the open-ended line while the plugging tool prevented the gas from escaping. The wye spool was installed, and the tool was retrieved through a valve fitted with a temporary receiver. The procedure was completed on schedule and without incident.
Keeping the divers safe while installing the piggable wye on time was a major achievement, signaling that the next step of the plan to tie in the line to the new deepwater oil and gas project could proceed. The task was carried out using technologies offering continuous pressure and subsea condition reports, giving the dive specialist confidence to proceed with the installation.