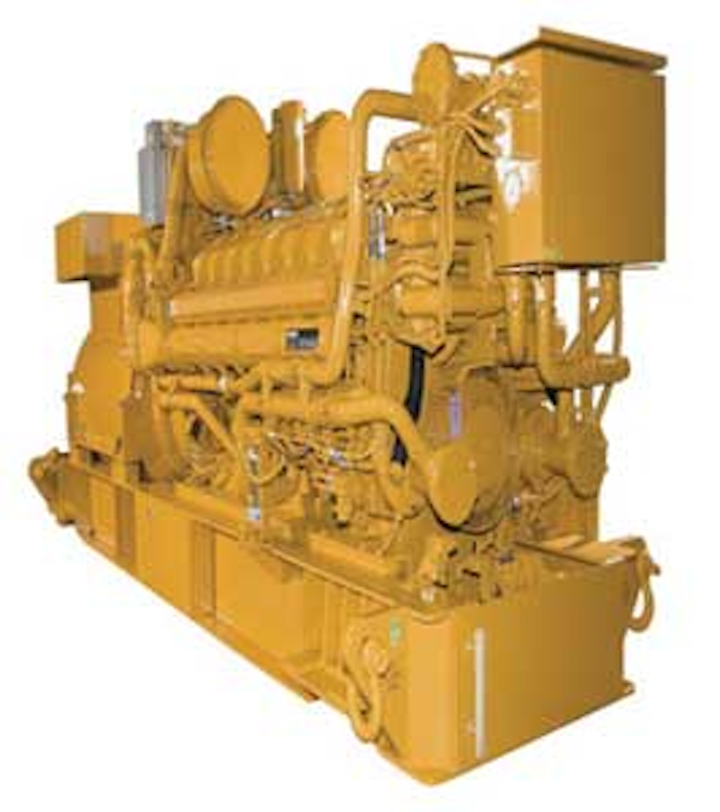 Conference attendance and exhibition set records
Jessica Tippee
Assistant Editor
The2014 Offshore Technology Conference gave more than 108,300 attendees the opportunity to learn about new products, services, and technologies and interact with industry colleagues and professionals from around the world at the recent edition in Houston.
This year's event featured nine panel sessions, 29 executive keynote presentations at luncheons and breakfasts, and 308 technical papers. The sold-out exhibition covered 680,025 sq ft (63,176 sq m) and featured 2,568 companies representing 43 countries.
Drilling technologies
A number of new products and technologies were featured for theoffshore drilling market.
Cameron unveiled the EVO 300 Bonnet, which addresses drillers' need to shear stronger, thicker tubulars and seal the wellbore. Building on the company's EVO BOP technology, the new bonnet provides 54% greater ram closing force versus earlier bonnets.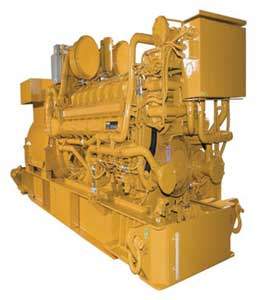 The new platform offers a 2,300 ekW power rating for offshore drilling and production applications.
Caterpillar Oil & Gas introduced a new platform to the Cat C175-16 offshore generator set. The existing model is available with 1,833 ekW @ 60 Hz (1,200 rpm) of rated power. The new Cat C175-16 offshore generator set offers 2,300 ekW @ 50 Hz (1,500 rpm) of rated power.
The MCS type-approved, 50 Hz C175 offers 25° tilt capability, an integral feature for solutions providing emergency power on semisubmersible rigs. Driven by two ADEM A4 engine control modules, the IMO Tier II compliant engine features full redundancy and provides engine protection, and low emissions.
Baker Hughes announced the commercial release of its Cytadel ZX electronically actuated casing packer, a gas-tight packer with an electronic trigger mechanism used to provide wellbore integrity and to reduce risk of sustained casing pressure-related (SCP-related) blowouts.
The Cytadel ZX packer forms a V0-rated secondary mechanical pressure barrier above the primary cement job. The barrier eliminates gas migration and protects against dangerous SCP, even when downhole conditions compromise the sealing integrity of the casing cement.
The new system comprises three fundamental components. The downhole packer is built on a solid-body mandrel, eliminating ports and O-rings, and the potential for gas migration through the mandrel. The foundation of the packer is the zero-extrusion ZX seal element. Finally, a unique modular electronic trigger mechanism, deployed and activated in one trip, eliminates the need for pressure or pipe manipulation to set the packer, improving rig site efficiency and reducing risk.
The packer is run as part of a long-string completion and is positioned to isolate the casing-to-casing annulus. After the cementing operation, the packer is remotely actuated from the surface when a unique signal activates the onboard electronics module. Once set, the packer provides an ISO 14310 V0-rated annular seal, creating a permanent gas-tight barrier and eliminating the need for costly pressure bleed-off operations.
With drilling and production from high-pressure reservoirs at or more than 20,000 psi (138 MPa) becoming more likely in the near future, GE Oil & Gas unveiled a BOP program destined to meet the requirements.
Because the demands of drilling 20,000 psi wells at 12,500 ft (3,810 m) differ greatly from those for 15,000 psi wells, the company is working on components to meet the higher pressures. Key features include:
Upgraded ram and annular BOPs
SeaONYX BOP Control System designed to maximize uptime
SeaLytics BOP Advisor software to give real-time information.
"GE's new BOP system will enable operators to explore deepwater basins that are currently inaccessible with conventional 15-ksi BOP systems," said Andrew Way, president and CEO of GE's Drilling & Surface business—GE Oil & Gas. "Our new BOP system utilizes all of GE's latest 'Predictivity' communications software solutions to allow for real-time remote monitoring of equipment status and performance, thus offering new degrees of reliability and performance."
Subsea
New technologies and products were also on display for thesubsea market.
Schilling Robotics unveiled the UHD III ROV. The technology meets API 53 standards for BOP intervention with RAM closure in less than 45 seconds. The company says the system increases ROV pilot efficiency through intuitive ROV control interface, automated navigation, and positioning systems.
Cameron introduced the Cognition Stack Instrumentation Infrastructure Package. The Cognition package offers a new way to monitor subsea BOP stack functions from the surface while the stack is deployed subsea. The company says the package provides a network of new sensors, communication paths to transmit sensor data to the surface, and the analytics, alerts and alarms to turn the data into insights about the condition of the subsea BOP.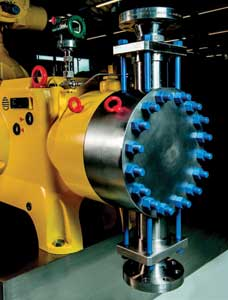 The Primeroyal X pump represents the first new product Milton Roy has developed as a brand of Accudyne Industries.
Milton Roy launched the Primeroyal X, an API 675 compliant metering pump. The company says the new pump is designed to give operators greater power and more accurate control to improve flow and deliver consistent product quality.
Logistics, safety, and training
This year's event also featured new offshore logistics and safety equipment and training initiatives.
Under their jointly owned Hi-Con Training program, Raytheon Professional Services LLC and Petrofac Training Services launched the new Tropical Helicopter Underwater Escape Training (THUET) course.
Approved by OPITO, this new training for high-consequence oil and gas exploration scenarios will be offered at NASA's Neutral Buoyancy Lab (NBL), and has been accepted by Shell UA and other Gulf of Mexico operators to satisfy their warm-water HUET requirement. It has also been reviewed and endorsed by the P&T Wells organization.
The THUET course intends to help workers traveling to and from offshore oil and gas installations and vessels by helicopter stay calm in an emergency. It also teaches delegates to escape a helicopter following an unexpected water landing by providing specific training in pre-flight and in-flight requirements.
Hi-Con Training's THUET course is taught by training professionals at the NBL at the Johnson Space Center in Houston. The 6.2 million-gallon, 40-ft deep (12-m deep) pool, once used exclusively to train astronauts, allows for an extremely realistic learning experience, and a Modular Egress Training Simulator allows participants to experience the feeling of escaping from a helicopter fully submerged in water.
"As part of our focus on service and excellence, Hi-Con Training is constantly reviewed, upgraded, and expanded, ensuring that it is current and of the highest quality," said Tracy Cox, director of performance consulting at Raytheon Professional Services. "The OPITO-approved Tropical HUET is a safety and survival game changer and an important initiative for oil and gas workers in the Gulf of Mexico."
Wild Well announced a joint agreement with Check-6 to develop the next generation of well control training for the oil and gas industry. The partnership will result in a new standard of training by providing access to the most advanced computer-based training and learning techniques available.
The training partnership will focus on advancing well control training courses using methods designed for adult learning while incorporating new teaching and learning techniques in lecture, computer-based training, and hands-on simulation exercises.
Cobham Life Support introduced its new Survivor+ personal overboard survival system. The Survivor+, a new class of "wearable" personal flotation device, incorporates both a SOLAS approved inflatable life jacket and a personal life raft into a single system worn as a compact vest for maximum readiness and survivability. The company says the new maritime safety system is designed to improve chances of survival in Man Overboard and vessel evacuation.
Orga Offshore unveiled its next-generation offshore platform marking and warning system. The user-friendly touchscreen navaids central control panel (NCCP) sits at the heart of the new digital system. Its modular design allows easy set up and maintenance while the touchscreen user interface enables full system interaction to control and monitor all the company's aids to navigation equipment.
The control panel can also be extended to integrate the company's new circle and H helideck touchdown, positioning and marking lighting system as well as its latest aviation obstruction light system. Available for certified IECex and ATEX (Zone 1) and non-certified use, the NCCP has full alarm, history, and remote status monitoring capabilities.
Spotlight award winners
Service and supply companies, contractors, and vendors introduced many products and technologies, but 12 new, innovative, and proven technologies each received aSpotlight on New Technology Award.
Baker Hughes was recognized for the LaunchPRO wireless top drive cement head, which launches balls, plugs, or darts wirelessly during cementing of heavy subsea long strings and long, heavy liners. Its remote wireless operation reduces HSE risk by reducing manual intervention and rig time, while optimizing reliability.
The system's operation is powered by rig air through a single pneumatic hose that can be tethered to the cementing line to reduce the risk of damage during cementing operations. A wireless pressure transducer provides real-time data to the cementing operator to allow for adjustments during operations.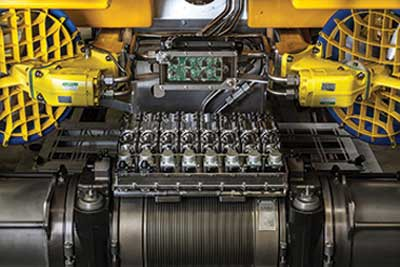 The ISOL-8 Pump is tightly integrated with FMC Technologies' UHD III ROV.
FMC Technologies Schilling Robotics won for the ISOL-8 Pump. The isolated pump enables secondary intervention for BOPs in compliance with API Standard 53. The pump is tightly integrated with FMC's UHD III ROV, and meets the 45 second requirement for closing BOP shear rams.
It consists of independent pistons synchronized with software control. Flexible configuration allows optimization for a variety of demands and can simultaneously provide up to 50 gpm at 5,000 psi. The company says this system is depth insensitive and can save operators up to $4 million per rig.
FMC Technologies received the award for the offshore footless loading arm (OLAF). The technology was developed for LNG transfer between an FLNG vessel and a conventional LNG carrier, in side-by-side moored arrangement in offshore conditions.
The OLAF design is able to accommodate the large elevation difference between an FLNG deck, where it is installed, and an LNG carrier piping connection at lower level, without overloads. The company says the system covers 100% of side-by-side operability in harsh environmental conditions, thanks to its concept, its targeting system for connection assistance, and constant position monitoring system, SIL3, to manage the emergency disconnection.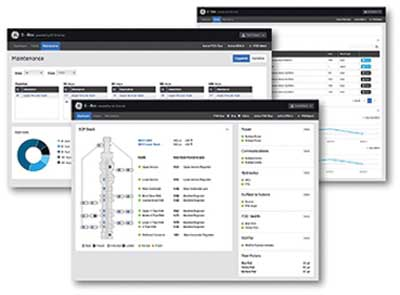 The GE Oil & Gas software uses predictive analytics based on actual component performance data to monitor BOP performance.
GE Oil & Gas received two spotlight awards. The first was for the Zenith GFI ground fault immune ESP monitoring system. The system offers a solution that cannot be disturbed by ground faults, enabling operators to maintain well surveillance for production optimization and pump protection, despite fault conditions.
The company's second award was for the SeaLytics, a software solution that enables drilling contractors to monitor performance and plan maintenance of BOPs using predictive analytics based on actual component performance data. The software can improve BOP system uptime, reduce unnecessary maintenance, and lead to better cost forecasting.
FLAG features an essential early warning system that is highly sensitive to fluctuations but intelligent enough to help prevent false alarms.
Geoservices, a Schlumberger company, was recognized for the fluid loss and gain detection service (FLAG). The service provides accurate fluids monitoring and precise coriolis flow metering with any drilling fluid on any rig, and in operating conditions including drilling, tripping, circulating, and cementing.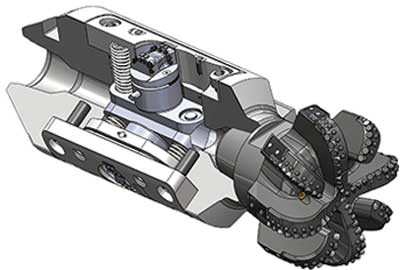 The TDReam tool is designed to reduce rathole length and reach target depth in one run.
Halliburton Drill Bits and Services won for the TDReam tool. Challenged to design a tool to increase efficiency, Halliburton developed a solution that has the added benefits of optimized steerability and fluid flow, and reduced tool length based on the proven reliability of the NBR reamer technology.
SBM Offshore was recognized for the very high pressure fluid swivel. This new technology increases the operating range of high-pressure swivels by using a patented technique to cascade the pressure drop over multiple seals. The 12-in. prototype toroidal swivel has been fully qualified to 830 barg (12,000 psig), including long-term endurance test runs, and has the potential to operate at more than 1,000 barg (14,500 psig).
The company says this swivel is specifically aimed at gas or water injection from FPSOs into ultra-high pressure reservoirs, such as the Lower Tertiary fields of the US Gulf of Mexico.
Schlumberger received the award for the Seismic Guided Drilling service, which predicts formation pressures hundreds of meters ahead of the bit while drilling. The service uses both surface seismic and logging-while-drilling (LWD) data to provide a 3D look-ahead velocity model with reduced uncertainty. The company says this model leads to better geological and geomechanical description enabling proactive drilling decisions, particularly in deepwater exploration.
Velocities ahead of the bit are re-calculated from seismic reflections by using LWD velocities behind the bit as a constraint. Compared with pre-drill predictions, this provides much more accurate results, which can be used in velocity-to-pressure transforms to give more reliable formation pressures.
Weatherford was recognized for the CasingLink EM antenna system. The technology was developed to address the signal attenuation encountered while drilling in deeper depths with an EM telemetry system. This method employs an insulated wire that is externally attached to a standard casing string; a borehole receiver typically located downhole and connected to the casing; and a surface transceiver.
The borehole receiver picks up the EM signal at the casing connection terminal and transmits it via the external signal wire to the surface transceiver, which decodes the EM signal. The wire exits the casing near the surface and passes through a wellhead modified to accept the cable pass through. There is negligible signal attenuation within the transmission wire, which increases telemetry depth.
West Production Technology AS won the award for SwarfPak, a technology for P&A and slot recovery with reduced rig time and reduced environmental footprint. The company says the most revolutionary characteristic of the technology is that all the swarf particles will be deposited and left downhole, avoiding the use of surface swarf handling equipment. Another benefit is that the milling speed is increased.
WesternGeco was recognized for the IsoMetrix marine isometric seismic technology, which enables the first truly 3D measurement of seismic wavefields using towed streamers. A new streamer design that includes measurement of the vertical and crossline gradient of the seismic wavefield enables unaliased reconstruction of the pressure wavefield between the streamers.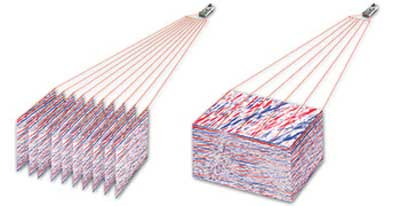 The IsoMetrix technology delivers high-fidelity point-receiver seismic data while overcoming spatial bandwidth compromises.
The company says the resulting fine isometric sampling in both crossline and inline directions provides the most accurate images of the subsurface ever recorded, making the data suitable for many interpretation and reservoir modeling applications in exploration and reservoir development.
OTC returns to Houston at NRG Park May 4-7, 2015.