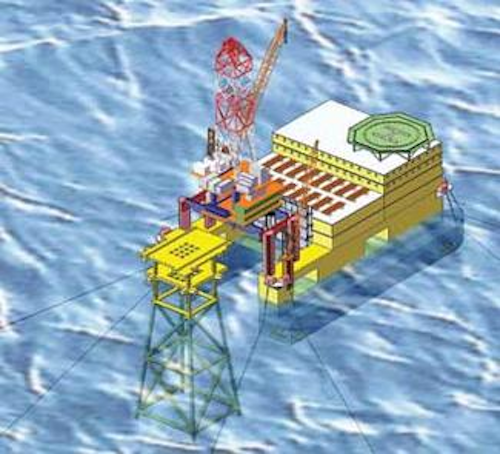 Horse Shoe is a new semisubmersible rig concept from Dietswell Engineering, designed to reduce rig-up time and costs associated with tender-assist drilling. Following a request from Thailand's PTTEP, Paris-based Dietswell adapted the design from a deck-mating technique it had devised previously for a production and living quarters platform.
According to Dietswell's Vice President Dominique Michel, "PTTEP were not dissatisfied with the drilling performance of conventional tender-assisted rigs. However, they are quite interested in our new design, in particular the `rig-up-in-one-go' feature. They have not paid us for this study, but we have been qualified as a drilling contractor to respond to their upcoming tender for a five-year drilling campaign."
The Horse Shoe is an 80 m (262 ft) long, 46 m (151 ft) wide semisubmersible, with a height of 40.2 m (132 ft) at its bow and 21 m (68.9 ft) at the stern, and an operating draft of 13 m (42.6 ft). The rig, which has a displacement of 21,500 metric tons (23,699 tons) when fully loaded, is capable of placing an entire derrick set weighing up to 800 metric tons (882 tons) on a wellhead platform, in water depths varying from 16-300 m (52.5-984 ft) – deeper than for conventional tender-assist barges. In normal weather conditions, rig-up should be completed within one day.
When viewed from above, the rig is U-shaped, allowing it to surround the wellhead platform on three sides during the derrick-set placement. This action is performed in one single operation by a self-elevating lifting system, which is not sensitive to the motion of the semi. Often, this is not the case with modules lifted by crane during conventional tender-assist operations. The lift-up operation is also computer-aided, with manual input kept to a minimum to avoid manhandling of the lifting gears.
The derrick-set arrives on the Horse Shoe semi having been commissioned entirely onshore, including all main equipment items such as the top-drive system, BOP control lines, flow lines, draw-works, and cabling. The one-stop installation means there is no time-consuming need for further erection, nor piece-by-piece dismantling requiring hook-up and commissioning for every rig move. This arrangement also reduces the risk of damage to the various equipment packages.
The derrick-set includes a double-standing pipe rack system for drill strings (triples) and casing (doubles). An automated pipe feeding system controls pipe transfer from the standing pipe racks to the drilling location. The derrick-set also features two iron roughnecks, with two mouse holes for offset pipe make-up and break-out.
To accommodate large drill pipe sections and casing set-back, and to limit weight on the derrick-set, much of the mud system is situated on the tender rig. This avoids the need for additional pump capacity on the derrick-set to pump un-treated mud returns back to the semisubmersible rig. Related items such as de-sanders, de-silters, degassers and centrifuges are also located on the semisub, although the mud gas separator, shale shakers, and sand trap remain within the derrick-set.
The Horse Shoe itself is for the most part a standard offshore rig, Michel adds, with no other special features apart from offline capabilities to prepare the pipe and save drilling and tripping time. There is a total deck area of 3,000 sq m (32,292 sq ft), with an extra storage deck available during operation from a foldable/skidded deck, and a mud tank capacity of 6,300 bbl. The rig's living quarters can accommodate 150 personnel, with a helideck on the bow designed to support a Sikorsky S61 helicopter.
Mainstream onboard equipment includes a 50-metric ton (55-ton) main crane and a 10-metric ton (11-ton) service crane, for routine operations such as offloading from supply boats. As for station-keeping, the Horse Shoe is moored by an eight-point, steel wire/chain system, although dynamic positioning is also an option, as is self-propulsion. In this case, the rig could be fitted with four retractable propellers, each providing propulsion thrust of around 20 metric tons (22 tons).
Conceptual studies have been completed. Dietswell estimates the cost of construction at $250-300 million, but with major economies in the form of 30-60 days/yr reduced downtime for assembly, disassembly, and hook-up compared with existing tender-assisted drilling arrangements.
Dietswell has also been in contact with several oil companies in its capacity as a drilling contractor with a view to building and operating other units. The current version suits metocean conditions prevailing in Southeast Asia, but the concept could be adapted for other regions such as Brazil, the North Sea, and West Africa, in this case perhaps with smaller dimensions.