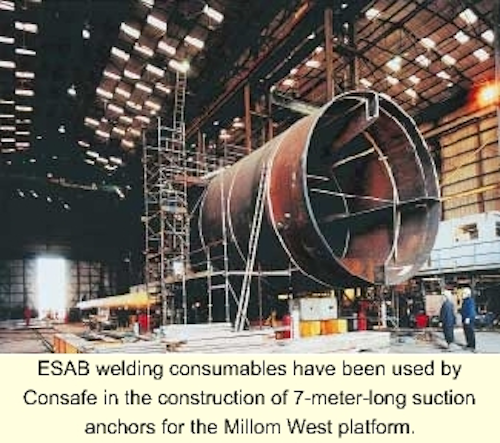 ESAB's UK subsidiary was recently chosen to supply welding consumables for suction anchors for the new Millom West platform in the East Irish Sea. The legs of the unmanned platform - which will produce gas from Burlington Resources' Millom West Field through HRL's Morecambe North platform 9 km to the south-east - have been fitted with large diameter suction anchors instead of conventional piles. The suction anchors are attached to the legs of the platform and consist of 7-meter diameter tubes, 14 meters long that are driven into the seabed. Through the action of suction, the anchors are effectively pulled to the seabed, thereby securing the platform.
ESAB welding consumables were chosen to join together the three 7-meter cans that made up each anchor - the largest cans ever fabricated by the platform builder Consafe. Constructed of 35 mm thick structural steel grade 355EM, Consafe used high productivity submerged arc welding (SMAW) and gas shielded flux cord arc welding (GSFCAW) using OK Autrod 13.24 and OK Flux 10.62 for the SMAW process. According to ESAB, this combination is particularly suitable for offshore applications where good impact properties are required at sub-zero temperatures. Filarc 76S electrodes were also supplied in Vac-Pac to prevent cold cracking and porosity defects.
The GSFCAW process is semi-automatic using continually fed wire. With the added pressure of a six-week deadline on the Millom West project, Consafe chose Murex Corofil R59Ni due to its already proven track record in the offshore industry. According to ESAB welding engineer, George Good, "The fast track nature of this project meant that the consumables had to be of high quality with good welding control, but by working closely with Consafe we were able to meet the required standards."
With steel sections up to 95 mm thick used in the construction of the anchors, stringent Crack Tip Opening Displacement testing was a requirement for the heavy section flux cored welds. Mechanical fracture testing - to assess the toughness of the heavier sections - was carried out by independent laboratories supervised by Lloyds.
For more information, contact Cheron Robinson, ESAB: tel +44 1992 659134, fax +44 1992 788053.