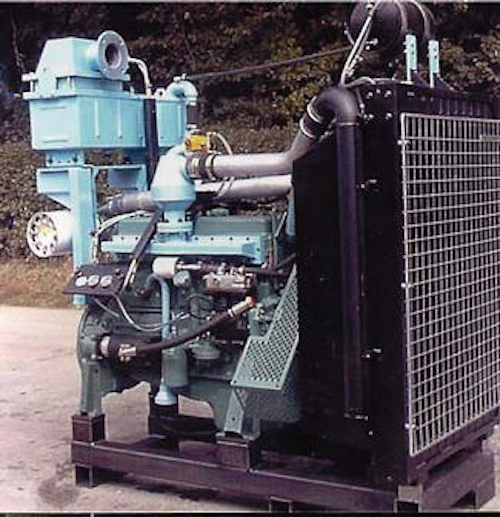 Volvo Penta has entered a new business area for the company - Zone 2 offshore applications. The firm recently won its first orders for diesel engines for Zone 2 hazardous areas, as defined in BS 5345, Part 1, which includes oil exploration and production platforms.
Spark ignition engines are specifically excluded and diesel engines, essential for certain operations, must conform to strict protection requirements in relation to both primary and secondary ignition hazards. Following extensive development work on its established range of marine diesels, Volvo Penta is currently supplying modified 7-liter TAMD 74 and 16-liter TAMD 163 engines for Zone 2 applications and work is underway to extend the range of engines available.
All Volvo Penta diesel engines designed for use in Zone 2 applications feature a water-cooled turbocharger, comply with IMO emission regulations, and are fully certified by Lloyds Register, DNV or similar bodies. The balanced TAMD 74 engines together with the 600 hp TAMD 163 engines, provide vibration-free operation with low noise levels, and are ideally suited to Zone 2 pump and compressor applications.
High pressure pumping
Among Volvo Penta's first customers for the modified engines is Powerflo Systems of Southampton, UK, a supplier of high pressure water systems with operating pressures up to 2,500 bar and water flow rates up to 900 liters per minute. Offshore applications include surface preparation, pipeline maintenance, and general cleaning. Thus far, the company has placed orders for 14 TAMD 71, 40 TAMD 74, and four TAMD 163 engines, which are used to power high-pressure water pumps and offshore marine air compressors.
All Volvo Penta engines for Zone 2 operation are designed to run with no electrical equipment whatsoever. Starting is by compressed air and there is no ancillary generation equipment or wiring. Both Volvo Penta engines currently being supplied for Zone 2 applications are based upon turbocharged marine diesels which use air-air intercooling.
Primary ignition hazards exist when an engine is started or running normally and include high engine surface and exhaust gas temperatures, exhaust system sparks, induction flashbacks, and engine overspeeding. These hazards are addressed in a number of ways, including the fitting of exhaust gas coolers, inlet flame traps, and shutdown valves supplied by UK-based flame protection equipment specialists such as Flametec and Pyroban.
Secondary ignition hazards may be caused by engine overheating, sparks from mechanical causes, excessive vibration, explosion in intake or exhaust systems and reverse running. These hazards are guarded against in the engine design. ;
For more information, contact Tom Tveitan, Volvo Penta Norden. Tel: +46 31 68 64 00, Fax: +46 31 68 27 36, E-mail: tom.tveitan@volvo.com . For Zone 2 applications, contact Huug van Barneveld. Tel: +31 345 688 711, Fax: +31 345 688709.