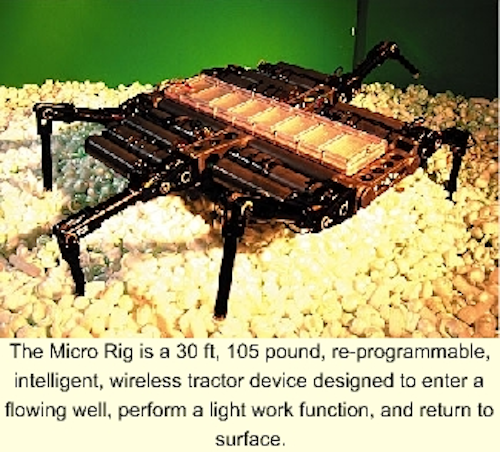 A variety of autonomous devices may offer lightweight, inexpensive alternatives to a number of offshore operations including subsea facilities inspection, flowline pigging, slickline workover, and surfline seismic installation.
The formation of a consortium of operators, including BP Amoco and Marathon, means at least one of the robotic devices developed by IIC, will be operating offshore in the early part of next year.
In developing these tools, IIC has borrowed technology that has been available in the aerospace industry for over a decade. The goal is to cut costs by at least 50% through elimination of expensive and heavy equipment. An early relationship with Baker Oil Tools to develop what the service company called the downhole factory proved to be too inclusive, but IIC's new piece-meal approach appears to be attracting attention and investor capital.
IIC President Neal de Guzman said the consortium has raised "several million dollars" toward the commercialization of what IIC has labeled the "Micro Rig".
The Micro Rig is a 30 ft, 105 pound, re-programmable, intelligent, wireless tractor device designed to enter a flowing well, perform a light work function and return to surface. Laboratory testing is scheduled for the first quarter of the year 2000, with field trials expected to begin in April.
Downhole functions
Once this device is proven in the field it will be commercialized. The commercial version will be capable of obtaining vital, bottom-hole pressure and temperature readings, scraping scale and paraffin from tubular walls, calipering, moving sleeves, and carrying memory production logs on its missions.
One of the initial applications for the Micro Rig, according to de Guzman, resides in the subsea well. By placing a Micro Rig in an extension between the subsea tree and the tree cap, the operator will be able to enter the well safely at any time to inspect, take measurements or take action at the bottom of the well. Production logs, flow isolation or intervention as well as scale and paraffin removal is currently being anticipated as the functions performed.
Delivery and retrieval of data, reprogramming of missions, and regeneration of power are currently being studied. Communication ports and service lines are viable options that are being used in subsea fields today (see Surface/ Subsea Systems Technology column in this issue).
Other developments
Other innovative devices IIC is promoting include a swimming "fish" that could inspect a pipeline, a crab-like device that could lay seismic sensors in the surf zone, and a seabed rover for the inspection of subsea facilities.
De Guzman said the consortium had its initial meeting in November and hopes to add several members over the next few months.
While plans to deploy the Micro Rig are underway, de Guzman said there is not yet a consensus on which of the devices will be developed next. This decision will rest in large part with the priorities of the oil companies funding the project.
De Guzman said, as a rule of thumb, IIC will only pursue development of devices that can save a minimum of 50% over the existing industry standard. These autonomous devices realize the bulk of such cost savings in two basic areas, manpower and vessel day rates, and a reduction in down time.
In its initial contact with the oil industry, IIC met with a number of operators and service companies to identify needs. IIC found two things unique to this industry:
Importing technology
The oil industry was for the most part unaware of how to adopt many innovations made in other industries. Though much of the oil industry's automation and high technology was borrowed from other industries, those in the oil business seemed to be unaware of the rapid developments in the areas of artificial intelligence and robotics. "The E&P sector have taken technology from other areas and adapted it for use in the finding, drilling, and producing of oil and gas wells around the world, but it has always been a very slow process," de Guzman said. IIC hopes to speed up this adoption process to match the pace of changes in other industries.
IIC polled many of the major E&P oil companies of the world over the past three years asking the question, "What are the major cost-prohibitive items facing you today and into the future?" There were a variety of responses, but two areas were consistently mentioned: rig intervention and deepwater.
Reliability
IIC also identified a reliability problem within the industry's procedures. De Guzman said his investigations have shown that across the board, the downtime in a drilling program averaged about 30%. More specifically, 5% of jobs that are considered troublesome accounted for 90% of downtime. Often, these wells were also the ones operating below their full potential, adding to the loss of revenue.
Armed with this market data, IIC began investigating how it could reduce this downtime and increase the production from problem wells. What the company came up with is a new approach to design.
De Guzman said his experience with the industry has shown that, in general, wells are designed for success. That is success, as opposed to being designed not to fail. The difference can be seen only when a problem develops.
Under the philosophy of designing for success, problems are encountered, solutions are developed, and obstacles are overcome. Failures are not planned for, but they are not unexpected. Experience and technology allow drillers and operators to adapt their procedures and overcome these obstacles.
Design not-to-fail
Under the design not-to-fail approach, such problems are anticipated from the start and the drilling program is designed to avoid problems in the first place. This means that drilling might progress more slowly, but because problems are eliminated, there is a net overall savings. The philosophy of "run to break" may appear more aggressive, but actually avoiding equipment failure in the first place makes more sense.
Autonomous devices can play a role in this philosophy, because they can be programmed to only operate within certain parameters. To design a well not-to-fail, de Guzman said he would first look at the weak points in the well. It is important to identify the things that usually go wrong then program the robots to look for these conditions.
Real-time data returns are fine and good, but they take too long to receive and interpret. A robot downhole not only monitors the situation, but also is able to act quickly when conditions warrant, so there is no lapse between when the problem is encountered and the corrections are made.
The Micro Rig can identify threats and avoid them, de Guzman said. If it comes in contact with unforeseen restrictions, splits in the tubing or excessively high temperatures, it will automatically return to surface and report. Designing a device "not to fail" is commonplace in other high-risk industries such as automotive, airline, aerospace, and medicine, but remains foreign to the oil patch.
Future applications
An intelligent robot that swims like a fish can measure, record, and report current strength and direction at every turn from any vessel. Similar technology has already been used to follow a sperm whale across the Pacific Ocean, recording its migratory patterns, rate of travel, and depth of plunge. This device would assist in reading current direction and strength during critical activities such as landing a deepwater riser.
The device could also gather intelligence to use in designing specific-use vessels. This same device could be used to inspect the location or condition of a stationary pipeline from the outside or the inside, or map the seafloor conditions ahead for pipeline or flowline installation. It could also inspect the condition of a subsea well or the legs of a platform.
3D seismic, 4D seismic, VSP reading and seismic-while-drilling are some of the major breakthroughs in finding and producing more oil and gas at lower overall costs.
Vessels of all shapes and sizes are busily placing cable and hydrophones on the seafloors around the world to obtain these seismic readings. The up-front capital costs and operational acquisition expenses for these activities represent some of the largest new expenditures facing the oil companies today.
IIC has plans to adapt a crab-like device, designed for military use in finding land mines on beachheads, to perform many of the seismic placement activities in deepwater and high-surf areas. These devices come equipped with communication capabilities to communicate their location to other crabs and the operating vessel. A swarm of rugged devices, working in concert, could be used to replace manpower in surveys and large-scale, land-based seismic data acquisition.
Disposable devices
The subsea environment in deepwater may require very low cost, essentially disposable, devices. These requirements are similar to those of devices developed for military applications. These devices could provide deepwater mobility at a low cost.
One example is a military device that is little more than a pair of wheels and a stabilizer. When the stabilizer is in its retracted position, the entire device can be fired from a gun or dropped from aircraft. With appropriate instructions, this device can patrol the ocean bottom and report back the information from its sensors. The same software designed for these devices can be adopted to make existing remotely operated vehicles more intelligent and increase the productivity of personnel working with remote machines.
Along the same lines, a more versatile device, also designed for low cost, rugged operations is currently in testing in urban reconnaissance applications. "Urbie" can carry an extensive sensor array, withstand falls from 40 ft onto a concrete surface, and negotiate stairways and complex passageways. It may have a broad range of applications onboard an offshore rig.
These highly flexible robotic devices are all currently in the testing phase in other fields of application and can be made available to the exploration and production industry in a very short time frame.
A slightly more advanced device is the robotic octopus, which is still in the simulation design stage with only partial prototypes in existence. The octopus-like device called "Holon" provides outstanding flexibility for negotiating complex structures and honing in on hidden targets. Down the road this device could be used for inspection work on topsides or subsea modules. This device can be adopted to crawl along structures and pipelines. Specific tentacles are designed for locomotion while other tentacles can carry inspection or repair tools.