SaipemFDS2 – A&R winch 600T complete with reel winder for two wire ropes: 4,000 m (13,123 ft) of 84 mm and 4,000 m of 125 mm. (Photo courtesy Remazel)
Offshore construction engineering specialist Remazel plans to expand internationally, supported by new shareholder Alpha Fund.
The company, based in Chiuduno near Bergamo in northern Italy, was established 40 years ago. Recently it acquired Singapore-headquartered Credence Offshore, the first step in the expansion process which will be followed soon by the inauguration of two new operating businesses in Brazil and South Korea.
Remazel develops, designs, and manufactures solutions for the offshore sector that include winches, mooring and pipelay systems. It has supplied equipment to Petrofac, Petrobras, Saipem, SBM Offshore, Subsea 7 and Technip, among others.
The company claims that one of its strengths is its ability to work as a team with customers' technicians and develop customized equipment to meet end-users needs.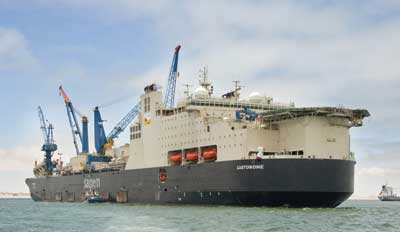 Italy's Saipem is leading the way offshore Australia at the Ichthys project, where its Castorone deepwater pipelay vessel will place the gas export lines.
It has supplied equipment for FPSOs, FPUs, and FLNG vessels such as rope and chain tensioning equipment from 50 tons to 800 tons for mooring systems, risers, and umbilical pull-in systems, hydraulic power units up to 1.2 MW, tandem mooring and offloading systems.
Mooring references include mooring tensioning systems supplied for three FPSOs supplied to Petrobras offshore Brazil, namelyCidade de Ilhabela, Cidade de Saquarema, and Cidade de Maricà. It also provided the complete mooring systems for the Saipem FPSO Cidade de Vitoria and for Petrofac's newly converted FPU that will serve Ithaca Energy's Greater Stella Area project in the UK central North Sea.
For Technip the company has supplied risers and an umbilical pull-in system for the FLNG vesselPrelude that will be stationed off northern Australia for operator Shell.
Among Remazel's pipelay deliveries are A&R winches and pipe handling systems for the Saipem construction vesselsCastoro Sei, Castorone, Castoro II, Castoro Otto, Semac1, FDS, and FDS 2. For Petrofac's JSD 6000, a new deepwater pipelay vessel for s-lay and j-lay, the company is manufacturing two 500-ton A&R winches and an active heave compensator of the same capacity. This vessel is due to enter service in early 2017.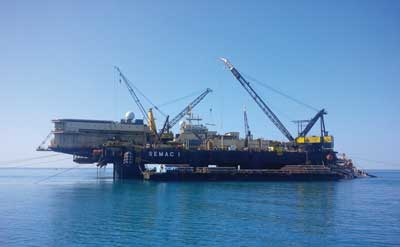 Saipem's Semac 1 semisubmersible pipelay barge is installing about 120 km (74.5 mi) of shallow-water Ichthys pipeline through Darwin Harbor and out to deeper water where it will turn the rest of the job over to Castorone. (Photos courtesy Saipem)
In September the company delivered a new 750-ton A&R winch to Saipem's semisubmersible vesselS7000, as part of the equipment for the pipelay operations for the new South Stream gas lines through the Black Sea.
As for crane and installation vessels, the company has engineered many solutions such as flexible pipe winches and active heave-compensated winches. Remazel spooling winches, windlasses, and umbilical winches are installed on the SaipemFDS, S3000, and S7000.
For Subsea 7 the company has delivered a new customized traction winch for pipeline bundle launches.
Drilling equipment references include active and passive AHC winches, jacking systems, rope and chain fairleads installed on the Saipem rigsPerro Negro and Scarabeo.