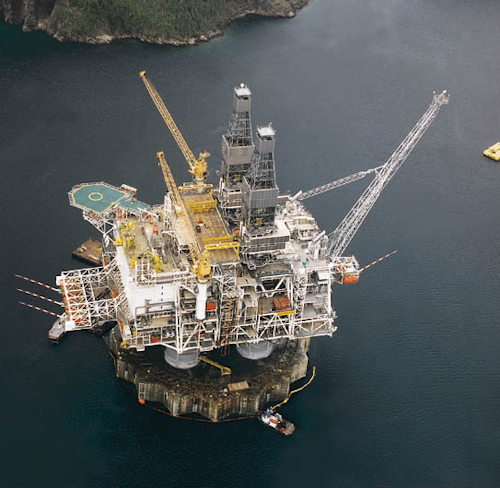 Field producing 40,000 b/d from first two wells
Hibernia is the largest field off Canada's eastern coast. Located 315 km east/southeast of St. John's, Newfoundland in 80 meters of water, the field has in-place reserves of 3 billion bbls with recoverable reserves of 615 million bbl. The structure is shown here before tow-out.
Hibernia is the largest field off Canada's eastern coast. Located 315 km east-southeast of St. John's Newfoundland in 80 meters of water, the field holds reserves of 3 billion bbls with recoverable reserves of 615 million bbl. Production is through a gravity-based platform structure. The field has an estimated life of 20 years and production is expected to plateau at 135,000 b/d.
Hibernia production comes from two main formations: Hibernia sandstone, at about 3,700 meters; Avalon standstone, at 2,400 meters. Using data gained from exploration wells, the completion team determined that the reservoirs were composed of heterogeneous sandstone layers, had limited aquifer support, and had the potential for water and gas breakthrough at the producer wells.
Seawater and gas injection would be needed to maintain well pressure during the producing life of the field. Therefore, the team had to consider the formation damage that could be caused by scaling during water injection. On the plus side, the team learned that sand control would not be a problem in Hibernia's completions.
The Hibernia sands have a high reservoir quality and the field will be developed first via 55 planned completion wells. The Avalon development includes 25 planned wells. Most of the wells will be drilled during the initial stages of field life with a total of 64 drilled by 2003. The drilling has begun. The first two wells have flowed at a Canadian record about 40,000 b/d.
Re-completion strategies
Hibernia's two platform rigs will be tied up for the first 8-10 years of the project, making them unavailable for workover projects. Thus, it is essential that tubulars and completion equipment be designed to operate maintenance free throughout the well's life.
Zonal re-completions, needed to selectively isolate different zones in order to maximize recovery, will be performed without a rig. Zonal recompletions will be instrumental in battling the water and gas breakthrough that will threaten these high producing wells.
Using reservoir simulation, it was determined the average well operating life would be 12-15 years, with a range of 6-25 years. To meet these requirements, the team chose 13% chrome material for the oil producers for minimizing sweet corrosion anticipated after water breakthrough. For water and gas injection wells, the team recommended carbon steel. Premium connections were designed into all tubulars to minimize potential leak paths.
A monobore completion design was chosen for the initial completions to give fullbore access to all pay zones without diameter restrictions. Full access accommodates non-rig well interventions for workovers and re-completions.
Completion components
The liner hanger assembly includes a liner top packer and rotating liner hanger with heavy-duty, tapered roller bearings which allows liner rotation during cementing. This equipment provides an annular pack-off element that resists extrusion and swab-off. The liner hanger assembly's slip is fully recessed, which allows the long heavy liner to be hung without interferring with critical bypass areas needed during intallation and cementing operations.
A polished bore receptable (PBR) and permanent packer are included in Hibernia's monobore completion design. The PBR was installed to facilitate potential tubing movement during the well's life. The permanent packer design included a non-movement mandrel which allowed neutral setting of the packer in a single rig trip without external setting tools. The wet flow parts of the packer were enhanced to accommodate any potential erosion or corrosion problems they might encounter downhole.
Reduce intervention
A key driver in the Hibernia completion strategies was to minimize well intervention and maintenance. This was done in the individual component designs. An example of this was the newly designed full bore landing nipple (FBN) and lock mandrel, which allowed the monobore completion design to have a constant diagram throughout the wellbore, reducing the potential for scale buildup and potential well intervention problems.
Previously, the sealbore of landing nipples had a smaller ID than the tubing drift. This resulted in a pressure drop, which led to scale buildup and sometimes well intervention problems. To overcome this, the completion team designed an FBN that had an outside diameter no greater than the tubing coupling and an ID that matched the tubing drift. Also, a special locking mandrel was designed to eliminate the need to jar out of the landing nipple.
Three locations were chosen for the landing nipples:
Above the formation liner, which allows for work to be done on the upper wellbore components without a dynamic kill
Near the permanent gauge, which allows pressure gauge data verification and shut-in work to be done
Above the safety valve, which allows for work to be done above the SSSV, including the tubing hanger and Christmas tree components.
Not only do the landing nipples provide a place for flow control devices and plugs to be set in the well in three specific locations, but a specially designed monolock system allows for an operator to set flow control devices and plugs in any location downhole. Under this design, the locking plug can be set and retrieved via a coiled tubing or slickline electronic downhole power unit, located anywhere in the wellbore. Utilizing the FBN and monolock system, the project team achieved the barrier needed for well intervention work using minimum equipment and maintaining the full wellbore inner diagram.
Full ID a factor
Other equipment in the wellbore and throughout the christmas tree carried the full inner diameter concept, insured reliability, and minimized well interventions through their designs/installations: permanent gauge, safety valve (via the utilization of a contoured flapper), wellhead plug and multi-bowl christmas tree/wellhead assembly. Details of these designs for complimenting the Hibernia completion strategies will be presented at the Offshore Technology Conference in May (OTC 8585).
Minimization of well intervention can be seen in the overall completion design by the utilization of straddle packers, permanent gauges, and 178-mm tubulars. The large diameter tubulars allow for future smaller diagram tubular insertion. The straddle packers allow for individualized reservoir layer shut-off. The utilization of permanent gauge allows for effective reservoir management without excessive well intervention downtime.
Also, Hibernia's monobore completion design was driven to minimize well installation times and costs. Examples of minimizing well installation include:
Utilization of the multi-bowl fireproof christmas tree/wellhead assembly rather than the traditional stack assembly
Installing the liner/displacing to completion fluid in a single trip operation.
Additional details of Hibernia's completion strategies, well designs, downhole equipment, executions and interventions strategies/methods will be presented at OTC '98 (OTC 8585).
Reference
Wylie, G. Maier, R., Shamloo, S., Huffman, M., Downton, M., "Case History: Well Completion and Servicing Strategies for the Hibernia Field," OTC 8585, Offshore Technology Conference, May, 1998. (Paper provided by Halliburton Energy Services and Society of Petroleum Engineers).
Copyright 1998 Oil & Gas Journal. All Rights Reserved.