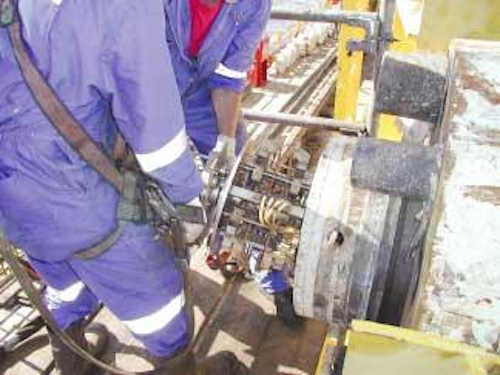 Nick Terdre
Contributing Editor
An important advance in riser inspection technology was the Riser Active Data Acquisition Recorder, introduced by ABB Vetco Gray in 2001. The company is now preparing for the launch later this year of Radar-V, which will be capable of carrying out vertical inspections of an assembled riser.
The Radar development, in which Global Automated Systems also participated, was prompted by the recognition that conventional riser inspection services could be improved.
Radar – a fully mobile tool that packs into two containers – travels to a location convenient to the customer, including the rig at sea. Once on location, it requires only power, water, and air hook-ups, while riser preparation is limited to the removal of protectors.
Again in contrast to conventional external inspection, Radar carries out an internal inspection, traveling through the riser joint. The tool can typically inspect six 90-ft flange connections of a 21-in. drilling riser over a 24-hour period. According to ABB, Radar reduces both the cost and time of inspection by about two-thirds.
Radar is equipped with advanced ultrasonic technology for real-time data acquisition and analysis. For weld quality inspection, it uses two time-of-flight-diffraction channels detecting any weld flaw larger than 0.031 in.
null
Four pulse-echo shear-wave transducers analyze the root and cap regions of the weld, while pipe thickness is inspected by four pulse-echo longitudinal wave transducers. Data relating to the pipe thickness is displayed as a color-coded thickness map, showing both graphically and numerically any anomalies in the wall thickness. The tool also makes a video record of the internal state of the riser.
Since data acquisition and analysis take place in real time, flaws can be identified and repairs effected before the pipe is returned to service. The inspection report is provided to the customer on CD and can form the basis for systematic maintenance and repair programs, or for compiling the history of individual riser joints.
The tool is available in a large-diameter and a small diameter configuration, which between them can inspect pipe diameters ranging from 3 in. to 24 in. The Mark I prototype has inspected more than 100,000 ft of pipe since 2001.