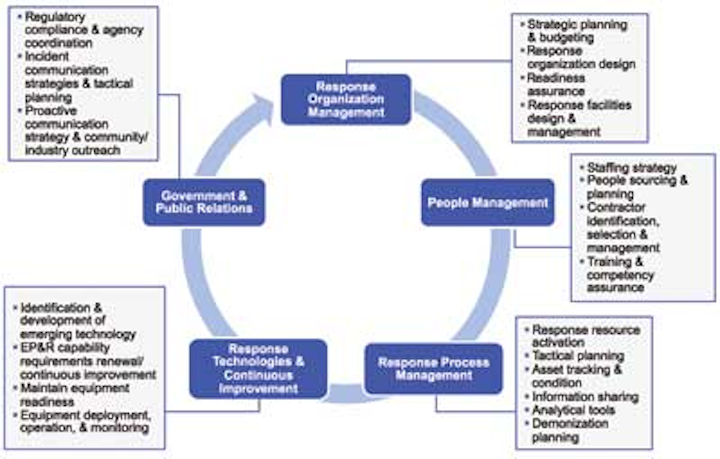 Displaying 2/2 Page 1, 2
View Article as Single page
Contractor identification and selection. Most organizations recognize the potential resource needs (and challenges) of supporting a sustained, large-scale response effort. In fact, more than 50% of organizations surveyed indicated that they hire external resources as part of their EP&R department. The top areas where survey respondents leveraged third-party service providers are EP&R documentation and planning, as well as the usage of specialized equipment. Around 65% of companies surveyed did not maintain a dedicated full-time staff (more than 10 people) working as part of an EP&R team. In lieu of dedicated staff, individuals across the organization were tagged with EP&R responsibilities in addition to their primary job duties. As a result, most EP&R activities were not budgeted as part of a larger cost center preventing a company's ability to focus on planning for larger EP&R system upgrades, tests, and drills. In the case of smaller organizations, the EP&R function was typically outsourced to a third-party vendor.
Other EP&R performance improvement areas identified by the survey included: Asset Tracking and Condition Monitoring; Demobilization Planning; Maintenance of Equipment Readiness; and Equipment Deployment Operation and Monitoring.
EP&R progress
Overall, the survey results indicated that leading oil and gas companies lacked a holistic, enterprise-wide view on EP&R. Capgemini used the results to design an approach to analyze, prioritize, and subsequently fix the key issues faced by oil and gas companies in EP&R. This approach consists of five core elements: Response Organization Management, People Management, Response Process Management, Response Technologies & Continuous Improvement, and Government & Public Relations.
Since the EP&R survey was published, significant advancements have been made in Emergency Response Equipment & Technology. In addition to the contributions made to industry consortiums such as MWCC, offshore operators such as Shell, BP, and others have made investments in advancing the capabilities of EP&R equipment. Innovations in BOP and capping stack technology continue to be a focus on equipment capability development. For example, there are nearly 20 capping stacks currently available for deployment around the world, six of which are located in the deepwater GoM region.
There have also been significant developments in information sharing and data standardization. In particular, companies are working through common operating picture (COP) projects – largely focused on technology and data standardization.
Remaining gaps
While companies continue to invest in BOP improvements, containment technology, and data standardization, many are not taking a comprehensive, holistic approach to advancing all the key elements of the EP&R capability. Rather than institutionalize emergency response as a core organizational process, companies continue to view EP&R as a part-time support function. Organizations must work proactively to close the gaps instead of waiting to react to the next emergency situation. Companies should take EP&R beyond equipment and data standardization improvements, and include a holistic approach that also addresses the human and organizational elements.