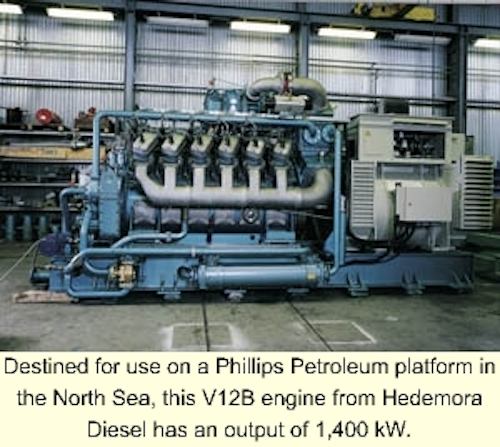 A Hedemora V16 A diesel engine with a shaft power of 1,200 kW was delivered recently to Phillips Petroleum for instal lation on the Eldfisk Tor platform. The engine will power an Ingersoll Dresser pump for water injection.
Built at the Hedemora Diesel factory at Hedemora in Sweden, the new engine is expected to operate with a fuel efficiency of 38%. It joins three other Hedemora diesels that are being used for electricity generation by Phillips. These include two V18 engines producing 2,150 kW each and a smaller V12 installation running at 1,400 kW.
The Hedemora diesels replace small gas turbine generator units that have a fuel efficiency of around 10%. Despite the gas burned by the turbine being available without cost to the operator, its inefficiency has made the user liable to substantial carbon dioxide tax payments to the Norwegian government.
Founded in 1876, the company has been manufacturing diesel engines since 1945. Hedemora's engines are today available in sizes ranging from 1,000 kW to 2,500 kW, in configurations of 12-18 cylinders. The largest of these works with a 210-mm cylinder bore and a stroke of 210 mm. All are supplied with ABB turbochargers to optimize their power output.
Because the dependability of their engines is of paramount importance, they are fitted with die-forged, fully machined crankshafts with induction hardened journals. Pistons are manufactured from aluminum alloy with a cast iron ring carrier for reduced wear. Camshafts use induction hardened cams and bearing journals while valve seats are wear resistant and interchangeable.
The engines' design features a welded cylindrical crankcase that provides a low weight with high output. They are particularly well suited to applications in which large variations in power output are necessary and have been designed so they can be operated for long periods at low power and then quickly take on maximum loads without their performance or operating reliability being affected. They have also been tested by the Norwegian Maritime Directorate to operate at an inclination of 35° under its requirements for emergency generator sets.
The base design of each Hedemora diesel engine comprises an environmentally sound power source. This ensures that they have lower NOx emissions than those specified under the latest International Maritime Organization regulations, a performance that is achieved without any modification to the engine or its fuel system.
Problem-free upgrade
Another successful aspect of the design of Hedemora diesel engines is that they are built to enable continuous upgrading. Gerhard Lindholm, Managing Director of Hedemora Diesel, explained how this can benefit the user, "Stena has two dive support vessels that are equipped with six of our V18B engines to provide diesel electric propulsion and DP thrusters," he said. "These engines are currently being upgraded so that they can be run for another 100,000 hours. A Hedemora engine will never become obsolete as everything can be upgraded and we carry spares for every type of engine ever manufactured by the company. They can also be delivered anywhere in the world within 24 hours," he said.
The company operates an extensive training program for its customers and for its own staff who can provide a full maintenance service for customers if required. With nearly 500 engines still in use around the world, Hedemora has little difficulty in demonstrating its track record with applications ranging from standby generators in hospitals to the world's largest conventional submarine. This Australian Navy boat submarine has its batteries charged by three 12 cylinder Hedemoras which, being the largest diesel submarine engines ever built, are expected to maintain a life expectancy far in excess of the submarine itself.
For more information contact; Gote Jonsson, Hedemora Diesel, Tel: +46 225 595800, Fax: +46 225 595801, Email: gj@hedemoradiesel.se