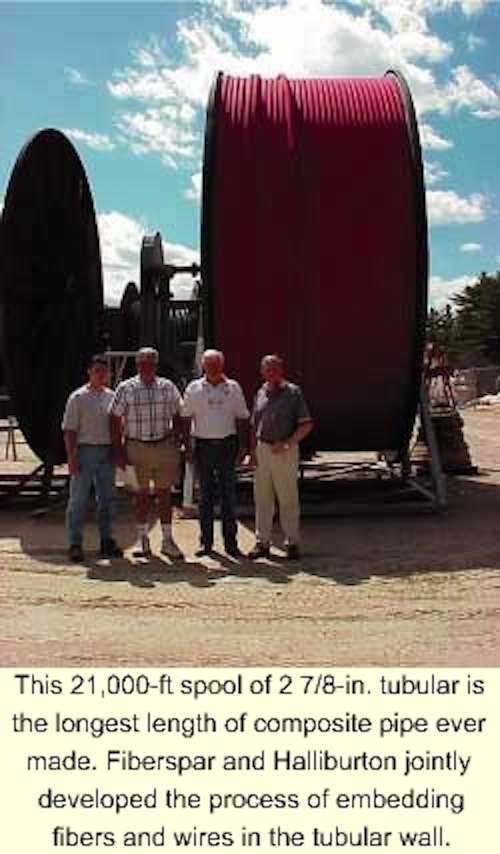 Halliburton and Fiberspar can see a day in the future when wired tubulars will be the rule rather than the exception. As extended reach drilling and extended tiebacks become more common, the advantages of sending a direct signal, or power through tubulars will become very attractive.
Composites in the drilling industry have made huge progress in recent years, driven by deepwater exploration and production. Riser joints, flowlines, and line pipe made of these materials are stronger and lighter than steel and offer the advantage of resisting corrosion. This means they are a cost competitor to 13% chromium steel currently used in corrosive environments. Beyond these advantages fiber composite tubulars can be spooled and are practically weightless compared with steel.
Conoco first took an interest in the process, but Halliburton has plans for applications of these materials that take the technology a step further. First, the company looked at constructing immense lengths of carbon fiber composite tubulars. Halliburton took a position in what it says is an industry leader, Fiberspar, and began constructing 21,000 ft continuous lengths of the tubulars. Peter Quigley, President of Fiberspar, said these are the longest length of 2 7/8-in. pipe ever made. Fiberspar and Halliburton jointly developed the process over the last two years as part of the Anaconda drilling system.
Development
Fiberspar did not start out as an oilfield products company. Vikram Rao, Divisional Vice President for Reservoir Description/Integrated Technology Products for Halliburton said the company originally manufactured hockey sticks and spars for sailboats, such as those which race in the America's Cup. When Conoco made the decision to sell off its position in oil field composites technology, Fiberspar bought up this information and added it to their other areas of expertise.
Halliburton took an ownership position in the company in order to access the technology. Rao said Halliburton is interested in integrating Fiberspar's technology into oil field piping solutions, but does not get involved in the internal operations of Fiberspar. After building experience in the sporting goods business, which, along with aerospace, was one of the pioneer industries for the use of composites, Fiberspar is now totally focused on oil and gas products. Quigley said the company has placed 500,000 ft of composite pipe as part of a gathering system in Canada.
Constructing composites
Composite tubulars are constructed in two sections. There is an internal core made of plastic, which seals in liquids and pressure. This is surrounded by an outer carbon fiber layer that provides the strength. This outer layer is composed of carbon fibers, similar to a yarn, and polymers.
The thermoplastic core is extruded, then the outer layer is woven onto it. For short joints, this weaving is a complex operation, but for 21,000-ft lengths, it is a major undertaking. Rao said the technology used to build these tubulars is more akin to textile work than fabrication.
Fiberspar is located near Boston, Mass-achusetts, an area with a history of textile industry. The firm also draws technology from MIT, located nearby. Quigley said the assembly of the pipe takes place in a renovated textile mill with state-of-the-art equipment.
The lengths of thermoplastic tubulars are wound onto two facing spools, one at each end of a 450-ft long bay. The weaving and curing of the fibers begins on one end of the tubular. As the fibers are woven onto the tubular it advances into the curing ovens, then onto the other spool. As one spool unwinds the other takes up the completed tubular. Using current technology, Quigley said he can construct 6-10 ft of tubular per minute.
Wiring composites
Rao said. There are two ways to wire the tubulars. Either electrical wire or optical fiber can be used for communication. If fiber optics are used they can carry larger amounts of electronic data, but cannot convey power. A copper wire can carry power as well as a limited amount of data.
Quigley said it is also possible to wire a tubular with both copper and fiber optics to provide high bandwidth data transmission as well as power. The wire is installed in the wall of the pipe to protect the conductors from damage. The wire is run in a helical spiral to prevent fatigue when the tubulars are coiled and uncoiled. This is one of the technologies that grew out Fiberspar's relationship with Conoco,
Rao said it was difficult to develop a system to wire the tubulars, but once this hurdle was cleared, all of the tubulars produced by this operation were wired. This is not to say operators are requiring such technology; Rao said this is a solution in search of a problem. He is convinced that such a system will offer so many advantages that just making it available will create a market. These tubulars can be used for everything from drill strings to completion strings and line pipe. Such solutions offer real-time communication with downhole sensors and equipment as well as a direct power source for such equipment. Halliburton is using this continuous spooled product in its new Anaconda drilling concept.
Rao said the coiled, wired composites will initially be produced in smaller internal diameters. These will first be used in benign applications. As the technology advances the diameters will grow, and the applications will be more dynamic.
Because it is a cost-effective alternative to exotic materials, such as 13% chromium steel, this will be the first application of the composites, Rao said. The composites can be used on longer stepout wells than steel because of the light weight. This is one of the keys to the Anaconda design in which the drill string is basically floated into the hole.