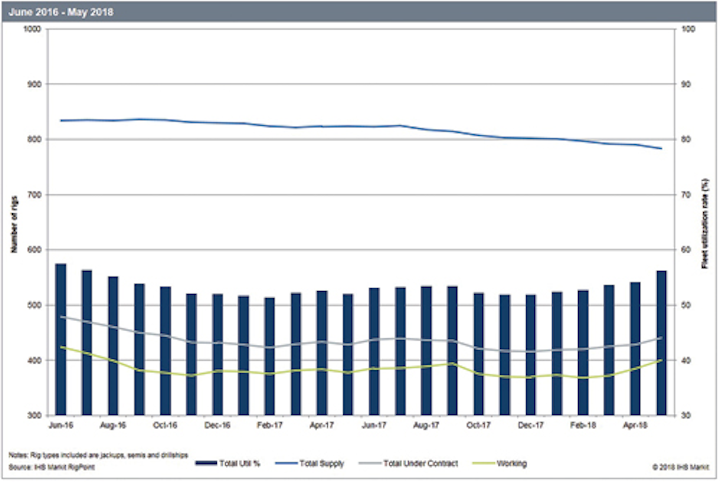 Worldwide offshore rig count and utilization rate
The offshore rig market has continued its positive trend across supply, utilization, and working rigs for the third month in a row. The total number of jackups, semis, and drillships under contract took a relatively large jump this month of 12 rigs up to 440. While not as big of a change, the total supply of mobile offshore drilling units fell by seven, dropping to 783. With these adjustments, rig utilization also experienced a healthy boost of more than 2%, pushing the rate from 54.2% in April to 56.3%. Meanwhile, the number of rigs working took a significant leap of 15 units month-on-month to an even 400, a figure that has not been reached since August 2016.
– Justin Smith, Petrodata by IHS Markit
Worldwide offshore rig count & utilization rate (June 2016 – May 2018)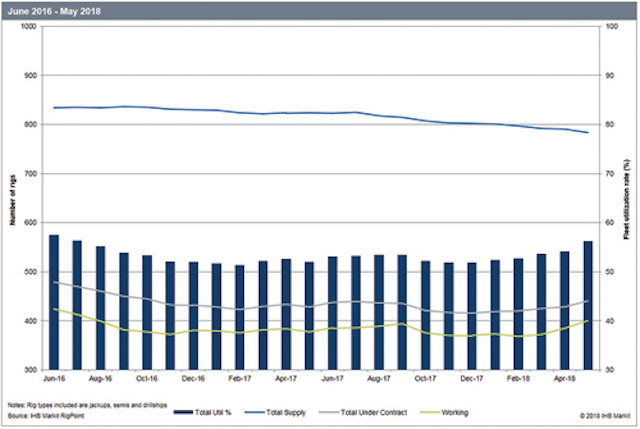 Optimism increasing in floating production market
Westwood's latest World Oilfield Equipment Market Forecast sees further improvements in offshore E&P activity between now and 2022.
In North America's offshore market, the recent improvements in oil prices have boosted investor confidence, with total expenditure of $28 billion anticipated over the forecast period, of which $18 billion will likely come from FLNG developments, with eight LNG FPSOs set to be ordered by the end of 2020.
Globally, the analyst anticipates $148 billion of total spending, including capex on the engineering, procurement, construction, and installation of fixed platforms and floating production systems.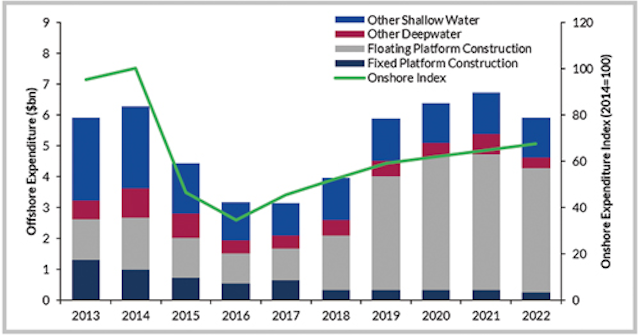 North American upstream offshore expenditure by segment vs onshore expenditure Index (2014=100), 2013-2022 (Source: Westwood Energy)
Largest growth for well services short term, subsea long term
The oilfield service market that will benefit the most from increased investments and operational expenditures in 2018 is well services and commodities, according to Rystad Energy. The analyst expects an average growth of 11%, whereby stimulation services and OCTG leads the growth. The North American shale market, valued at $95 billion in 2017, drives most of this.
Long term, the subsea market is primed for the highest growth rates. As the wave of offshore sanctioning turns into dollars spent, deepwater markets such as the subsea equipment and subsea installation market will benefit the most with an average growth of 13% toward 2021.