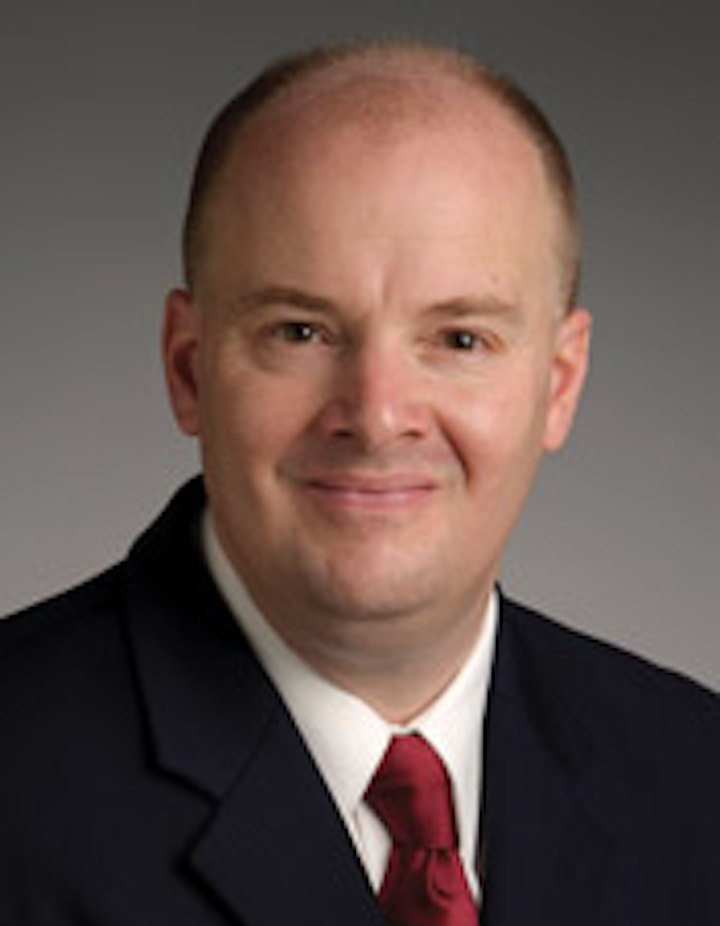 | | | |
| --- | --- | --- |
| | | Bruce Beaubouef • Houston |
High bids from a late November western Gulf of Mexico lease sale totaled more than $133 million on 116 tracts covering 652,522 acres, says the Bureau of Ocean Energy Management. Each bid will now go through "a strict evaluation process within BOEM to ensure the public receives fair market value before a lease is awarded," the bureau added.
A total of 13 offshore energy companies submitted 131 bids on this Lease Sale 229. ConocoPhillips and Chevron were the most active, together netting 90 high bids. Other active companies included BHP Billiton Petroleum with 10 high bids and Exxon Mobil with four.
Most of the interest was in the Alaminos Canyon, where Shell's Perdido platform is located, and the East Breaks area. Water depths on the blocks range from 200 m (656 ft) to more than 1,600 m (5,248 ft).
The highest bid on a single tract was $17,221,317 by Chevron for East Breaks block 546. Chevron USA Inc. submitted the highest total amount in bonus bids, totaling $56,031,099 on 28 tracts. Chevron won drilling rights in four East Breaks blocks.
Although the BOEM received at least one bid near the US/Mexico continental shelf boundary, those bids were not opened in late November and may never be opened, says the bureau. A 10-year moratorium on drilling within 1.4 nautical miles of either side of that maritime boundary was to expire in January 2011 but was extended until January 2014.
BOEM also recently announced that the next Central Gulf of Mexico lease sale, proposed Lease Sale 227, will take place on March 20, 2013, covering 38 million acres offshore Louisiana, Mississippi, and Alabama.
Third death confirmed in Black Elk fire
The body of a worker missing since the Nov. 16 platform fire in the GoM has been recovered near the site of the explosion, according to reports.
The discovery raises the death toll from the fire on the Black Elk Energy-operated platform in West Delta block 32 to three. All three victims were Philippines nationals reportedly working for contractor Grand Isle Shipyard.
Local authorities identified the body of Jerome Malagapo using dental records, Dow Jones reported. The body of another missing crew member, Ellroy Corporal, was found shortly after the incident.
Black Elk issued a statement Nov. 23 following the death of Avelino Tajonera, one of 11 workers injured in the blast.
"We continue to work in close cooperation with government officials to understand exactly what happened in this incident," the company said.
Three of the injured workers remain hospitalized, two in critical condition, according to the Philippine embassy in Washington, D.C.
Federal authorities are investigating the accident. On Nov. 21, the Bureau of Safety and Environmental Enforcement ordered Black Elk Energy to take "immediate steps to improve its safety performance on the US outer continental shelf" and charged the company with "numerous safety incidents involving Black Elk facilities" prior to the West Delta 32 incident.
PXP closes major deepwater acquisitions
Plains Exploration & Production Co. has closed on its acquisitions in the deepwater GoM from BP Exploration & Production Inc./BP America Production Co. PXP has acquired for $5.5 billion properties including the Marlin Hub, Horn Mountain, BP's 50% interest in Holstein, Diana-Hoover, and Ram Powell.
In a separate purchase, PXP also acquired Shell's 50% working interest in Holstein for $560 million.
Total reports deepwater oil discovery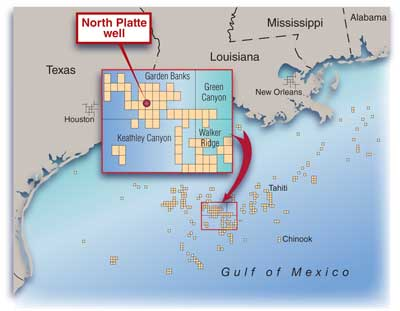 Total says it has found "several hundred feet" of net oil pay in a new Lower Tertiary oil discovery in the deepwater GoM, in Garden Banks block 959.
Total has a Lower Tertiary oil discovery in deepwater Gulf of Mexico block 959 on Garden Banks at the North Platte prospect.
North Platte is in a water depth of 4,400 ft (1,340 m) and was drilled to a TD of 34,500 ft (10,520 m). Total says it found "several hundred feet" of net oil pay in several intervals. The company continued to say the well confirms the northern extension of the Wilcox formation and the presence of liquid hydrocarbons.
Total holds a 40% interest in North Platte. Cobalt, the operator, holds the remaining 60%.
Noble Energy cheers Big Bend results
Noble Energy has reported a discovery at the deepwater GoM Big Bend prospect in Mississippi Canyon block 698.
The exploration well, drilled in 7,200 ft (2,195 m) water depths to a TD of 15,989 ft (4,873 m), encountered around 150 ft (46 m) of net oil pay in two high-quality Miocene reservoirs.
The Big Bend well results "appear at least as good as our pre-drill mean resource expectations" and provide momentum for development of the company's nearby Troubadour prospect, said Noble Energy Chairman and CEO Charles Davidson.
Noble has a 54% operated interest in Big Bend, with partners W&T Energy (20%), Red Willow Offshore (15.4%), and Houston Energy Deepwater Ventures (10.6%). Noble operates Troubadour with 87.5% interest.
Enbridge to build deepwater pipeline
Enbridge has secured a deal to build and operate a 34-mi (54-km) crude oil pipeline in the deepwater Gulf of Mexico.
The company said the pipeline would tie into the proposed Heidelberg development.
That project starts at the Green Canyon block 903 about 200 mi (322 km) southwest of New Orleans, in 5,300 ft (1,615 m) of water. The pipeline is expected to be in service in 2016. The financial details of the project were undisclosed.
Anadarko Petroleum operates Heidelberg with 44.25%. Eni holds 12.5%, Apache Corp. 12.5%, Statoil 12%, Cobalt International 9.375%, and ExxonMobil 9.375%.