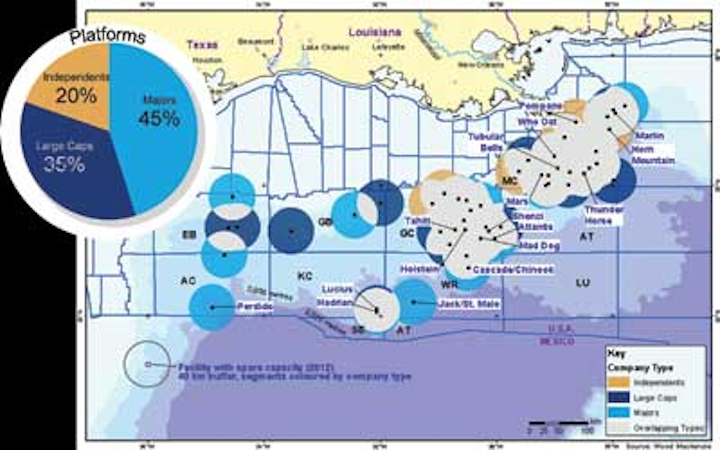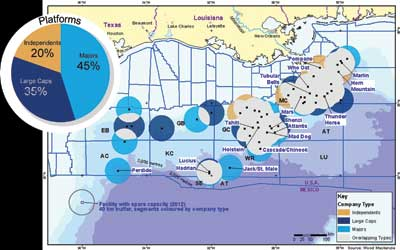 Deepwater Gulf of Mexico available capacity by company type (2017).
Norm Pokutylowicz
Wood Mackenzie
Most of the processing capacity available in the deepwater Gulf of Mexico is unused, and there is some inherent value lying dormant. Independents are moving more into platform ownership via newbuild facilities and acquisitions, driven in part by the value proposition of spare capacity. Wood Mackenzie expects an additional 2 Bboe to be produced by subsea tiebacks, including fields that will be discovered over the next five years. All this activity will require the participation of investment banks, service companies, and operators.
Assessing unused capacity
Subsea tiebacks are an important part of deepwater GoM production. Tiebacks will account for more than one-third of production this year that is processed by deepwater platforms, and they are an entry point for various participating company types, including small independents.
Only 25% of existing capacity is being used this year – or restated, 75% is unused. But not all that capacity is available. Some of it might be set aside for daily peaks, planned production increases from future development activity, to tie back the operator's own satellite fields or for third-party tiebacks. Nonetheless, the conclusion remains the same: most capacity is unused.
By 2017, we expect an overall increase in production, mainly due to new, large fields coming onstream such as Jack/St. Malo, Lucius, and Hadrian. However, these large fields will not use existing capacity because they will have their own platforms.
Demand for the unused capacity will come from future subsea tiebacks, which includes fields that are under development, those that probably will be developed, and those yet-to-be-discovered by 2017. Production from those tiebacks that will have product handling agreements (PHAs) is expected to generate an additional $200 million yearly from tariffs. However, the overall growth in demand will represent only 6% of available capacity. Even with the increase in demand by 2017, 70% of capacity will still remain unused.
The strategy an operator employs to extract value from available capacity depends on what side they are on: whether they have capacity or want capacity. The location and distribution of available capacity is of interest to both sides.
The map highlights areas with high potential for subsea tiebacks as they lie within 40 km (24 mi) of deepwater platforms with current spare capacity (> 40,000 boe/d).
Clearly, unused capacity is not spread evenly in the Gulf of Mexico. There is a very high density in two protraction areas – Mississippi Canyon and Green Canyon – while the density becomes sparse to the south and west, with none to the southeast.
Platform owners seeking opportunities face several challenges, including technical and operational, such as whether the platform can handle the weight from extra risers, and commercial challenges to ensure a profit.
Moving to platform ownership
Overlaying the platform operators' company type to the previous distribution provides several insights. The large caps, including Anadarko and Murphy Oil, operate around a third of the deepwater platforms. Taking into account recent transactions, smaller independents such as Stone Energy and Plains E&P will operate 20% of all deepwater facilities. This is expected to increase further because deepwater GoM can be a significant part of their portfolio. Tariffs from third-party tiebacks can be a significant source of revenue for companies of their size, and they might be more receptive to tiebacks.
The majors, who will operate around half of the platforms, tend to focus on high-margin fields. Therefore, legacy assets can become "non-strategic" and be divested. This creates a big opportunity for value-creation by independents as they move into capacity ownership.
In a 12-month period, independents became owner/operators of five facilities. LLOG Exploration installed a new facility at the Who Dat field; Stone Energy acquired the Pompano platform from BP. And Plains E&P announced a deal in September for the acquisition of the Holstein, Horn Mountain, and Marlin hub production facilities from BP. Both Stone and Plains have ambitious development plans to capture value.
We expect more acquisition and divestment activity in deepwater GoM, especially as several fields with platforms enter the later stage of their life and become possible divestment candidates.
The inherent value of available processing capacity in the Gulf of Mexico should stimulate activity and be a value-creation opportunity for the independents. More deals are expected to support these opportunities and the timing will be contingent on development activity and constraints.