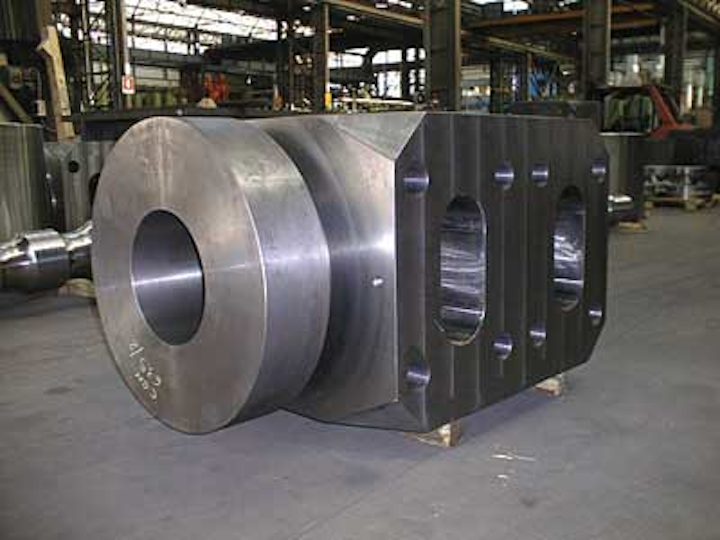 Two of Europe's leading steel forging companies are pooling resources under a new joint venture named M&M Forgings. The head office is in between Forgiatura Mamé and Forge Monchieri, both located in Cividate Comuno in Brescia province in the Lombardia region of northern Italy.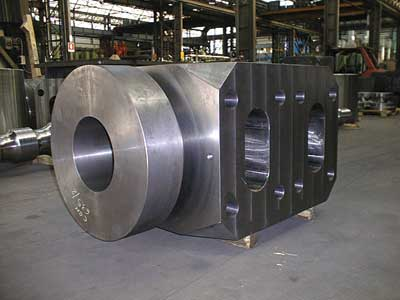 BOP forging produced by M&M.
According to Gaia Monchieri, CEO of M&M together with Andrea Mamé, "the two companies combined can offer customers wider options in terms of capacity and component sizes. Mamé, which serves the offshore drilling and production sector, produces forgings (spool body, AWB, PWB) for christmas trees, and pieces such as valve bodies, risers, BOPs, wellheads and stress joints, mainly for use in subsea and deepwater applications, and pinion pieces for gearbox systems on jackup rigs. It specializes in forgings that weigh between one and 50 metric tons.
"Monchieri can produce larger forgings, but its focus is more on the power generation sector. However, there could be instances where if Mamé became overstretched trying to fulfill a large offshore order, Monchieri could help out. One example could be components for BOPs, which can weigh more than 50 metric tons. There may also be a need in the future for some stress joints and risers that are larger than what Mamé can supply."
For both companies, one chief attraction of working in tandem is improved purchasing power.
"Having combined capacity of 100,000 metric tons/yr (110,231 tons/yr), compared with 50,000 metric tons/yr (55,115 tons/yr) individually," explained Francesco Piccinini, global sales manager Oil & Gas for M&M, "gives us more leverage when dealing with steel manufacturers to obtain a better price. We work with a variety of different steels, mainly produced in Italy, because the quality of material is better than that offered by competing steelmakers in the Far East. And with our suppliers being close to use, our lead times are better.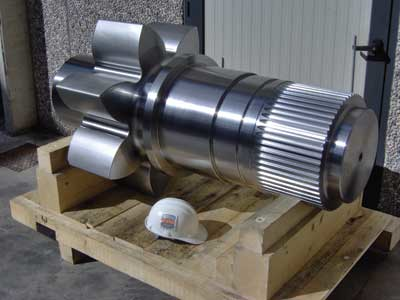 Pinion for jackup drilling rig.
"My next target is to focus on securing longer-term agreements with customers trying to increase the current business relationship. Our intention is to offer the best service, the best support, and the shortest possible lead times. With longer-term deals we can be more competitive, as these allow us to buy greater quantities of materials in advance and keep larger levels of stock, at a fixed price, providing the customers with all that they need. In return, they can help us by in some cases paying for materials in advance."
M&M produces forged components for the four leading drilling/production system contractors Aker Solutions, Cameron, FMC, and GE Oil & Gas. Its forgings are supplied to offshore projects worldwide, with current high-profile field developments including Gorgon off Western Australia; Ichthys (Inpex); BP Norge's Skarv, and other BP projects offshore Angola and in the Gulf of Mexico (Mad Dog); Kizomba A&B and Total's CLOV, Dalia, Girassol, and Pazflor developments offshore Angola; Balder Phase III, Goliat, Kristin, Troll, Vigdis, and Visund offshore Norway; RasGas off Qatar; and Chevron's Big Foot and Jack/St Malo in the Gulf of Mexico.
The joint venture can draw on the services of two different machining divisions – Lion Meccanica, which specializes in rough machining, and AM Machining, which offers pre-cladding.
"In the past offshore customers would typically ask for pieces in rough machined condition," said Andrea Mamé. "But with lead times for critical components becoming increasingly short, Mamé's management decided to invest in new facilities so that the company could offer pieces in a fully machined and cladded condition – cladding in particular is important for deepwater and this is what M&M Forgings is going to invest in. Further investments are under way over the next three to four years. M&M plans a total of €50 million ($65 million) in new equipment investments. Additionally, we are allocating 1-1.5% of our annual turnover – around €155 million ($201 million) combined in 2011 – to R&D.
"One of the priorities is to achieve uniformity of mechanical properties of large forgings – in deeper water you need big forgings with properties to provide protection against stress, high pressure, and corrosion. M&M is working with steelmakers on steel grades that require tempering and quenching, on development of new austenitic steels, and to adapt heat treatment techniques to improve the strength and toughness of those grades even in arctic conditions. And our R&D department is working with Politecnico di Milano on solutions for new steels and mechanical properties to ensure that customers get what they ask for.
"Additionally, we have software in-house that can simulate the forging and heat treatment process before producing critical components. We can use this data in order to see whether the mechanical properties obtained can meet what the customer is looking for."