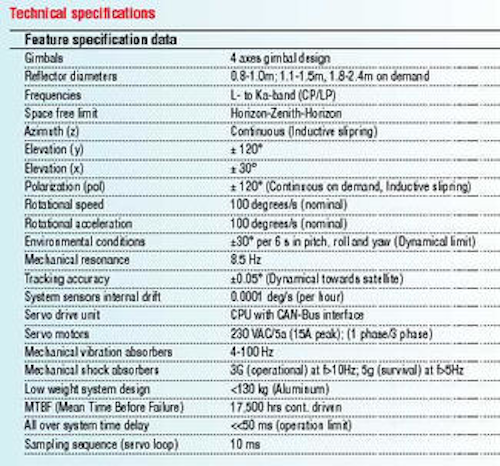 C2SAT Communications produces stabilized antenna platforms for satellite communications that can be used at sea or on land. By utilizing the C, Ku/Ka band, which is gaining interest due to saturation and crowding of other frequencies, the company can provide commercially-priced equipment that performs to military-specified standards, with reduced transmission costs.
By means of a patented monopulse tracking device that locks the antenna to the direction of the satellite once it has been found, C2SAT next generation systems can employ very high frequencies, enabling maximum bandwidths. As long as the stabilized antenna is pointing in the optimal direction, there is no need to move the antenna around. The accurate and stable tracking device makes use of four additional feedhorns that simultaneously receive and compare the beacon signal. Provided that the signal-peaks are equal to each feedhorn, the antenna is locked in its direction towards the satellite.
The ability to use high frequency bandwidths allows solid waveguides - which send signals to the feedhorn - to be used rather than traditional cables. This results in a transmission power reduction of 50% without losing any quality of transmission, in turn reducing communication costs.
The low-weight (less than 130 kg) aluminum system has a misalignment ratio of less than ±0.05°, which enables it to transmit a very narrow signal beam. This allows the right satellite transponder to be illuminated without disturbing the surrounding transponders. Accurate pointing also expends less amplified power, reducing costs further. The mechanical rig has a four-axis gimbal design which gives extremely high precision and stability.
The S2SAT stabilized antenna can be used for a range of satellite telecommunications applications providing a reliable uplink/downlink from lower bit rates of 9 Kbps up to full duplex rates of 100 Mbps.
For more information contact Mats Back, C2SAT Communications. Tel: +46 8 748 0140, Fax: +46 7 748 0141, Email info@c2sat.se, www.c2sat.se.