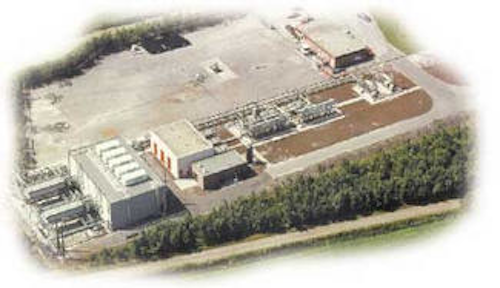 Platforms no longer in use can be removed and modified for service on other fields, as was proven last year in the Dutch North Sea. The redundant K-10C gas platform was redeployed on Clyde Petroleum's Q-4A development, following adjustments to the jacket and overhaul of the topside decks.
Tamalone International, an oilfield consultancy also based in The Netherlands (IJmuiden) plans to take the process a step further, by transporting structures from the North Sea - and perhaps also the Gulf of Mexico - to new shallow water locations in China's Bohai Sea, where numerous discoveries await development. The potential for shipments could be high, with Chinese state oil company China National Offshore Oil Corp. (CNOOC) reportedly pressing for 50 new platforms over the next five years.
This August, Tamalone negotiated its first trans-hemisphere delivery, from Chevron's Netherlands' division's depleted Akkrum onshore gas field in the Dutch province of Friesland. Here 30 years of production ceased in October, followed by dismantling of the facilities by a Tamalone-led team, including Chinese technicians. Currently, equipment from seven Akkrum well sites and a gas treatment plant are being towed on skids to Rotterdam via Holland's waterway system. They will then be shipped out in March to their new location at the Shengli oil field onshore in Shandong province. According to Tamalone International Managing Director Fred Bok, "the equipment is in very good shape, with no serious breakdowns despite 20 years of continuous operation. At peak, it can handle a throughput of 1.5 MMcf/d."
Under the arrangement with Chevron, Tamalone receives the entire facilities for a nominal sum, in exchange for removing them. Since March 2000, the company has also been charged with procuring second-hand offshore platforms for use in the Bohai Sea by the Shengli Oilfield Co. division of CNOOC. Tamalone has held discussions with western operators with fields approaching abandonment, and is hopeful of securing at least one redundant platform in 2002 from the two that will likely become available. Modification and re-use will be implemented jointly with its new alliance partner, Bright Star Company, based in Qingdao.
Trade mission
At present, Tamalone Internatonal is focusing exclusively on China. Its remit includes rental/sales of Chinese drilling tools and flow control products. The link with Shengli oil field arose from a trade mission by companies from North Holland to Shandong province in 1996. Bok, an ex-Schlumberger employee, was among the delegates. Although the agenda was largely agricultural, a final day visit was included to the Shengli Field operations center. At the time, this involved production from 25,000 onshore wells. Bok inquired about offshore exploration and was told by Shengli management that they had been drilling on their concession in the Bohai Sea since 1994, with only slight success.
Bok made numerous return visits to Shandong's oil capital city, Dongying, initially for oilfield services. He also promoted the idea of second-hand platforms as Bohai Sea exploratory wells began to strike oil. Dutch North Sea operators were approached, with reviews conducted on at least two platforms. Neither, however, were found to be suitable for re-use.
Shengli management was also responsible for the Chengdao Field development in the Bohai Sea. This had been producing since the early 1990s through two main platforms linked to numerous small satellites, with a third about to be installed. Management wanted further development, but was initially negative about the idea of using second-hand platforms. Bok pointed out that Dutch regulations forbade removal of structures from the North Sea not in a clean serviceable condition. This was important in light of persistent pollution problems at Shengli oil field. Tamalone has since been awarded a consultancy contract for further development of this field, with a fourth platform based on a decommissioned installation.
During a seminar in December in The Netherlands, Shengli officials said they planned to install around 50 platforms over the next eight years on Chengdao and another offshore field, Kendong. These range from large installations with full processing capability to modular wellhead facilities. Yards in China and elsewhere in the Far East will be contracted where possible for construction, but such a large number of structures left officials open to the idea of installing previously used structures.
According to Bok, the first "transplant" was a test case. "People can make calculations on paper concerning performance, but these don't necessarily match up in the field." Assuming the operation is a success, efforts will be stepped up to secure other redundant installations.
Recruiting such structures may be assisted by the recent oil price slump. If it dips further to $14-$15/bbl, mature field development will in many cases become sub-economic, making Bok's scouting operations easier in the short term. In a separate paper, Jan Louwerens, General Manager for Chevron in The Nether-lands, claimed that 7,400 decommissioned platforms would become available worldwide over the next decade, including 450 in and around the North Sea.
Ice buildup
At the planned development locations in the Bohai Sea, water depths vary from 15-20 meters, similar to the operational areas close to the Dutch coast. However, winter conditions are more severe, with ice formation a potential hazard. Also, large swaths of the seabed are clay or mud, which has led to adoption of multi-legged platforms, according to Bok. This will likely restrict North Sea re-use options initially to topsides only, probably mounted on ice-resistant piles to maintain year-round operation (except in extreme sub-zero temperatures). Engineering will be handled by a Tamalone-directed team of Dutch and Chinese technicians.
According to Bok, a primary aim is to keep the platform reuse operation low cost. Platform availability also is governed in part by the oil price. "When this is high, every single remaining drop of production becomes profitable, so we have to wait for the market to change," he said. Once facilities are identified, they need not be operating, but simply providing basic functions. Following reinstallation in the Bohai Sea, the equipment should be in service for at least another 10-15 years, depending on maintenance requirements. In some cases, there will be a need to add water injection packages, depending on the water depth. Also, the oil in Bohai Sea is heavy, entailing some process modifications.
"The biggest draw of off-the-shelf re-use is the time-saving aspect," he claims. "Also, it's a proven concept, and there are environmental advantages for the Chinese, because of the more rigorous environmental standards applied to Dutch sector installations."
Tamalone is looking to form a consortium with specialists in construction, underwater engineering, heavy lifting, and transportation. It is also looking at extending the re-use concept to other shallow water areas such as Lake Maracaibo.