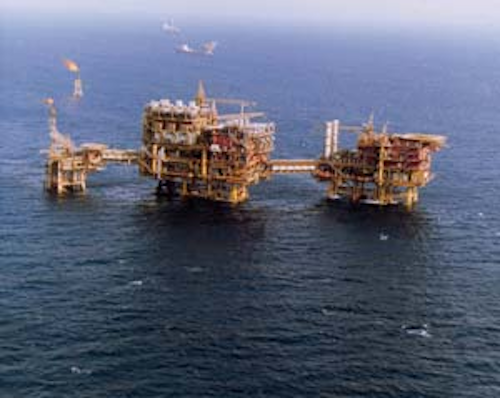 Private participation in exploration and production is encouraged to supplement the efforts of the national oil companies like ONGC and OIL
S.M. Singh Gandhi
Contributing Editor - Bombay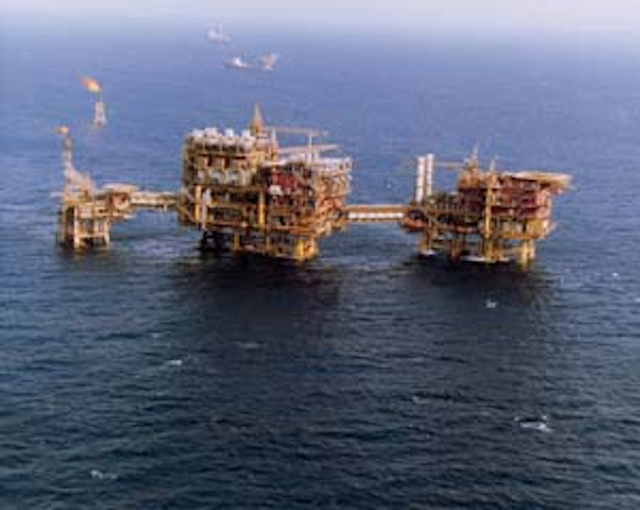 Needlam process platform, ONGC's latest platform in the Western Region
To meet the growing demand for petroleum products in India, Indian authorities are putting special emphasis on development and enhanced production from the country's offshore areas. Despite the contribution of private sector companies, production may not exceed 40 million tons for 1996-97, which falls some 25 million tons short of India's estimated demand, now approximately 65 million tons a year.
This situation and a range of important programs to meet the burgeoning demand were revealed during Offshore Magazine's exclusive interview with the Chairman of India's giant Oil & Natural Gas Corporation, Bikash C. Bora.
ONGC is planning to encourage a number of its subsidiaries to invest in various projects connected with the energy sector. The company has also made its intention public that it will seek the services of multinationals for consultancy on an enhanced oil recovery (EOR) program for the Neelam Field. Earlier, some companies had refused a similar status in the EOR program for much more lucrative Bombay High projects. ONGC recently sent questionnaires to several foreign oil majors, however, including Chevron, Arco, Amoco, and Occidental.
Neelam, a comparatively new field off Bombay High, has not been meeting the target level of production in the recent past. ONGC, it appears, has received a very positive response from most of the companies it sounded out.
In the following interview, Bikash C. Bora provides details on these and other ONGC programs:
Offshore: ONGC's current production is 50% of the total Indian consumption. What are ONGC's plans to close that gap?
Bora: The Indian government recognizes the problem and has taken various steps to promote the participation of private parties both Indian and multinational to supplement the efforts of the national oil companies like ONGC and OIL in expanding exploration activities and raising production levels.
ONGC on its part has proposed to spend an additional US$1 billion starting in 1994-95 for opening up new areas for exploration. the proposed plan of work includes deepwater areas and relatively under-explored basins in central India.
In the shorter term, ONGC is planning to raise production through exploitation of marginal offshore fields, implementation of EOR schemes on a commercial scale in the heavy oil belt of Gujarat, and overall improvement of field management practices. This would be in addition to its ambitious $2 billion enhanced oil recovery program at the giant Bombay High Field.
Apart from this, ONGC is also entering into joint ventures with foreign companies for exploration activities abroad. (Vietnam, Tunisia, Yemen, Egypt, and in the CIS countries.)
Offshore: What are the future development plans in the Western Offshore? Could you elaborate?
Bora: Our major efforts to improve production in the near term would be in the Western Offshore. These efforts would relate to additional development of Bombay High and of Heera, Phase III, as well as exploitation of small fields using economically viable production systems.
On the exploration front, the deeper waters beyond 200 meters isobath are being investigated for potential prospects.
Offshore: As some of the fields ONGC discovered have been turned over to the private sector, how are you planning to increase the production from ONGC?
Bora: The onshore fields given to private parties are mostly very small fields with no significant impact on ONGC's production capability. In the case of the two medium-sized fields offered for joint venture development, Ravva and Panna Mukta, 40% of the production would accrue to ONGC as a partner in the joint venture.
Offshore: As there has been no major discovery in the last few years, how are you planning future exploration strategy?
Bora: The three main producing basins in the country, Bombay High, Cambay, and Upper Assam, are in the mature phase of exploration and with the exception of Assam, future finds in these areas are not likely to be large in size. In Assam and Nagaland, in the northeastern part of India, it is believed that the potential for significant onshore discoveries still exist. We are optimistic about this region.
ONGC has launched its "Accelerated Program of Exploration" (APEX) for opening up new areas for exploration in the central Indian basins and deepwater areas. Some large prospects at water depths greater than 200 meters have already been identified and will be taken up for drilling soon.
Offshore: There are two opinions about Bombay High. One is that it should be given to foreign companies for further development and the other is that it should be developed by ONGC itself. What do you feel about it and why?
Bora: For more optimal development of discovered or producing fields, including Bombay High, ONGC may consider entering into service, consultancy contracts with reputed international companies with some element of production-sharing rather than outright production-sharing arrangements with the government of India, as proposed earlier for the Bombay High.
Offshore: Do you feel that the crude oil price paid to ONGC is justified or needs revision?
Bora: ONGC has approached the government for a price revision, since the current price paid to ONGC is less than half the international price. Also, the impact of exchange losses over which ONGC has no control, has been quite significant in recent years, and profits have been affected. The government has promised international prices to private parties in India and with the further deregulation of the upstream sector, the national oil companies eventually hope to be paid international market prices for our products, too.
Offshore: It is understood that the government is planning to treat ONGC like any other private organization in the future for bidding purposes. What do you think is going to be the impact? Would ONGC prefer to bid independently or would you like to form a joint venture with a multinational in the future?
Bora: The open bidding system would come into effect only after national oil companies and private companies are treated at par and a level playing field concept is introduced. We anticipate that this would mean that ONGC would be given the autonomy and flexibility of a commercial organization before the change is implemented. Once this freedom of action is available to ONGC, we are confident of being successful in the new bidding process. Whether ONGC goes into bidding alone or forms joint ventures with multinationals would depend upon the area taken up for exploration, and the need for resource-pooling and risk-sharing.
Offshore: Are there any immediate plans for restructuring ONGC?
Bora: Some reputed international consultants have been short-listed for this purpose, to bring ONGC at par with multinationals, and a committee has been set up within ONGC to recommend the most suitable of these consultants.
Copyright 1996 Offshore. All Rights Reserved.