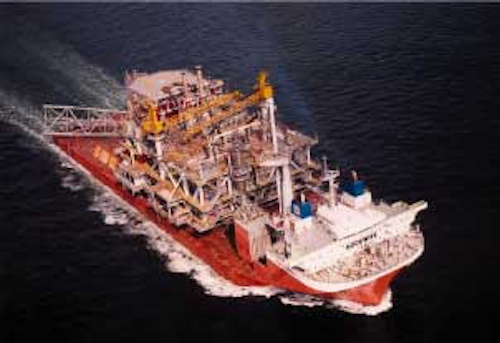 Contracts
Transocean Sedco Forex's Sedco Energy semisubmersible drilling unit was contracted to Texaco in Brazil for a 42-month period. The contract was estimate at $216 million.
Sigma Coatings and Wilson partnered to serve the Gulf Coast offshore drilling and production marketplace for high performance coatings needs.
Duke Energy North America contracted with OpenLink Energy to replace its internal trading and risk management systems with OpenLink's EndurTM.
Trade-Ranger and Wellogix signed an exclusive software licensing and joint-development agreement that will enable the online collaboration and procurement of tailor-made goods and services.
BJ Services Company's Well Services Division for European and African regions has received a three-year contract from Kerr-McGee North Sea (U.K.) Ltd. to provide cementing services in the North Sea.
ABB and Dow Chemical Company signed a 10-year, global strategic agreement to combine Dow's plants and ABB technology.
Technip and BP contracted for front-end engineering design work for the Shah Deniz offshore production and drilling facilities in the Caspian Sea.
TGS-Nopec Geophysical acquired 100% ownership in 8,800 sq km of non-exclusive 3D data previously owned with WesternGeco.
Norsk Hydro and ABB signed a two-year, $10 million contract to continue maintaining and modifying oil and gas installations in the North Sea.
null
Weatherford International, Inc. was awarded a $5 million contract to supply and install a range of completion system products for Ocean Petroleum Development Company.
UpstreamInfo and Chevron U.S.A. signed agreements to use UpstreamInfo's Asset Management SolutionsTM business applications.
Heerema Tonsberg AS and Rig Design Services Ltd. contracted with Bardex Corporation of Goletta for the rig skidding system on the Kvitebj rn field development in Norway.
Petroleum Geo-Services ASA contracted with Talisman Energy to shoot 2,580 sq km of single 3D seismic data in the Flotta Catchment Area in the UK.
Oceaneering AS entered a joint venture agreement with Det Norske Veritas to provide inspection service capabilities to offshore gas, shipping, and other vessel markets.
ABB awarded a contract to install horizontal tree systems for the Donghae-1 gas project in Korea.
Mergers & Acquisitions
Exxon Energy Chemicals redeemed ExxonMobil Chemical's 40 percent interest to Ondeo Nalco Company.
Bouygues sold its 80%-owned French subsidiary Exprimm to Bouygues Bâtiment.
Hornbeck-Leevac Marine Services, Inc. acquired the Spentonbush/Red Star Group marine transportation fleet for $28 million in cash from Amerada Hess Corporation.
Petrobas awarded FMC Energy Systems, a unit of FMC Corp., a $15.3 million order to supply a subsea manifold and associated subsea controls for the Mariba Leste Field, offshore Brazil, in 2002.
MAN Aktiengesellchaft (Munich,Germany) and Sulzer AG completed the acquisition of Sulzer's turbomachinery activities.
Wolverine Gas & Oil Corp. formed a joint venture with Shell Exploration & Production Company of Houston.
TotalFinaElf reached an agreement to sell its packaging company Soplaril to Pechiney.
Denbury Resources entered a definitive agreement to acquire privately-held Matrix Oil & Gas of Louisiana for approximately $163 million in cash and stock, including Matrix's liabilities.
Company News
The Logic Logistics Team agreed to establish a Universal Trading Rate to share deck space among North Sea marine logistics providers.
Syntroleum Corporation filed a shelf registration statement with the US Securities and Exchange Commission to sell $250 million of stock, shares, and warrants.
Noble Drilling Corporation won first place in safety operations for semisubmersible operations, jackup operations, and platform operations.
Albert-Garaudy and Associates developed an Operations Support Services division.
FMC Corporation has split into FMC Technology, Inc. and a chemicals division. FMC Technology will contain the technology and equipment manufactured for the oil and gas industry.
People
Craig W. Gordy, P.E., joined Paragon Engineering Services, Inc. as manager of Safety Engineering Services (SES).
John Gibson, President and CEO of Landmark Graphics Corporation, was named to iVita Corporation's Board of Directors.
Knowledge Systems, Inc. named Terrell W. Miller, PhD as Vice President of Technology.
The Petroleum Equipment Suppliers Association newly elected officers for 2001-2002 are as follows: Chairman, Loren K. Carroll, M-I L.L.C.; Vice Chairman, Sheldon R. Erikson, Cooper Cameron Corporation; First Vice President, George I. Boyadjieff, Varco International, Inc.; Treas-urer, J. Wayne Richards, Schlum-berger Oilfield Services, and Secretary, Christopher T. Seaver, Hydril company.
KCA Drilling Inc. named Neil Stevenson as Vice President and Project Development Manager. John Nichols also was named Project Development Manager.
Dany M. Jew joined Mustang Engineering, Inc.'s Business Development Pipe-line Services group.
Input/Output, Inc. appointed Larry Denver as Vice President, Reservoir Operations.
Mark Selway was named Chief Executive for the Weir Group.
Joe Small was promoted to Director of International Business Development at Briggs Marine Environmental Services in Aberdeen. David Cook was promoted to Director of Inter-national Operations.
Heading up FMC Technology will be Joseph H. Netherland, CEO, William Schumann III, CFO, and Michael Murray, CHR.
---
Clarification
Coflexip Stena Offshore has carried out intervention work using a fixed riser, a matter that was incorrectly reported in an article on subsea well interventions, appearing on page 144 of Offshore's April 2001 issue. "The CSO Seawell carried out a number of well interventions in the UK sector using coiled tubing, facilitated through a fixed and rigid tubular riser system connecting the Christmas tree to the ship," states Bill Morrice, well operations division manager for CSO.