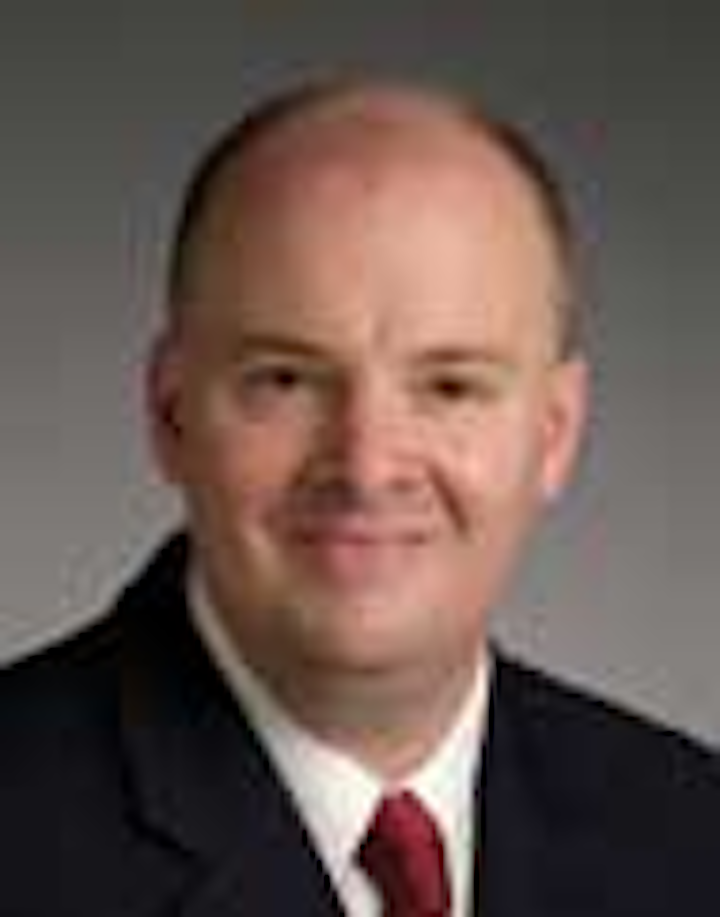 | | | |
| --- | --- | --- |
| | | Bruce Beaubouef • Houston |
Lower oil prices are beginning to have an impact on E&P activities in the Gulf of Mexico, most tellingly in the form of lower rig counts, but work is proceeding on a number of fronts, and there is still significant drilling and production work taking place in the region.
According to RigData's report of Feb. 16, 2015, total mobile rig utilization was 52.3%, with 58 of 111 rigs under contract or committed for work. Utilization of the marketed rig fleet, which excludes cold stacked and other rigs that are here but not marketed in the US Gulf, increased to 73.4% over the week starting Feb. 9, with 58 of 79 units under contract.
By way of comparison, RigData noted that on Feb. 17, 2014, total mobile rig utilization in the GoM was 66.4%, with 71 of 107 rigs under contract or committed for work.
Back to the present, the firm noted that as of Feb. 16, 2015, utilization of the jackup fleet remained unchanged over the Feb. 9-16 week at 30%, with 15 of 50 units under contract. Marketed rig utilization increased from Feb. 9 to Feb. 16 to 57.7%, with 15 of 26 units under contract.
Floating rig utilization remained unchanged over that week at 70.5%, with 43 of 61 units under contract. Marketed utilization stayed consistent during that same time at 81.1%, with 43 of 53 units under contract or committed for work.
Total platform rig fleet utilization held steady over the Feb. 9-16 week at 63.4%, with 26 of 41 units under contract. Marketed utilization remained unchanged during that same time at 76.5%, with 26 of 34 units under contract or committed for work.
Other metrics indicate the toll that lower oil prices have had, but also show attractiveness of the Gulf as an oil-producing province. Evercore ISI's US Drilling Permit Monthly, issued in mid-February, indicated that a total of 18 new permits were issued for the US Gulf of Mexico in January, which compares to 31 in December and is down from 29 a year ago. The majority of the permits issued were for sidetracks into existing wells, while only four permits were issued for brand new wells – two midwater and two shallow water. This is down from 10 new well permits issued a year ago, as a total of 133 new well permits were issued all last year – up 3% year-over-year led by a 67% increase in the number of new deepwater permits issued. Despite the significant increase in ultra-deepwater newbuild floaters entering the region, the oilfield services tracking firm says that the majority are likely working on deepwater development projects, since the development of the Lower Tertiary "has yet to truly begin." The firm says that it continues to believe that "the Gulf of Mexico will be the only bright spot for deepwater activity in 2015."
And, some types of drilling activity are expected to accelerate in 2015. Imran Khan, GoM analyst with Wood Mackenzie, says that development drilling will increase in 2015 as compared to 2014, and says that this growth will be driven in large part to previously sanctioned projects, which take years to develop. But he adds that in this new price climate, exploration drilling "will plateau and possibly even decrease, as compared to last year."
Projects scheduled to come online this year and next include Chevron's Big Foot, Deep Gulf Energy II's Kodiak, Noble Energy's Big Bend, and Anadarko's Heidelberg project. These projects include several new fields that will require additional development drilling. For example, in the Heidelberg field, the project partners plan to initially drill six development wells as part of the program. Overall, Wood Mac predicts a 23% growth in GoM production in 2015, in barrels of oil equivalent.
And, Khan adds that even in this low-price climate, offshore operators can still make a profit. His firm estimates that operator's break even points are lower than prices are now, at $40/bbl (priced in Brent crude), and even lower for subsea tiebacks, at $20/bbl.
While significant areas of oil and gas drilling have slowed down considerably with low oil prices, the Gulf of Mexico is expected to be a busy place this year and next. Operators and developers have invested billions of dollars in projects that need to be completed, while billions more have been invested to secure leases that need to be drilled before they expire. Since it takes producers years to recoup money spent due to the long lead times of offshore projects, slowing down will only delay returns on already-spent capital.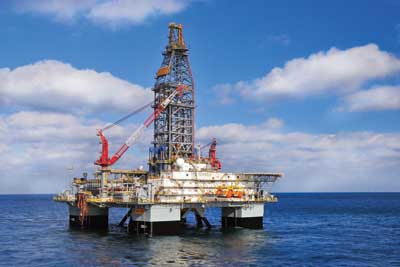 TheENSCO 8503 semisubmersible drilling rig is currently working for LLOG in the US Gulf of Mexico and will commence operations with Stone Energy in the second quarter of 2015. Ensco says that this deepwater rig holds the record for the deepest well drilled in this basin. (Photo courtesy Ensco)
BP, Chevron, ConocoPhillips team up
Another sign of the Gulf's strength as an E&P region came in late January, when BP announced that it had formed a new ownership and operating model with Chevron and ConocoPhillips. The goal is to focus on moving two significant BP Paleogene discoveries closer to development and provide expanded exploration access in the emerging geologic trend in the deepwater GoM.
Under the agreements, BP will sell to Chevron approximately half of its current equity interests in the Gila and Tiber fields. Prior to the transactions, BP had a 62% working interest in Tiber, with Petrobras owning 20% and ConocoPhillips holding 18%.
BP, Chevron, and ConocoPhillips also have agreed to joint ownership interests in exploration blocks east of Gila known as Gibson, where the companies plan to drill later this year. In Gila, BP previously held 65% equity and ConocoPhillips held 35%. In Gibson, ownership in the six- lease area varied based on lease, with Chevron, BP and ConocoPhillips all holding stakes.
As a result of the agreements, the three companies will have the same working interests across Gila and Gibson and any future centralized production facility. Chevron will hold 36% interest, BP will hold 34%, and ConocoPhillips will hold 30%. In Tiber, BP and Chevron will each hold equity interest of 31%, Petrobras 20%, and ConocoPhillips 18%.
Chevron will operate Tiber, Gila and Gibson, building on its recent success in starting up the Jack/St. Malo oil production platform in the Paleogene/Lower Tertiary on time and on budget. Operatorship is expected to be transferred after BP finishes drilling appraisal wells at Gila and Tiber.