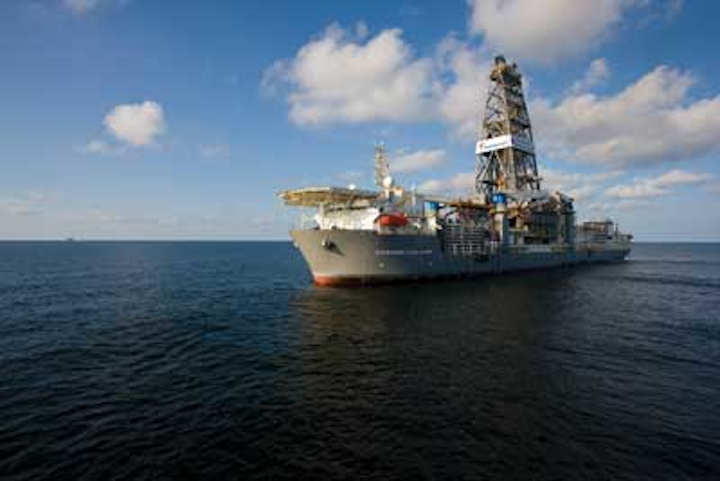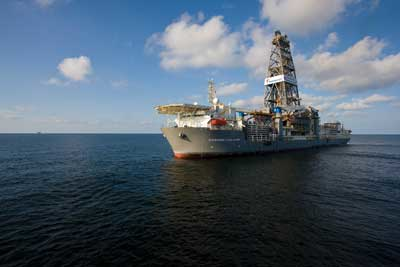 Discoverer Clear Leader (Photo courtesy Transocean)">
Discoverer Clear Leader(Photo courtesy Transocean)
Total number of rigs being built still growing, but lower than last year
Robin Dupre
Senior Technology Editor
As a slew of newbuild drilling rigs hit the market in 2015, coupled with oil companies slashing budgets due to surging costs, it is speculated that the industry will witness an acceleration in the rate of marginalization of legacy assets.
"We saw spending from operators dry up in 2014," said Terry Bonno, senior vice president, marketing, Transocean, in a recent interview withOffshore magazine. "And then the budget results just came out, so I am not sure if we fully understand, yet, the impact on the global universe, but initial signs are that they are reducing their budgets for 2015."
"If you are looking at the overall rig fleet right now, you are seeing a bit of idling of rigs in all of the asset classes," Bonno added. "In our last fleet status report that was filed, we stated that we intend to scrap some of our lower specification units. Our theme for 2015, once we saw this difficult market coming, is to fight for utilization."
As most drilling companies that have rigs without a contract, today, are idling or cold-stacking these rigs, it is estimated that around 140 rigs are heading toward retirement over the next few years as the industry makes way for the newbuilds scheduled for delivery by the end of the decade. Around 360 rigs that are in the current market fleet are more than 30 years old and must be retired at some point.
Moreover, analysts estimate that around one-third of the new vessels that are in the pipeline for the next three to four years still have no drilling contracts. Rune Magnus Lundetrae, CFO of Seadrill, was quoted by Reuters in September 2014 to say that the market could need another 24 months to bottom out, though for older assets, rates were already near the bottom and he expected older vessels to be idled.
Cinnamon Odell, senior analyst–rigs, IHS Petrodata, toldOffshore that "we expect to see fewer orders for new rigs, as well as some cancellations and/or deferment of rigs that have already been ordered from yards."
For instance, Atwood Oceanics filed its fleet status report last month, announcing that it would postpone the delivery of two newbuild vessels. TheAtwood Admiral will not be delivered until September 2015, while the Atwood Archer is delayed until June 2016. "More contract drillers are exploring this option to ease the pressure to sign contracts at less than ideal day rates," Odell said.
Seadrill's Lundetrae sounded an even more pessimistic note, with hope for the not-too-distant future. "The market is going to be bad this year, it is going to be worse next year, then it will stabilize," Lundetrae told Reuters last September.
Day rates for the most advanced ultra-deepwater rigs peaked around $650,000 last year and are now down in a range of $375-$500,000, though contracting activity by oil firms has slowed to a trickle, making it hard to establish the actual market rate, executives told Reuters.
Rates for jackups have also fallen, though not as much as deepwater floaters, with executives predicting rates at around $160,000 per day, down from rates around $225,000 at its peak.
The jackup market helped drillers last year, with Saudi Aramco, PEMEX, Oil and Natural Gas Corp., and China National Offshore Oil Corp. consuming around 30% of the business with return contracts. But this year, there are 138 jackups on order or under construction. The current rig order book, with deliveries scheduled for 2015, are at a plus or minus of 60: 20 to be delivered in the first half of the year, and 40 for delivery in the second half. This information was offered by John T. Rynd, CEO and president, Hercules Offshore, at a recent Wells Fargo Energy Symposium presentation.
"All of these orders are being financed by a shipyard, but the builder has full recourse back to the shipyard and can refuse to take delivery," Rynd observed. "I assume all will be built with delivery being pushed back to 2019. Thus far, we've seen four jackup contracts get canceled, so let's see what happens in the near future."
This is a temporary phenomenon, says John Breed, director, investor relations and corporate communications, Noble Corp. Breed offered remarks at the Capital One Securities 2014 Energy Conference. "This business will balance itself out, with part of that being because of attrition," Breed commented. "It is a word that we do not spend a lot of time talking about in this business, but I think it will become a real issue as we go forward because of the average age of the fleets."
Transocean's Bonno agrees with that sentiment. "If older rigs can't economically remain as part of the core fleet or in the global fleet, I think a decision has to be taken on attrition," she said. "As we move forward in the over-supplied market, certainly attrition is going to be a factor in bringing this market back into balance. This is what the cycle is going to be marked for: reassessing the current rig fleet."
As for geographical areas, it is predicted that offshore Mexico and Brazil could pick-up some of the slack while drilling in the North Sea, Africa, and the Gulf of Mexico could slow down even further.
•••
Displaying 1/3 Page 1,2, 3Next>
View Article as Single page