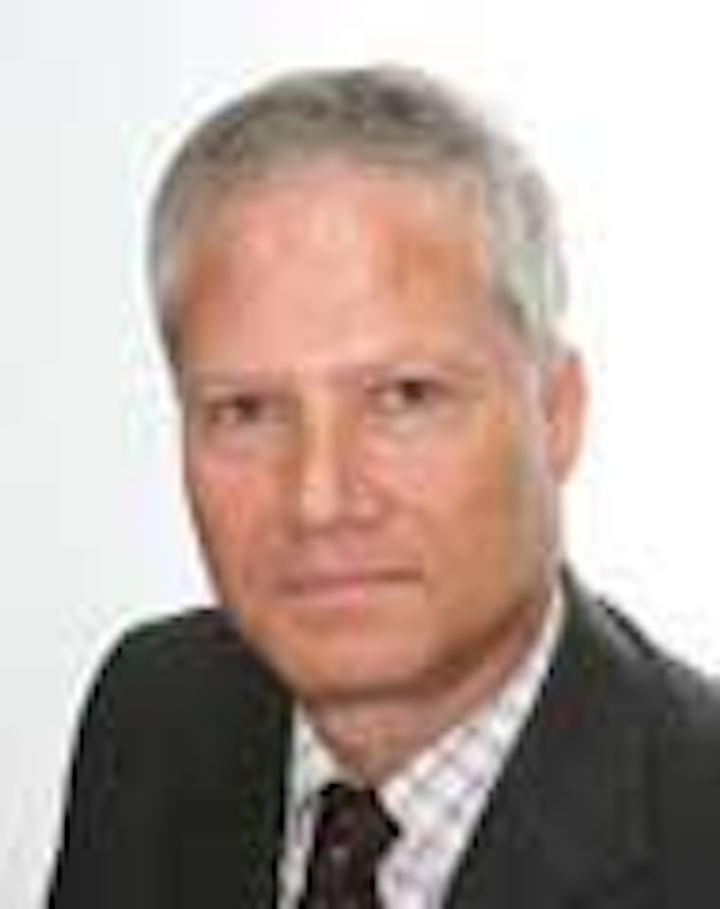 | | | |
| --- | --- | --- |
| | | Jeremy Beckman • London |
The government of the Bahamas has completed a new Petroleum Act and regulations to guide oil exploration around the islands. These were due to be submitted to parliament following a brief recess. The regulations address permitting, technical, operational, and environmental activities. Exploration planning off the Bahamas has stalled in recent years following concerns over the repercussions of the Macondo incident in the Gulf of Mexico.
•••
PEMEX has awarded Saipem an engineering, procurement, construction, and installation contract for Lakach, Mexico's first deepwater field development. The contract scope includes connecting the field, 98 km (61 mi) southeast of Veracruz and in water depths ranging from 850-1,200 m (2,789-3,937 ft), with an onshore gas conditioning plant. Saipem will provide and install subsea equipment including infield umbilicals, flexible flowlines, trees, and associated controls. The work is expected to be completed by the end of 2017.
Saipem also has a transportation and installation contract from Protexa for various offshore structures including two 3,000-metric ton (3,307-ton) platform decks. These will be installed in shallow water in the Bay of Campeche, again for PEMEX.
South America
Petrobras has scored a trio of discoveries in deep to ultra-deepwater in frontier plays off Brazil. In the Espírito Santo basin, the company found postsalt gas with a well on the Tanganika structure in 1,043 m (3,422 ft) of water, 72 km (44.7 mi) from the coast of Espírito Santo state. Logs confirmed gas at a subsurface depth of 2,880 m (9,449 ft). Another postsalt well in the basin in 1,886 m (6,187 ft) of water, 121 km (75 mi) offshore Vitória, encountered an extension of an oil accumulation, named Pudim, at a depth of 3,550 m (11,6547 ft). In the Sergipe-Alagoas basin the company and partner ONGC proved gas with a well in the Poço Verde discovery evaluation area, in 2,196 m (7,205 ft) water depth.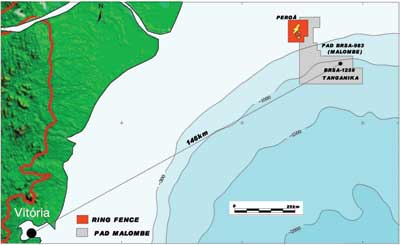 Tanganika gas discovery in Espírito Santo basin. (Map courtesy Petrobras)

•••
The Odebrecht/Teekay consortium has won the tender to provide and operate an FPSO for an extended well test (EWT) campaign on the giant presalt Libra field in the Santos basin. Petrobras and its partners aim to start this program in late 2016, which will involve connecting one oil producer and one gas injector well to the FPSO. The latter will have oil processing capacity of 50,000 b/d. Most of the produced gas will be re-injected into the reservoirs for pressure maintenance.
•••
Noble Energy expects to resume exploratory drilling off the Falklands in mid-2015. Its first well will be on Humpback, one of numerous stacked fan prospects in the Fitzroy subbasin of the company's Southern Area license. The location of a second well later in the year will depend on results from Humpback. Another Falklands offshore operator, Borders & Southern, hopes to bring in farm-in partners to help it participate in the rig-share campaign.
West Africa
Cairn Energy has proven oil in deepwater offshore Senegal. The semisubmersibleCajun Express drilled the FAN-1 exploratory well in 1,427 m (4,682 ft) of water in the Sangomar Deep block, 100 km (62 mi) offshore. The well intersected 29 m (95 ft) of oil-bearing reservoirs in Cretaceous sandstones, with oils in the 28-41° API range. The rig was due to transfer elsewhere in the block to drill the 600-MMbbl SNE prospect for the partnership. Geophysical contractor Polarcus claims FAN has opened a new play that could extend along the entire paleo continental shelf edge from Senegal to Guinea-Bissau.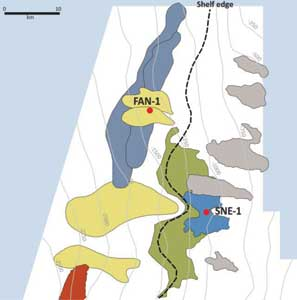 FAR-1 discovery offshore Senegal. (Image courtesy FAR Energy)

•••
Samsung Heavy Industries and LADOL have started construction in Nigeria of what they claim will be West Africa's largest fabrication and integration yard. The site is in the LADOL Free Zone on a peninsula near Lagos harbor. The first major contract will be the integration of the Total-operated Egina field FPSO.
•••
Consultants AGR TRACS International assesses 2C contingent oil resources at the shallow-water Otakipo marginal oil field off Nigeria at 56.75 MMbbl. The estimate is based on a review of surface and subsurface data, according to the field's new operator Lekoil. The company sees further potential in the southern portion of the surrounding OML 11 lease in the eastern part of the Niger Delta.
•••
The Vantage drillshipTitanium Explorer has discovered more gas for operator Ophir Energy in the thrust belt area of block R off Equatorial Guinea. Ophir estimates recoverable reserves in the Silenus East structure at 450 bcf (13 bcm), lifting the total proven on the block to 3.4 tcf (96 bcm). The company plans to harness the gas for a floating LNG scheme that is expected to start up in early 2019.
•••
Eni is claiming its 10th commercial oil find in Angola's offshore block 15/06. Oghigufu, drilled by theOcean Rig Poseidon in 1,337 m (4,386 ft) of water, could hold 300 MMbbl in place. The discovery is 9.8 km (6 mi) from the recently installed Ngoma FPSO serving the block's West Hub development, which is due onstream before year-end.
In Singapore, Keppel Shipyard has won a contract from Bumi Armada to convert the FPSO for the block's East Hub project. This will be designed to handle 80,000 b/d of oil, with 1.7 MMbbl oil storage, 120,000 b/d of water injection, and 120 MMcf/d (3.4 MMcm/d) gas handling capacity. The completed vessel is expected to leave the yard in spring 2016.
Russia
Rosneft claims the recent Universitetskaya-1 well, the first ever in the Kara Sea off northern Russia, resulted in a significant oil, gas, and condensate discovery. The winterized semisubWest Alpha drilled the well for Rosneft and partner ExxonMobil over two and a half months in the East-Prinovozemelskiy-1 license, before operations were terminated as a result of US sanctions against Russia. Rosneft plans to rename the find Pobeda.
Black Sea
Gazprom has committed to expand gas supplies through the Blue Stream trunkline system in the Black Sea to satisfy growing demand from Turkey. Capacity will be boosted from 16 bcm to 19 bcm (600 to 700 bcf) annually, with the compressor station in Beregovaya, Russia and the Durusu reception terminal in Turkey upgraded accordingly.
Mediterranean Sea
Petroceltic has resubmitted its environmental impact assessment (EIA) for drilling of the Elsa-2 appraisal well off eastern Italy. The well is targeting an existing discovery which could hold resources of 95 MMbbl. Italy has imposed strict curbs on offshore drilling in recent years for environmental reasons, leading Petroceltic to refine its well test programs and risk management strategies for the EIA.
•••
Greece was reportedly due to invite tenders for 20 offshore blocks spanning more than 200,000 sq km (77,220 sq mi) in the Ionian Sea and to the south of Crete. Following the six-month bid window, first contracts could be signed by October 2015.
•••
Eni has secured operatorship of two deepwater blocks offshore Egypt under the latest EGAS bid round. Block 9 (North Leil Offshore) and block 8 (Karawan Offshore) are near the offshore median line with Cyprus. Water depths range from 2,000-2,800 m (6,561-9,186 ft). In block 8, the company and partner BP will each have a 50% interest.
EGPC has granted RWE Dea operated interests in two shallow-water concessions in the Gulf of Suez. East Ras Fanar Offshore is near RWE Dea's Ras Fanar oil field, while the Northwest El Amal block is near Saqqara, a recent oil find in the region. RWE Dea plans seismic reprocessing and a total of three exploratory wells.
Middle East
The Iranian Petroleum Ministry has been working on a new model for oil contracts with a view to entice more foreign companies to invest in development projects. This will replace the previous "buyback" contract under which the government paid the field developers an agreed price for hydrocarbons produced. Details could be announced in London in February 2015.
East Africa
BG Group and partner Ophir Energy have discovered two more gas accumulations in deepwater in block 4 offshore Tanzania. The drillshipDeepsea Metro I proved a total of 1.03 tcf (29 bcm) from a well and side track on Fulusi (an extension of the earlier Pweza discovery) and the Cretaceous Kamba prospect. The consortium now estimate recoverable resources from blocks 1, 3, and 4 at more than 17 tcf (480 bcm), possibly sufficient for a third LNG train onshore Tanzania.
•••
Mozambique's government was due to unveil the country's fifth licensing round in London last month. On offer are 15 blocks covering a total area of 29,652 sq mi (76,800 sq km), including the offshore Angoche, Rovuma, and Zambezi Delta areas. Bids are due to close on Jan. 20, 2015.
Asia/Pacific
Shell has produced first oil from the deepwater Gumusut-Kakap field offshore Malaysia. The semisubmersible production platform, built by Malaysian Marine and Heavy Engineering, will be connected to 19 subsea wells (controlled via Shell's Smart Fields technology), and will handle around 135,000 b/d at peak. The oil is transported through a 200-km (124-mi) subsea pipeline to the Sabah Oil and Gas terminal at Kimanis. Work continues on the gas injection facilities which will begin operating in 2015.
Lundin Petroleum has agreed to acquire a 50% operated interest from Petronas Carigali in the PM328 offshore concession. This covers an area of 5,600 sq km (2,162 sq mi) and is northeast of Lundin's PM307 block. Commitments include acquiring 3D seismic and potentially one well.
•••
China National Offshore Oil Corp. (CNOOC) has invited applications for 33 blocks offshore China. These are spread among the East China Sea, Pearl River Mouth, South Yellow Sea, Beibu Gulf, Qiong Dongnan, and Yinggebai basins. Data rooms are available in Guangzhou, Shanghai, and Zhanjiang. The deadline for bids is April 30, 2015.
In the Beibu Gulf, Roc Oil has discovered oil with the first of back-to-back exploration wells in block 22/12. TheHYSY 935 rig drilled the WZ12-10-1 well and side track WZ12-10-1Sa, which encountered oil in the Jiaowei formation. The location is 4.7 km (2.9 mi) northeast of the WZ12-8W platform and near two existing undeveloped discoveries.
•••
Mubadala Petroleum expected the Manora oil field development in the Gulf of Thailand to come onstream last month. Start-up was delayed by bad weather and issues related to commissioning of the Manora A platform, installed in 46 m (151 ft) of water. Development calls for drilling and completion of 10 producer and five injector wells, with the program set to continue until next March.
Also in the Gulf of Thailand, Salamander Energy has conditional approval for an EIA for a new phase of exploration drilling in the G4/50 license. Eighteen of the 20 well locations submitted in the original submission have been approved subject to an update of oil spill response measures.
•••
ONGC Videsh has signed a letter of intent with PetroVietnam to explore for oil and gas offshore Vietnam. This allows for expansion of ONGC's activities to allow participation in two or three further blocks, subject to government approval.
•••
Cambodia's government has approved KrisEnergy's acquisition of the entire share capital of Chevron Overseas Petroleum (Cambodia). The transaction gives KrisEnergy a 55% operated interest in the offshore block A petroleum agreement, covering 4,709 sq km (1,181 sq mi) over the Khmer basin in the Gulf of Thailand. The acreage includes the undeveloped Apsara oil discovery.