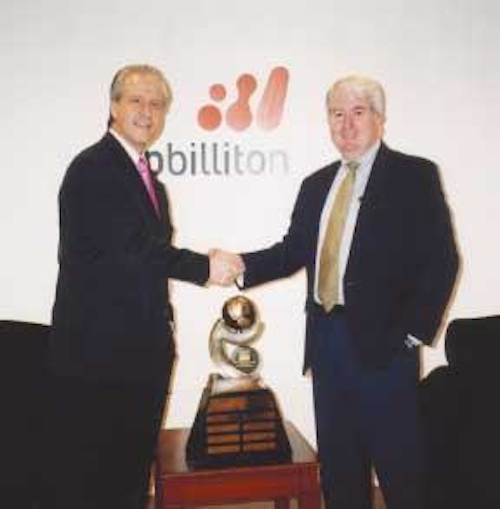 Jaime Kammerzell • Gulf of Mexico Editor
The 2004 Deep Offshore Technology conference will be held Nov. 30-Dec. 2 in New Orleans. This year's theme is Aligning Tech-nology with Changing Reality and will address the complex and changing role of deepwater E&P in an evolving energy market.
The board met Jan. 12 to elect new members and prepare for the upcoming conference. Bill McHolick, BHP Billiton vice president Americas - operations and development, was elected chairman. Newly elected DOT board members are Mike Bell, Unocal; Javier Moro, Repsol YPF; Gary Mitchell, Kerr-McGee; and David Morgan, Cameron. Other new members include Richard Morgan, ChevronTexaco; Richard Snell, BP; Doug Peart, Shell; Paolo Guaita, Eni Agip; Arnt Olufsen, Statoil; and Dan Howser, J. Ray McDermott.
null
Almost 1,700 people attended the 2003 show in Marseille, France, and more than 20 countries were represented. Over 100 technical papers were presented.
Chris Barton, vice president and group publisher, PennWell, awarded three presenters with top honors. Honors were:
Best presentation to Jose Fernando Nicodemos, Petrobras, for his presentation "Exploitation of Heavy Oil Field in Deepwater - New Concepts"
Best technical content went to R.E. Sandstrom, ExxonMobil, for "Advances in Prediction of VIV on Spar Hulls"
Best young author went to Severine Baudic, SBM IMODCO Inc., for "Past Experience and Present Tools in Designing FPSO Moorings."
Total, which hosted the 2003 event, turned the torch over to BHP Billiton, sponsor of DOT 2004.
People
Matthew D. Fitzgerald,Veritas DGC Inc. executive vice president, CFO, and treasurer, has resigned, effective Jan. 10. Vincent M. Thielen, vice president, corporate controller, will serve as interim executive vice president, CFO, and treasurer until a successor is named.
The Intermediary Technology Institute (ITI) for Energy has appointedTony Amor as CEO.
null
Patrick Keenanhas joined Geomechanics International Inc. as president. Keenan, with 29 years of international and US experience, has held a number of senior management positions, including CEO of Coherence Technology Co. and vice president worldwide operations for Numar. Most recently he was vice president business development at Core Lab.
Petroleum Geo-Services ASA has appointedSverre Skogenpresident of PGS Production AS and senior vice president Petroleum Geo-Services ASA. Skogen has 16 years of managerial experience in business and project management and most recently held the position of president and CEO of Kværner Oil & Gas Division.
Companies
The Norwegian Petroleum Directoratewill focus solely on resource management, effective Jan. 1. The supervision of safety and the working environment has been assigned to the Petroleum Safety Authority Norway.
Duffy and McGovern,an accommodation company that provides rental engineering cabins in the Gulf of Mexico, has won three contracts in the last four months. In two separate deals, the company has supplied Technip and Expro with 20 x 8 zone 1 engineering cabins on a six-month rental contract. At the same time Schlumbergerhas contracted Duffy and McGovern to provide two 20 x 8 and one 15 x 8 zone 2 cabins for use on their current projects in Mexico for the next six months. The combined contract values are $100,000.
Input/Output Inc. has sold its VectorSeis digital, full-wave sensors and a cable-based System Four central recording platform to Trace Energy Services,a seismic contractor based in Calgary.
TheScottish Subsea Technology Group(SSTG) has voted to dissolve and sign up to Subsea UK, a newly formed organization to promote the UK subsea industry. Formed in 1991, SSTG has a membership of over 40 small to medium sized independent subsea companies, employing 2,000 people. Subsea UK aims to bring operators, contractors, and SMEs together to enhance the profile of the sector and win new business opportunities at home and abroad.
ChainCo,a division of The Craig Group,has commissioned a new mobile inspection unit. Built by Weatherfordin Aberdeen, the new unit is on its way to Keppel Verolme dry-dock in Holland to inspect 50,000 ft of chain on the Stena Dee semisubmersible rig for client Stena Drilling. To meet increased demand for chain inspection and certification, The Craig Group has also purchased a mobile inspection unit in the Gulf of Mexico. ChainCo now has six purpose-built, mobile inspection units in its fleet.
Shell UK Ltd. has awarded Bureau Veritasa multi-million-pound contract to provide verification and certification services to Shell's 42 UK continental shelf installations. The contract is for operational and project verification services, including both modifications and new capital projects, ISO 14001 certification across all installations and associated offices, verification in accordance with the UK Emissions Trading Scheme, and the undertaking of HSE assurance audits.
ATM Technology Management,the UK nationwide provider of help desk and managed services, has won an 18-month renewal of its support contract with Total E&PUK. The new contract includes software and hardware maintenance for desktops, servers, and local area networks on and offshore. Additional project work such as office moves, operating system upgrades, and software deployments is also being undertaken.
Air Logistics,provider of helicopter transportation services to the oil and gas industry worldwide, held a grand opening celebration for its newest facility Friday, Jan. 16, in Galliano, Louisiana. The new $5 million, 90-acre Galliano site features more than 33,000 sq ft of ramp area with 28 helipads, providing improved helicopter access to oil and gas operations in the Gulf of Mexico. Pictured: Drury (Dru) Milke, Air Logistics CEO.