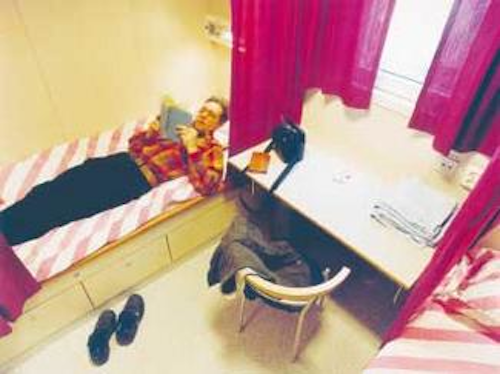 A one-stop shop for the interiors of off-shore and marine accommodation units is available from three specialized com-panies – Isolamin (floating floors and wall and ceiling panels), Momec (doors), and Premec (wet units). The three companies have been leading suppliers to the offshore sector in Europe and North America since 1980, says Isolamin's Marketing manager, Lars Wallström.
All the companies provide tailor-made products with engineering included, he adds. They are certified to the ISO 9001-2000 standard and have worldwide approvals for fire and sound ratings. Orders can be arranged for the complete supply of interiors involving products from all three companies through just one contact person. Research and development is a priority for all three companies, whose development teams have large areas available for erecting mock-ups and testing new products.
Enhanced sound reduction
Isolamin has launched new panels to facilitate access to ceiling spaces and to meet stricter requirements in noise reduction, Wall-ström says. The company is seeking worldwide patents for its IDC-50 mm ceiling panel for corridors. This is a hinged panel, either end of which can be unhinged and let down without the use of tools to facilitate access to piping, ducts and other equipment in the ceiling space. The development has been requested by offshore design consultants and architects, he says. Accessing ceiling spaces with existing panel systems is laborious and time-consuming, as each panel has to be lifted up and fully removed.
The IDC-50 mm is of typical Isolamin construction, with sides of hot dipped galvanized steel sheet containing a mineral wool core. It comes in a minimum width of 600 mm and has a B15 fire rating.
The company has also developed three new wall panels with enhanced sound reduction properties:
The IRP38-50 mm panel has a sound reduction capability of 38 dB Rw, well above the 35 dB limit for a single bonded panel, and has fire class B15
The 49C 70-mm panel has a sound reduction capability of 49 dB, which makes it capable of meeting the minimum 44 dB level required under Norway's Norsok standards. It is a cavity wall panel built in two parts separated by an air gap and with mineral wool on one side, with fire class B30
The 50C 80-mm panel has sound reduction capability of 49 dB Rw, with a fire class of one hour.
The company has received its first orders for the new sound reduction panels from an installer in Sweden.
null
Isolamin, which together with Momec and Premec is part of the International Marine Group, is a leading supplier of floating floors, wall and ceiling panels to ships and offshore platforms, as well as onshore industries. Since it was founded in 1973, its products have been delivered to more than 600 offshore platforms and 4,000 vessels.
In 2003 the company produced just over 300,000 sq m of panels, of which half were destined for customers in the offshore and marine sectors. Its most recent offshore deliveries were to Pharmadule Emtunga, for the Mad Dog and Kristin platforms, and to Prosafe.
Momec, which is located in southern Swe-den, produces all kinds of doors for the offshore and marine sectors, including heavy- duty doors of up to H-120 fire rating and sliding doors. It supplies some 12,000-15,000 units annually to the two sectors. The company's latest developments are external A60 heavy-duty doors with adjustable frame for gasket, a B15 fire class cabin door with 44 dB Rw sound reduction, and A60 fire-rated windows.
Premec supplies prefabricated wet units in steel and aluminum that conform with International Maritime Organization regulations. It has an annual production of some 1,000-1,500 wet units for the offshore and marine sectors. Its latest product is a fully welded, lightweight aluminum unit.
An important part of Isolamin's success is due to the patented C-joint, which provides flush-tight fitting for panels and profiles, with or without corner panels. It is kind with tolerances, Wallström says – each joint manages a tolerance of up to 3 mm, which gives big advantages during installation. Among other benefits, each joint can also be separately removed. The C-joint is sufficiently flush-tight to withstand water cleaning with middle pressure, which makes it suitable for use in offshore galleys and cold rooms.
For further information, contact Lars Wallström, Isolamin. Tel: +46 920 698 08, fax: +46 920 949 93. lars.wallstrom@isolamin.com, www.isolamin.com, www.momec.com, www.premec.se