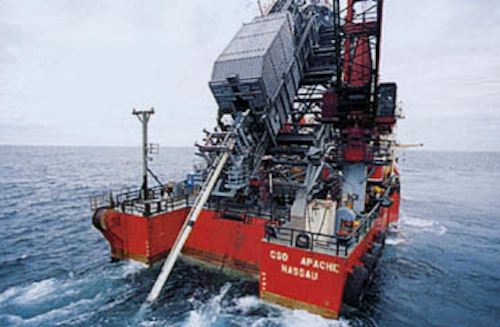 Jeremy Beckman
Editor, Europe
French producers taking positions across all continents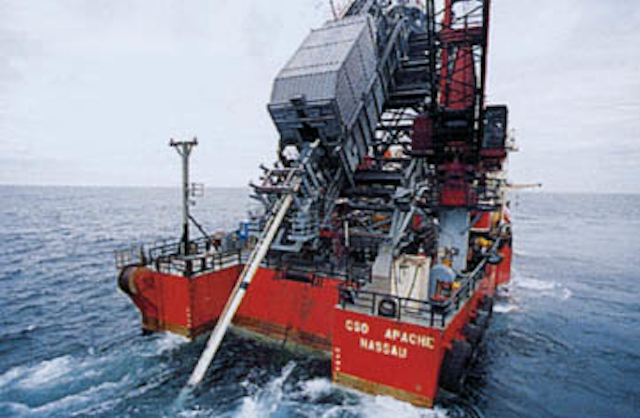 CSO Apache recently set a new world depth record for rigid reeled pipe when it laid a 10-in. gas export line in 1,373-meter-depths across the Itapemerim Canyon in Petrobras' Roncador Field.
Short-term prospects look bright for France's offshore contractors. Regardless of low oil prices, Elf's Girassol development off Angola is going ahead, setting a new benchmark for deepwater production in the Gulf of Guinea.
France's EPCI construction teams and design houses which have worked closely with Elf on this project are hopeful of clinching not just the FPSO, but also the major contracts to come relating to risers, pipelines and other subsea equipment.
Beyond Girassol, the omens do not look too bad either. Even though dipping oil revenues are causing palpitations in some quarters, Total is less affected than most, being very much oriented offshore towards gas. Total, like Elf, is a traditional client of the French service industry. For instance, ETPM recently obtained the wellhead platform contract for the Sirri gas development off Iran, with construction performed by an Iranian yard under ETPM's supervision.
In Indonesia, Doris has been at the forefront of front-end engineering for each Bongkot expansion phase. Under the latest, and possibly most ambitious phase, Total plans to raise total production to 1bcf/d by 2001, at the same time stripping out high levels of carbon dioxide. Total is also a big player in the Middle East. Aside from Iran's Sirri and South Pars offshore developments, it is a partner in LNG projects in Abu Dhabi, Qatar and Yemen.
As for smaller oilfield developments, Total is building expertise in extracting heavy oil (Venezuela), gas-lifted oil (Alwyn area, North Sea) and extended reach wells off the coast of southern Argentina. The latter project, which set new records for ERD well lengths in South America, involved co-operation on downhole instrumentation and cuttings disposal from the Institut Francais du Petrole and Geoservices.
Total also plans to bring a new subsea field onstream this summer in its Argentine permit, tied back to its Hidra production center. The Argo Field will feature the first application of Toulon-based ECA's TOV subsea control system.
Elf in deepwater
According to Philippe de Parafieu of the French petroleum research body CEPM, "Elf spends more on R&D than Total. However, both are very sound, well-managed companies with dynamic young presidents".
Elf has been engaging in a lot of joint offshore projects worldwide, he points out, and is especially active in deep water E & P. Elf's block 17 campaign offshore Angola has uncovered the prolific Dalia and Rosa structures, in addition to Girassol, in 1,360-1,400 meters water depth. Much farther north, off Equatorial Guinea, Elf will be hoping for similar fortune from newly awarded acreage on trend with the Zafiro fields. Water depths there range from 1,000-2,700 meters.
Since 1995, Elf has also been an active bidder for acreage in the Gulf of Mexico. Over the past nine months, it has secured 40 more blocks in waters up to 8,600 ft deep and containing numerous prospective structures, bringing its total of deepwater Gulf blocks to 84.
In March, it also announced development of its Virgo gas/oil/condensate discovery off Louisiana, via a 14-slot drilling and production platform. Other deepwater exploration to come involving Elf includes Shah Deniz in the Caspian, and the Timor Sea (led by Japex).
Gulf of Mexico
French contractors have followed Elf's lead by trying to establish themselves in the Gulf
of Mexico. The shift there towards ultra-deepwater production, with FPSOs possibly entering the frame, is an opportunity they cannot afford to pass up. The timing is convenient. Victor Vachier, executive-president of GEP, points out: "Cash flows are very good currently for all the French contractors, with 1997 being a good year for everyone".
Most are seeking a way into the Gulf of Mexico through joint ventures with local companies.
CGG has teamed up with TGS to mount an extensive 2D deepwater survey. Last June, Technip bought 80 % of Houston-based upstream company CBS Engineering. The two will work to promote Technip-Geoproduction's various concepts in the US market such as the deep draft production semi the TPG 3300 and subsea multiphase pumping systems.
This February, Coflexip Stena Offshore (CSO) and Cal Dive International consummated their year-old strategic alliance through a new joint venture company called Quantum Offshore Contractors. This will be dedicated to deepwater construction projects in the Gulf of Mexico. CSO will contribute project management and subsea engineering as well as flexible and rigid risers and umbilicals. Cal Dive will provide the vessels for installation and well services.
Quantum's fleet will be boosted by the CSO Constructor, which is being moved permanently to the Gulf of Mexico, complete with its MJ-lay, modular laying spread for rigid flowlines up to 14-in. diameter. This can be applied in waters up to 1,500 meters deep. CSO and Cal Dive are also converting a Canadian-flagged construction vessel bought last year for J-lay, reel lay, and other deepwater heavy construction tasks.
In December, CSO bought the 168-meter-long Bahamian container ship Kitty, and plans to convert it to a multipurpose ultra-deepwater installation vessel, suited for 2,500 meters depth line laying - not just in the Gulf, but also off Brazil, or West Africa. These regions are also targets for Bouygues Offshore (BOS).
New concepts
BOS has just gained approval from Saipem, its partner in the Saibos venture, to build the new concept FDS, multipurpose ultra-deepwater pipelayer. This will be a DP monohull capable of lifting 600-ton weights, with a J-lay tower for installing 20-in. diameter pipes down to 6,000 ft, in addition to flexibles and umbilicals. Delivery is due by mid-2000 with an anticipated investment cost of $150 million.
"In France, we have always been pioneers of technological change," says Vachier, citing Doris' application of concrete to platforms for the North Sea, Newfoundland, and the Bass Strait, and BOS' use of concrete in the Nkossa barge. Promising new ideas are fostered by CEPM, equivalent to the UK's Centre for Marine Petroleum Technology. "CEPM helps to generate viable R&D projects," says de Panafieu, "as well as organizing meetings between oil companies, contractors, engineering companies and universities in France to help give birth to viable projects."
De Panafieu rates CSO as one of the leaders for seeking ever-deeper, pioneering production solutions. "Now they are planning to fabricate flexible pipes for 2,500 meters water depth. Hydrostatic pressures will be complicated to resist at those depths, but they plan to lighten the pipe through use of aluminum or glass fiber and other materials."
Stresses on risers and mooring systems at the current depth limit can be modeled by the Oceanos software suite, constantly under development by Bureau Veritas, IFP, and Principia. One French company that might need it is Trefil Europe, which has just been awarded the mooring system for a new Gulf of Mexico spar in 1,500 meters water depth.
At 2,700 tons, this is claimed to be the heaviest mooring system yet attempted. It will comprise 20 sheeted spiral strand lines, each 1,012 meters long, 143 mm in diameter, along with 12 taut leg lines. Delivery is due by June 1999.
Drilling services
France's position among the drilling elite was diluted somewhat by Forasol/Foramer's merger with Pride International, although this is in step with the industry's urge to re-group. The new `super-contractor' operates in over 20 countries, with a combined fleet that includes two semisubmersibles and 17 jackups, eight tender-assist rigs, 23 offshore platform rigs and seven drilling barges.
Last year, its Nymphea semi was upgraded for a four-year HP/HT program off Brazil. A new jackup, Pride Pennsylvania, was acquired and upgraded to work off SouthEast Asia. Another purchase, a tender-assist unit, is being fitted with a new derrick set to work offshore Brunei.
Geoservices claims to be a world leader in mud logging, having participated in Brazil's first deep offshore projects. It recently handled deepwater assignments for Elf off Angola and for Shell off The Philippines. Current deepwater mud logging tasks include a three-year contract for Petrobras, initially requiring three systems, and a two-well job for Conoco off Nigeria.
According to de Panafieu, Geoservices is also proficient in underbalanced drilling. "They are trying to enter the directional drilling market too, but this demands special motors and tools - it's difficult to compete in this case with the likes of Baker Hughes or Anadrill. But they will progress, because they have a good president."
One small company on the rise in well services is Drilflex in Rennes, which manufactures liners made from thermo-hardening compounds for tubing repairs or perforation shut-offs. To seal off an area, the liner is inflated, following which it polymerizes in situ. BP and Statoil are among the users in the North Sea and Alaska. According to de Panafieu, Schlumberger is so interested that it has agreed to insure the service of running this product in the wells,by taking a minority stake in Drilflex.
Drilling rig construction is making a big comeback in France at DCN's yard in Brest. This ex-naval facility was threatened with closure due to a decline in military orders, and needed to enter new markets to survive. It completed its first offshore contract last year, converting the Sedco 707 to DP mode for 6,500 ft of water. Then in December, Sedco Forex ordered a newbuild deepwater semi from DCN, called Sedco Express. Another newbuild semi is thought to be an option.
Sedco Express
Sedco Express will perform a five-year contract for Texaco in the Gulf of Mexico from fall 1999. It will work in 7,500 ft of water and will provide a full range of well construction services. Features of the rig itself include double-skinned columns and pontoons, modularized deck components, and automated pipe handling systems. An unobstructed deck area will provide ample storage space for deepwater drilling tubulars.
Another yard, owned by Eiffel in Fos, southern France, has been quiet since completing platform work for Elf Angola's Cobo project. The company decided to get closer to the West African market last year by opening a subsidiary in Nigeria, which has already been commissioned by Mobil for two wellhead platforms. Another fabricator, Bordeaux-based Ponticelli Freres, recently completed a $10 million EPCI contract for a platform bridge link for Elf Congo's Tchibouela Est development.
Fos might be involved in realizing some of the concrete concepts "floating" currently, such as Doris/SN Technigaz' offshore GBS LNG terminal. "This is definitely in the minds of the operators who are very excited about it," says de Panafieu. "Italy couldn't import gas from Nigeria because it lacked suitable terminals. Turkey, India and China are similar - they would like to import more gas, but the cost of new onshore terminals is too high." BOS also has a concept for an LNG FPSO, or a GBS LNG terminal equipped with an electric power plant.
Finally, in anticipation of increasing activity off West Africa, Air France has launched a Petroleum Club for frequent flyers to the continent. Membership is open to all employees of oil companies or their sub-contractors who have joined the Frequence Plus program. A special range of services will be extended to all stations and oil routes on the airline's network - currently, it serves 18 oil destinations in 14 African countries.
In addition to OTC, GEP, the French oil and gas industry suppliers' association, will be leading groups this year to ONS Stavanger, DOT in New Orleans, and OSEA in Singapore. GEP is also keen to organize meetings at any time between its member contractors and SMEs and international oil companies, at which these operators can explain their technical objectives and R&D needs.
Copyright 1998 Oil & Gas Journal. All Rights Reserved.