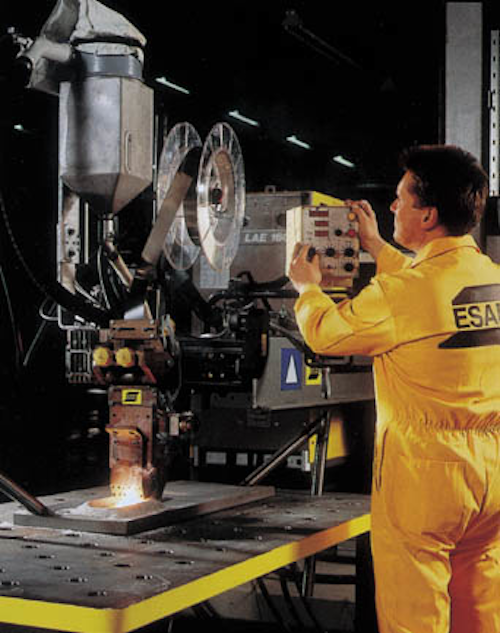 Electroslag strip cladding is being promoted for repairing corroded equipment and for improving the corrosion properties of new build applications.
With sophisticated materials being used increasingly in the fabrication of process equipment, it is very important that the weld material possesses mechanical and corrosion properties to match the material or alloy.
Stainless and nickel-based cladding are often an attractive alternative to conventional techniques. Esab has developed a method of cladding using these alloys, particularly for heavy-walled components.
According to group product manager Jørgen Strømberg, strip-cladding, using submerged arc welding (SAW) or electroslag welding (ESW), is excellent for large areas due to the high productivity and low dilution of the base materials. "Using strip cladding, you get the advantage of a pure layer which is long lasting," says Strømberg."
Strips are available in many stainless and nickel-based alloys - generally with a width of 60-90 mm and a thickness of 0.5 mm - and are used with special agglomerated fluxes. In the case of SAW, the first layer on carbon steel must be "over-alloyed" in order to avoid brittle, diluted weld metal. Two layers of the required type of cladding are then usually overlaid. Due to the low dilution with ESW, it is also possible to weld directly with the required type - such as 316L or 347 - on to carbon steel.
"We are promoting strip cladding for use in newbuild constructions," says Strømberg. "Using this technique, a cladding layer of highly alloyed material can be laid directly onto inferior metals to increase their resistance to corrosion."
Flux-cored wires
ESAB has also developed a unique flux-cored wire for welding super duplex stainless steels. The grade was initially developed for the Phillips Ekofisk 2/4 and 2/4J projects in response to a short lead time request for a product to weld pipes made from 25 chromium super duplex which were being used in the process plant due to high levels of corrosion. Since ESAB was already the main supplier for the project, the company used its duplex wire as a base to develop a super duplex version.
With welding of duplex steel becoming more common in the offshore industry, ESAB now has a range of welding consumables for duplex that provide improved productivity and reduced costs whilst still maintaining good mechanical and corrosion properties.
Product development of all-positional duplex cored wires has been carried out at the company's Utrecht plant since 1988. ESAB has been concentrating on the development of a flux cored wire, graded OK Tubrod 14.27, specifically for 22% chromium duplex and OK Tubrod 14.28 for 25% chromium super duplex.
In order to test the merits of various welding grades, Esab worked with Amec's yard at Wallsend in the UK. Over the last eight years, Amec has gained considerable experience in welding duplex steel using TIG, MMA and submerged arc welding. The graph shows an assessment of the relative deposition rates of the different techniques together with that of flux cored wire (FCW). These results were achieved following tests carried out in conjunction with Esab.
As a result of this study it was clear that, while sub-arc welding remains the dominant process for all downhand and rotated work, and TIG for thin wall and small diameter pipework, major improvements could be made by replacing MMA with FCW. In particular, FCW offered considerably reduced grinding/dressing time due to the rutile nature of the slag system and it also reduced deposited weld metal costs due to the significantly improved efficiency of the process.
Operability assessment also strongly favored the spray transfer, low-spatter, welder-friendly nature of the gas shielded FCW which, in combination with Amec's long track record of uses for low alloy structural applications was the final option selected.
Since the initial evaluation and introduction of Esab's OK Tubrod 14.27 flux cored wire, Amec has completed several major contracts using duplex pipework including Shell's Pelican, Anasuria, and Curlew projects, BP's ETAP and Phillips' Ekofisk and Judy projects. For these, pipe sizes in the range of 6-in. to 24-in. nominal OD, with corresponding thicknesses from 12mm to 60mm, have been welded using the FCW process.
According to Esab, the average defect rate on around 260 tons of pipework using its OK Tubrod 14.27 grade was 0.044% compared to all other pipework averaging 0.59%. More generally, use of the flux cored wire grade has made a major effect on Amec's welding productivity.
For further information contact Jørgen Strømberg, Esab: telephone +46 31 50 9227, fax +46 31 50 9170 or emailjorgen.stromberg@esab.se
Copyright 1998 Oil & Gas Journal. All Rights Reserved.