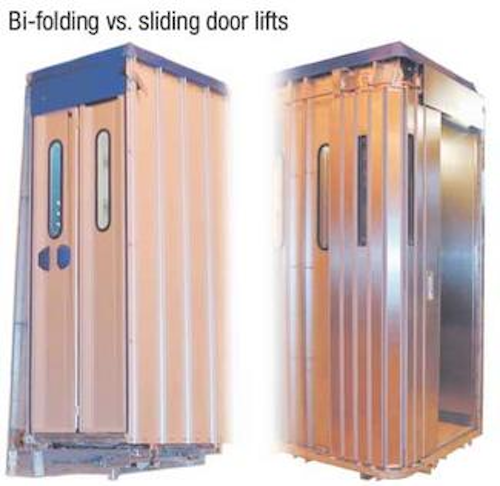 Alimak customized two modular elevators to fit in very confined spaces while satisfying the lifting demands for GlobalSantaFe's newbuild semi Rig 184. The lifts are scheduled for delivery by the end of this year. Alimak will also provide the elevators for GSF's Rig 185 under a recently confirmed order.
As Rig 184 features watertight doors in each column, space is limited, forcing placement of both the landing and car doors in the shaft. This posed a design question, according to Steve Williams, Alimak's offshore segment manager.
"If we can't swing the doors, we thought, how are we going to do it? So we came up with a rather novel solution."
The answer lay in using a sideways sliding door that wraps around the inside corner of the shaft. The lifts will each handle five people or a limit of 1,000 kg.
Flood safety was another design parameter. The elevators are therefore equipped with flood detectors at the base of the shafts. If water is detected in one of the shafts, signals alert the rig's control facility, triggering visual and audio alerts. In that case, the elevators are prevented from descending and will automatically drive up to the top landing level.
Extending operating life
Elevators also have to stand up to the rigors of offshore life. Williams said Alimak's earliest lifts installed offshore in the early 1970s were initially expected to last 10 to 15 years.
null
"We're only now starting to take out and replace the original equipment," he said.
Heave, pitch, and roll also influence lift designs. The car, guide roller mechanism, and the mast are all strengthened to deal with these conditions. During the design process, Alimak also carries out complex wind shear calculations to simulate the effect of wind speed when the elevators are in an exposed situation.
Alimak's elevators, which are based on the rack and pinion principle, place the drive motors, brakes, and gears on top of the car. The motor drives a pinion, which engages a toothed rack of precision-cut steel bolted to the lift mast, and the pinion moves up or down the rack at a controlled speed.
Williams said the company, which delivers between 500 and 600 lifts a year, has designed standard solutions that can be modified according to the lifting environment. For the offshore market, Alimak is finalizing the integration of the Alimak SE range of units, which offer cost savings through standardization.
Since last year, the company has been working toward a more modular approach to lift designs. The modular approach would be designed around European standards for lifting to ensure that an elevator initially in use in one location will comply with regulations in another region when on the move.
For more information, contact Steve Williams, Alimak. Tel: +46 910 870 00, fax: +46 910 566 90, email: steve.williams@alimak.se, website: www.alimak.se.