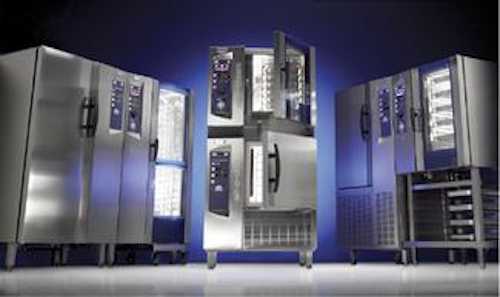 Electrolux Marine has integrated its defro-sting, cooking, chilling, and storage systems in the air-o-system, which was introduced early this year.
Kristian Vidfar, marketing manager, said the new modular system preserves food quality while decreasing the chance for bacteria to grow on food before it is consumed or stored. The complete system includes a combi oven (combination of convection and steam), blast chiller and thawing cabinet.
Electrolux Marine specializes in the design of galleys and laundries for vessels and offshore living quarters.
Fast thaw
The air-o-defrost system is a thawing cabinet that combines low temperature steam and high airflow in the thawing process to maintain the nutritional content, flavor, and original texture of fresh produce. The air-o-defrost also keeps weight loss to 4-5% while reducing thawing times by up to 90% compared to conventional thawing methods, the company claims.
Laboratory experiments have shown that while 30 kg of minced meat will take around 36 hours to thaw in a traditional cold room, air-o-defrost can thaw the meat in just six hours. The unit is also equipped with refrigeration/holding functions for retaining the original freshness after thawing.
Other system components
Combi ovens allow cooking through convection, steam, and a mixed cycle. The mixed cycle works for most kinds of cooking and reduces cooking times and food shrinkage.
null
"The combi oven is probably the most versatile appliance you can have in a kitchen," Vidfar said.
The convection cycle is intended for meats that can be cooked without humidity and for cooking au gratin, and in the half-power function, for pastry cooking.
The steam cycle substitutes traditional boiling and can be used for most foods that can be cooked in water. Steam cooking reduces weight losses in the food. The air-o-steam ovens can be programmed to control either the cooking time or the product core's temperature.
The air-o-chill system quickly brings down the temperature of cooked food from +90° C to +3° C to prevent bacterial growth. The system can provide soft chilling to air temperatures of -2° C, hard chilling to air temperature of -20° C, shock freezing to air temperature of -35° C, and holding at +3° C or -18° C.
Air-o-clima controls and displays the humidity level of the oven atmosphere in hot air, mixed, and regeneration cycles. It acts on the humidity level according to pre-set values. For instance, in hot air cycles, air-o-clima ensures that excess humidity generated from the food is expelled. This function results in reduced weight losses and less drying of the food.
Air-o-wind takes fresh air from the ceiling of the oven and preheats it, ensuring evenness of the cooking process, and the process results in reduced weight losses and less drying out of the food.
Air-o-clean is an automatic cleaning system with three pre-set cycles. It can work overnight with limited water and detergent consumption to save both time and energy.
For more information, contact Kristian Vidfar, Electrolux Marine. Tel: +46 322 740 00, fax: +46 322 63 77 47, kristian.vidfar@electrolux.se, www.electrolux-professional.com.