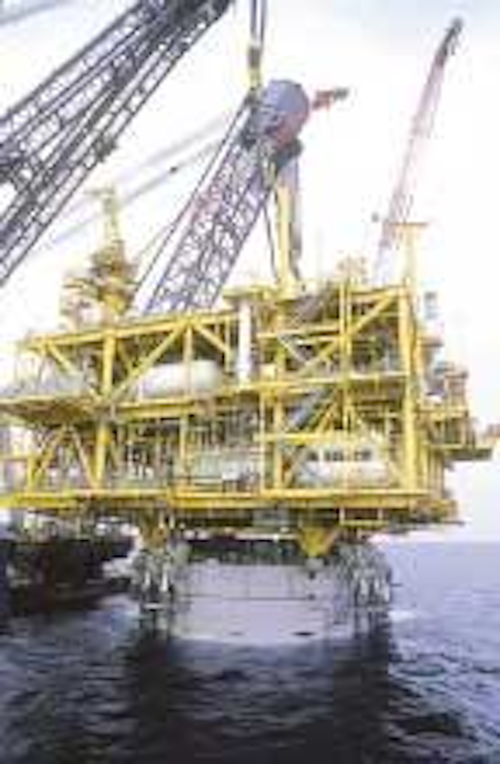 Jennifer Pallanich Hull • Houston
McDermott International Inc. subsidiary J. Ray McDermott has installed the 5,390-ton topsides on the Medusa Spar hull. The Medusa Spar hull is moored in more than 2,300 ft of water in the Gulf of Mexico in Mississippi Canyon block 582 about 100 mi south of New Orleans. The lift was completed by J. Ray's Derrick Barge 50 and the shear leg crane with a combined lift capacity of over 6,000 tons.
"I am proud of everyone involved with the dual lift of the Medusa topsides. Over the next several weeks, we will complete the commissioning of the Medusa Spar platform with turnover to the customer scheduled for mid-July 2003," said Bob Deason, J. Ray president and COO.
The project was J. Ray's first engineering, procurement, installation, and commissioning (EPIC) Spar project.
"We plan to use similar dual lift procedures for the Devils Tower and Front Runner topsides. The flawless execution of the Medusa lift validates our strategy for the marine installation portion for these two remaining EPIC Spar projects," Deason said.
null
In other news, Shell awarded two contracts to J. Ray for the installation of pipe-in-pipe subsea flowlines for the Habanero and the Llano projects, both of which will tie back to Shell's Auger TLP in 2,860 ft of water in the Gulf of Mexico. J. Ray's Derrick Barge 50 will perform the installations using the J-lay method. This type of work is typically valued at more than $35 million. J. Ray installed the export pipelines for Auger in 1993.
Work on the Habanero project will include the installation of two 10-in. x 6-in. pipe-in-pipe flowlines connecting two subsea wells in 2,000 ft of water to Auger. Work on Llano will include the installation of two 12-in. x 8-in. pipe-in-pipe flowlines connecting two subsea wells in 2,700 ft of water to Auger, and one intra-field 12-in. x 8-in. pipe-in-pipe flowline between the two subsea wells. The 44 mi of flowlines and associated steel catenary risers for Habanero and Llano are scheduled for installation in the summer and the fall of 2003, respectively.
Vessels head to Mexican sector
Petroléos Mexicanos has awarded a series of drilling contracts for work in the Mexican sector of the Gulf of Mexico. Pride International picked up two renewals and work for four new rigs, and Diamond Offshore won work for three semisubmersibles.
Pride got six new contracts, valued at $220 million, for work in the Bay of Campeche. The deals include renewal contracts for one jackup rig and one platform rig currently operating off Mexico and new contracts on an incremental three jackup rigs and one platform rig that will mobilize from the US sector of the Gulf of Mexico.
Renewal contracts went to the Pride Wisconsin, currently contracted through mid-December 2003, for 1,117 days through December 2006, and for Rig 1002, currently contracted until July 1, 2003, for 549 days through December 2004. Combined revenues from these two contracts will be $51 million.
New contracts were for the Pride Tennessee, a 300-ft, independent-leg cantilever jackup rig, for 1,086 days, and the Pride Alabama and Pride Colorado, both 200-ft, mat-supported cantilever jackups, for 1,461 days and 1,358 days, respectively. Additionally, Pride was awarded a new contract for Rig 1003, a 1,000-hp platform rig, for 730 days. Combined revenues from these four contracts will be $172 million. The rigs were to mobilize from the US Gulf of Mexico to the Bay of Campeche and begin operations in July. The new deal brings Pride's fleet in Mexico to 16, consisting of 12 jackups, three platform rigs, and one semisubmersible.
Diamond said its contracts, scheduled to begin in late July, are expected to generate total combined revenues of $272 million. The Ocean Worker, now completing work in the US sector of the Gulf, will be contracted for 1,462 days. The Ocean Ambassador, idle in the US Gulf, was awarded a contract for 1,601 days. The Ocean Whittington, idle off Ghana, received a contract for 1,167 days.
null
Appraisal well confirms K2
A subsalt appraisal well in the K2 discovery on Green Canyon block 562 gave field partners something to cheer.
"We're pleased to discover the potential field size of K2 could be larger than Anadarko's previous estimates," said Anadarko Petroleum Corp. Chairman, President, and CEO Robert J. Allison Jr. "The K2 No. 3 appraisal well was intended to confirm the northwestern edge of the field, but the field extends even deeper and farther beyond what we had predicted. In fact, the outermost limits of K2 are still unknown."
Later this summer, Anadarko plans to drill an exploration well on the northern adjacent block, Green Canyon block 518, in which the company holds a 100% working interest.
Operator Agip Petroleum spudded the K2 No. 3 well in February in about 3,900 ft of water. The well reached a total depth of more than 27,000 ft and encountered a total of 208 ft of oil pay in two sands with no oil-water contact. The findings confirm the prior estimated gross reserves of about 100 MMboe, and the lack of an oil-water contact suggests additional reserve potential. The well extended the limit of the proven oil column down dip an additional 800 ft on the K2 structure.
The K2 partner companies expect to make a decision on development plans as early as this summer. They are considering options including a separate structure or a tie-back to the nearby Marco Polo facility, which will be installed late this year and operated by Anadarko. First production from K2 could be late 2004 or early 2005.
K2 partners are Agip with 18.2%, Anadarko 52.5%, ConocoPhillips Co. 16.8%, and Unocal 12.5%.
In the last few months, Anadarko has also reported its first discovery in the Jubilee prospect at Atwater Valley block 349 and a dry hole at its Hawkeye prospect in Lloyd Ridge block 360. The company is drilling the Atlas prospect at Lloyd Ridge block 50. Atlas is 18 mi from Jubilee in more than 8,000 ft of water.
"The Eastern Gulf of Mexico is some of the most prospective acreage currently available in the US," Allison said. "But it is still wildcat exploration."