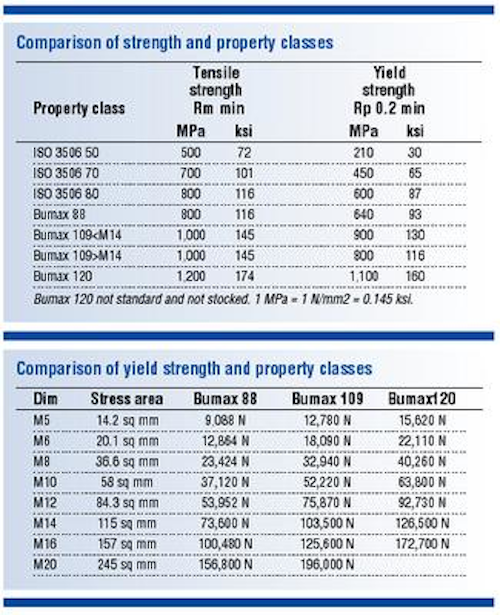 As the offshore industry continues its quest for stronger materials, Bulten Stainless remains ready to respond. The fastener company, which has produced high-strength stainless steel fasteners Bumax 88 – equivalent to Class 8.8 – and Bumax 109 – equivalent to Class 10.9 – for years, has been at the drawing board, working on its Bumax 120 fastener, said Arne Andersén, technical manager. Bulten Stainless, instrumental in making 8.8 and 10.9 stainless steel bolts as ISO standards, intends to do the same for 6 Mo stainless steel fasteners, he said.
The company, which has numerous clients producing offshore and marine equipment, formerly specialized in stainless products but altered its focus in the 1970s to create stronger fasteners than those manufactured by its competitors. The company has focused on stronger fasteners that are more corrosion-resistant, and the offshore industry prompted the search for 6 Mo as a standard. If 6 Mo is standardized, Andersén said, Bulten will be ready with the Bumax 120. But the company recognizes it can take a while for the standards bodies to adopt a new grade.
"People are very conservative when it comes to fasteners," Andersén said.
The Bumax 120 will have a minimum tensile strength of 1,200 N/mm2, a minimum yield strength of 1,100 N/mm2, and a minimum elongation of 0.2xd. The Bumax 120 will be made from 6 Mo, which is more resistant to corrosion than 316L/EN 1.4436. Because 6 Mo is not a part of the Bumax family, Andersén said, the company will provide it on special request.
"The fastener has to be the most resistant part to give you a good join. The smallest part in such a connection should be the most resistant in order to avoid galvanic corrosion."
The company's Bumax 88 and Bumax 109 fasteners in the Bumax line are composed of a low-carbon version of the EN1.4436 stainless steel, but the Bumax 109 is more cold-worked, so it is stronger than the Bumax 88. He said the company's standard range of stainless steel fasteners – Bumax 88 and Bumax 109 – are much stronger than ISO-standard fasteners.
"The weakest Bumax is stronger than the strongest ISO-standardized," Andersén said.
Bulten produced the Bumax 88 and Bumax 109 to meet demands for high-strength, acid-proof products with hex head, socket head, or Torx grip. Other members of the Bumax family are Bumax Hard Taptite and Bumax Hard self-tapping screws, both made from the hard treated low-carbon version of 316L/EN1.4436 stainless steel. Bumax Hard Taptite is for use in steel and stainless steel material with a maximum hardness of 200 HV.
For more information, contact Arne Andersén, Bulten Stainless. Tel: +46 585 521 08, fax: +46 585 521 15, arne.andersen@bulten.com, www.bulten-stainless.se.