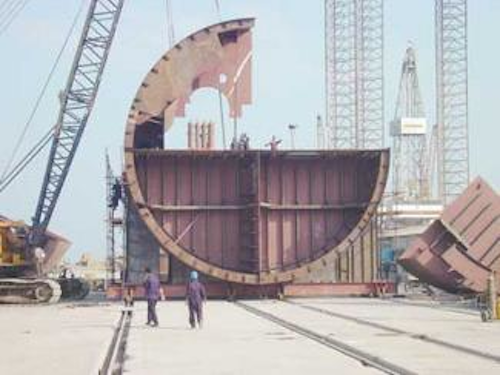 Access and maintenance lifts
Alimak specializes in rack and pinion-driven lifts for industrial locations and has more than 25 years' experience with offshore applications. The modular-built lifts are adaptable in size and capacity and do not need a machine room or lift shaft. The lifts, which are available in explosion-protected designs, provide safe and convenient access in hull columns, derricks, flare towers, and platform modules. Recent offshore references include the Kvitebjørn and Valhall developments in the North Sea, Rig P184 GlobalSantaFe, and the new Khazar and Mærsk-owned semisub-mersibles for the Caspian.
Stainless steel pipes
AST-Storfors belongs to the AvestaPolarit Stainless Tube group, a large pipe and tube producer in Europe. The oil and gas business – heavy wall pipe – has been devolved at Storfors. The company has the flexibility to offer customized pipe solutions. As an integrated part of the AvestaPolarit Group, AST can supply a unique range of stainless steel products in addition to pipes.
Water purification
BenRad Marine Technology, a sister company to Wallenius Lines, specializes in water treatment for the marine and offshore industries. The company provides advanced oxidation technology to treat water contaminated by micro-organisms. Its compact titanium purifiers can remove harmful chemicals and micro-organisms from technical water systems, condensation water, and drinking water supplies. The treatment reduces use of chemicals significantly and also increases the amount of water that can be recycled onboard. A ballast water treatment system is currently under development.
Clean air for turbo-machinery
Reliability of gas turbines, compressors, and engines depends on clean filtered air to perform efficiently. With 25 years of experience in supplying air intake and acoustic systems for turbo-machinery, Camfil Farr offers complete systems for all types of environments. The company's products include a complete range of barrier and filter systems for offshore, marine, and land-based installations; Pulsejet filters for desert and heavy dust-load installations; and acoustic systems, including inlet and exhaust silencers, and acoustic enclosures with vent systems.
Actuators, acoustics, brakes, and process vessels
DalaOffshore is a group of Swedish companies that provide a range of equipment and services to the offshore sector. Depending on the size of the project, members work as independent suppliers or in partnership. Remote Control Sweden makes and markets advanced actuators with accessories for standard and special valves. Dellner Brakes designs, makes, and markets hydraulic disc brakes for emergency shutdown, stopping, and holding brake applications. Hedemora Industriakustik specializes in acoustic insulation for diesel and gas turbine engines, ventilation, and steam management. Allards designs and fabricates heat exchangers, associated pressure vessels, and skid-mounted packages. Siljan Stainless designs and produces a wide range of stainless steel products such as tanks, piping systems, and process vessels.
Heavy forming and fabrication
Deform is a fabricator of industrial products, pressure vessel heads, cones, and tubes in most common steel grades, as well as special products made from quenched and tempered steels. These include formed heavy plate details in Weldox and Hardox and armor steels.
Drinking water treatment
E.C.T. Offshore Service offers comprehensive services for the treatment of drinking water offshore. Its systems have operated on over 250 rigs and platforms, many of which have annual service contracts with E.C.T. Due to the company's close cooperation with the Norwegian government, it can ensure that the installations fulfill their requirement for this service. E.C.T. also runs courses titled "Drinking water treatment for offshore personnel."
Galley and laundry appliances
For the last three decades, Electrolux Marine has been supplying food service and laundry equipment to the offshore sector. Galleys and laundry onboard platforms, rigs, and supply vessels need to be equip-ped with the most sturdy and heavy-duty equipment available. Electrolux is continually updating and refining its product range, and also focuses on hy-giene, economics, safety, and after-sales service.
On/offline turbine cleaning
Gas Turbine Efficiency develops, makes, and markets systems for gas turbine cleaning with high efficiency, while minimizing impact on the environment through keeping CO2 and NOx levels as low as possible. The GTE concept provides a high degree of atomization of heated water or detergent through specially designed nozzles, operating at pressures of 50-80 bar. The benefits compared to lower pressure systems are improved wash efficiency, optimized use of water/detergent and use of the same nozzles for both on- and offline washes. The company's latest system is designed to minimize the need for revenue-losing, unscheduled shutdowns, i.e., necessitating an offline wash. The new system allows the turbine to be washed at part or base load without putting the operation at risk.
Mooring, vessel, riser analysis
Glisco Optekon's concept is to enhance profit by means of cost effective design. By using the Optecon Cost Effective Design software, it is possible to optimize profit (benefit-cost) of the riser-floater-mooring system for floating production systems. Thus it is possible to design a fatigue optimized floating system with steel catenary risers in deepwater.
Deepwater semisubmersibles
null
GVA Consultants is one of the world's leading designers of semisubmersible platforms. GVA-C has designed more than half of the purpose-built floating production units around the world, in addition to a large number of drilling and accommodation units. Currently, the company is engaged in four newbuilding projects: Thunder Horse and Atlantis for BP, Kristin for Statoil, and Khazar for NIOC.
Winch performance
Hägglunds has been working with manufacturers and operators of winches to optimize applications for 40 years. Typical features of the company's winch drives are: high power (up to 1.2 mw); accurate, constant tension at low and even zero speed with very high mechanical and starting efficiency; no stick-slip effects; strong low-speed performance; and low inertia, providing highly responsive controls.
Hot isostatic processing
Metso Powdermet has won several major contracts from the offshore industry in recent years. Hot Isostatic Processed PM Near Net Shape products are supplied from the world's largest HIPing facility, in Surahammar, Sweden. Main applications are pressure vessel items such as manifolds for topside and subsea installations, valve bodies, swivels, wye-pieces, and large wall thickness fittings. Material grades used are primarily high strength stainless steel: ferritic 12%Cr, 6Mo austenitic, and 22-25%Cr duplex ferritic/ austenitic grades with high corrosion resistance. Products are made in sizes up to 15 tons, 1.2 m outside diameter, and 2.8 m long.
High density concrete/ballast
Minelco uses the unique properties of magnetite to produce MagnaDense, a high grade, natural aggregate with high density. MagnaDense is used as loose ballast or aggregate to produce high density concrete. Due to its high specific gravity, the product is suited to ballasting of concrete constructions such as rigs and caissons. Concrete produced using this material also brings advantages for pipecoatings and other subsea constructions. Other applications include coastal protection, radiation shielding, and counterweights.
Living quarters
Pharmadule Emtunga is a leading supplier of offshore accommodation. Between 2002-04, the company will deliver more than 10 offshore quarters modules to areas such as the North Sea, Caspian Sea, Gulf of Mexico, and the Far East. The company claims to fabricate to high quality standards and produces modules with light weight, on schedule, while meeting all applicable classification require-ments. Its health, safety, and environment record includes no lost time incidents.
Airborne sea/spill surveillance
Swedish Space Corp. has developed a new generation of its airborne surveillance system. The MSS 6000 could be a useful tool for offshore operators as well as for traditional Coast Guard users. In this new system, not only radar and infra-red images, but also AIS and satellite transponder data are integrated into the electronic situation awareness map to give a detailed and up to date overview of conditions on the sea surface. This overview is transmitted via a data link to the ship or shore to provide real-time management information.
Diesel engines
The marine commercial range from Volvo Penta has grown substantially in recent years, with engines both for propulsion and marine generating sets from 70-1,700 kw, including Zone 2 versions. This is one of the widest selections available to the offshore sector. The company's service network is also growing and covers virtually all parts of the world.
Spill-free handling
Todo has manufactured and supplied couplings and valves for the oil and chemical industries for over 30 years. The company's most notable product is the Todo-Matic Dry Break coupling, designed for spill-free connection and disconnection where aggressive and environmentally dangerous liquids are transferred. Todo-Matic is used extensively by contractors in the North Sea, the Far East, and Australasia. Typical media transferred by Todo-Matic are anti-corrosion liquids, glycol, diesel, methanol, helicopter fuel, and drinking water. The system is most frequently used by supply vessels delivering liquids to platforms in 4- and 6-in. sizes, while smaller sizes are used to deliver chemicals from smaller containers.