Report sees drilling rig contracts increasing
A recent analysis of the global offshore rig market sees some positive signs, especially compared to last year.
Nov 9th, 2016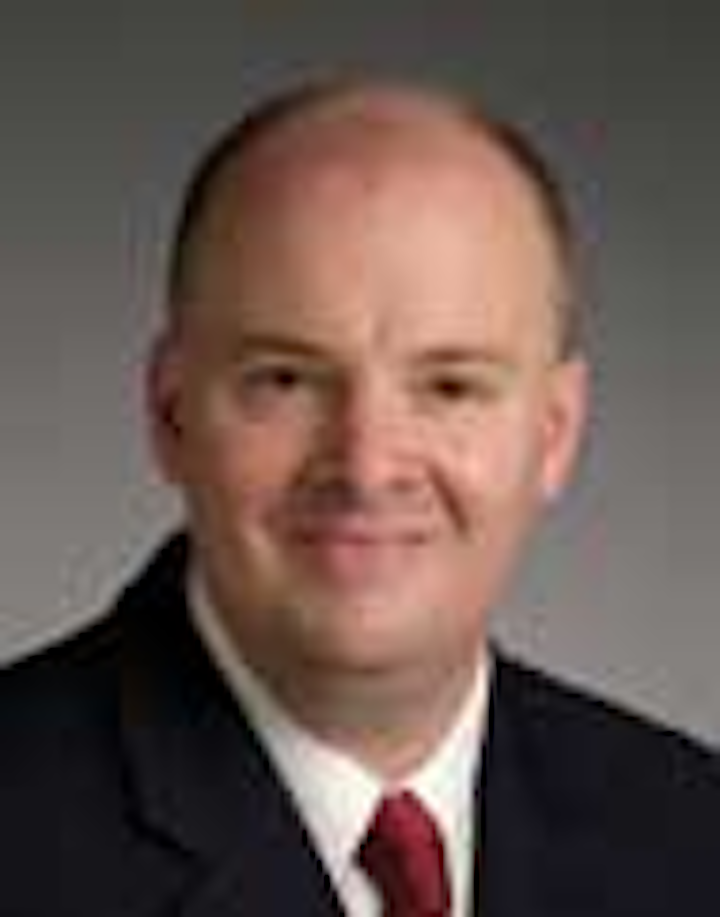 | | | |
| --- | --- | --- |
| | | Bruce Beaubouef • Houston |
A recent analysis of the global offshore rig market sees some positive signs, especially compared to last year. But the latest "Global Offshore Rig Market Snapshot," issued by Evercore ISI, notes that seven contracts (all new mutuals) had been announced in the first half of October, slightly below pace of eight at this point in September.
Contracting accelerated slightly in the back half of last month as a total of 19 contracts were signed, above 17 a year ago but below the September totals of 29 in 2014 and 40 in 2013.
A total of 15 jackup contracts were signed last month, but only two were for terms of a year or more (ENSCO 84 and Egyptian Drilling's Senusret to Saudi Aramco). All four floater contracts were short-term, averaging only 40 days.
So far in October, three floater contracts have been signed averaging 246 days versus four jackup contracts averaging only 52 days.
Utilization continues to trend lower for rigs rolling off contract and early contract terminations; three floaters and two jackups received early contract terminations, Evercore reported. Overall, the contracted global floater fleet fell by three units or 2% to 150 while the contracted jackup fleet fell by two units or 70 basis points (bps) to 295. Average day rates edged up 90 bps for floaters to around $414,000/d but fell 3.7% for jackups to $126,000/d.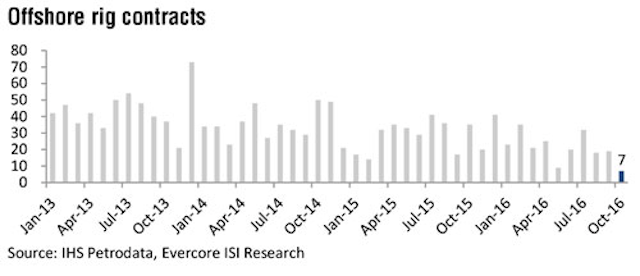 In its previous report, Evercore said thatENSCO 8506 and Ocean Rig Mylos would be cold stacked. Ensco announced in its Oct. 14 fleet status report the DS-3 will also be preservation stacked. Officially over the past 30 days, the industry cold stacked one floater (Ocean Rig Mylos) and two jackups (Hercules 350, Transocean Honor), and the analyst expects that figure to increase as 25 floaters and 25 jackups are rolling off contract by the end of this year.
Contract coverage for 2017 slipped by 90 bps to 34% for the global floater fleet but improved by 30 bps to 29% for the global jackup fleet. This compares unfavorably with the forward year coverage of 48% for floaters and 34% for jackups from this time last year, despite the industry retiring 23 floaters and 14 jackups in the last 12 months.
Floater coverage was unchanged or declined for all companies in our universe due to early contract terminations, but jackup coverage improved slightly for Noble, Ensco, and Rowan, and Paragon Offshore.
Overall, the forward one-year coverage improved relative to a year ago for Diamond's floater and jackup fleet, as well as Seadrill's and Vantage's jackup fleets.
Operators reducing IRM work
A recent update by Douglas-Westwood (DW) finds that some upstream operators are curtailing inspection, repair, and maintenance (IRM) requirements in the current sustained low oil price environment.
In the past two years, upstream E&P operators have scurried to re-evaluate their operational business as usual practices. As they aspire to come out of this downturn stronger, they have implemented immediate cost-cutting steps, such as the downsizing of the workforce and the elimination of redundancies, as well as longer-term savings measures, such as the rebalancing of portfolios.
While complying with legislative standards, DW points out an apparent trend that has surfaced is the postponement of non-critical work which otherwise would have been sanctioned in a $100/bbl oil period. For some upstream operators, associated IRM requirements have retracted by some 20-30%, relative to pre-downturn levels.
While efforts to reduce bottom line figures have paid off and continue to be in play, the analyst says E&P operators must acknowledge the inevitable threshold levels of maintenance, modifications, and operations (MMO) and IRM spending that are required in the prevention of lost-time incidents.
According to author Michelle Gomez of DW Singapore, "It is inevitable that a current 'fix on failure' attitude is not sustainable and operators need to re-assess the long-term sustainability of their approach given ever growing cost accruals."
Gomez added: "As the recent World Offshore Maintenance, Modification & Operations Market Forecast 2017-2021 shows, perhaps the only positive spin on the current trough for the wider industry is a foreseeable wave of upstream MMO and IRM contracts that are due to be awarded in the coming years given existing backlogs that can no longer be postponed."
SHI, ABS develop new TLP hull concept
ABS and Samsung Heavy Industries (SHI) of South Korea have concluded a joint development project for a new tension leg platform (TLP) design.
The new TLP hull concept, the Samsung Enhanced hull for Tendon (SET) TLP, was developed using boundary conditions such as those encountered offshore West Africa. One of the objectives in the project was to decrease the number of tendons needed for the TLP. The resulting hull configuration requires fewer tendons for stability.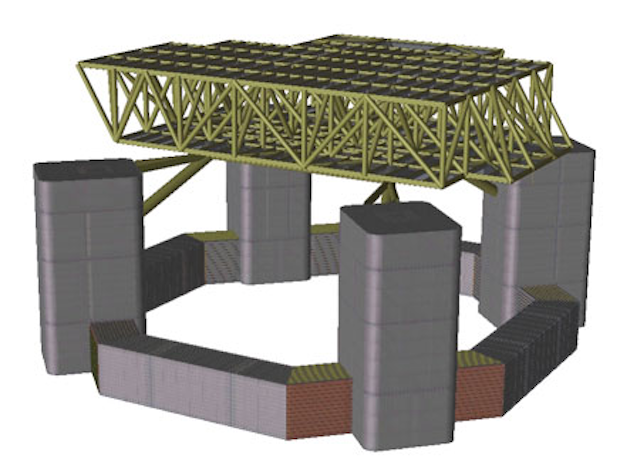 The new TLP hull concept, the Samsung Enhanced hull for Tendon (SET) TLP. (Courtesy ABS)
Concept development is nearly complete. ABS performed design review and verification from start to finish of the project.
Jong H. Youn, vice president of SHI Co. Ltd., said: "We are very satisfied with this development because the design focuses on the issues that are critical under current market circumstances."
Youn added that "we strongly believe that this innovative TLP hull concept can achieve exceptional economic benefit while maintaining the same safety level and technical functionality."