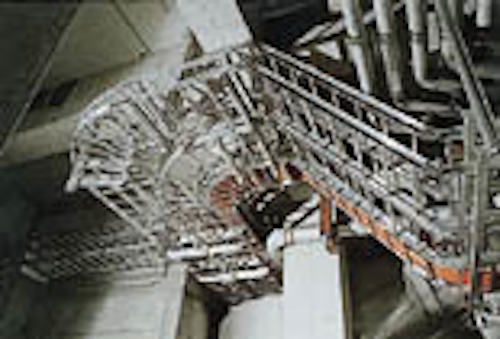 An example of a cable ladder installation from Nordic Aluminium's established range.
Aluminium cable ladder systems are now available for offshore installations in longer structural spans, even where bulky cable loads are involved. SYSTEMAL is the title for this new range produced by Nordic Aluminium, formerly Nokia Aluminium.
The company's name change came about late last year after the Nokia group decided to sell its aluminium operations. The new management team has secured funding from Morgan Stanley Capital Partners and Finland's CapMan Capital Management. Their aim is to raise the long-term value of the business, which achieved net sales of FIM280 million in its first operating year.
Aluminium offers several advantages for cable ladders offshore. They are lightweight (only one third the weight of a corresponding steel ladder) and strong, with good corrosion resistance, even in humid environments. Nordic Aluminium's alloys are also classified as seawater-resistant.
Being lightweight, the ladders are easy to install without the need for complex supports. Accompanying aluminium accessories are easy to work and assemble. Aluminium is also non-combustible, non-sparking, fire-retardant, maintenance-free and ultimately recyclable.
SYSTEMAL, the new range, is based on advanced extrusions technology which makes it suitable for wider and longer spans with large cable weights. Because of the longer span, fewer fittings and parts are required, which in turn speeds up installation and cuts costs. Three SYSTEMAL ladder series are available with different loading capacity.
The lightweight cable ladders can be easily cut on site, if necessary, with the cut ends remaining corrosion-resistant. Mounted cable ladder systems can also be extended evenly or modified at a later date. Associated couplings and fittings are made of aluminium or other rust-proof materials which present no risk of galvanic corrosion in the aluminium.
The new range's dimensions and design conform to the new Euronorm provisions. Ladders are also tested according to the Genelec norm, based on the European standard. The SYSTEMAL ladder provides free air circulation in thermal group 63, allowing a temperature range from -50 to +90deg C. Coefficient of thermal expansion is 23x10 minus 6/degC, corresponding to approximately 1mm/1 metre with a temperature change of 40degC.
Copyright 1997 Oil & Gas Journal. All Rights Reserved.