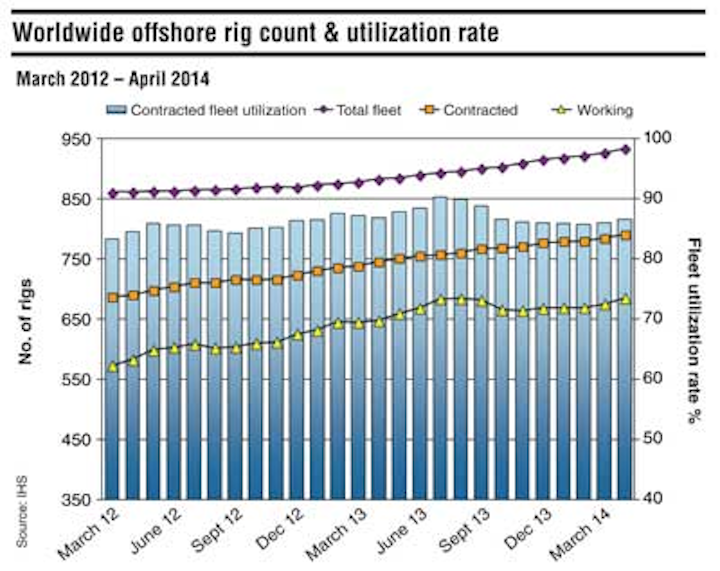 This month, Infield Systems examines the dramatic change in market share of capex by water depth in theGulf of Mexico over the last five years. Capex by water depth of more than 1,499 m (4,917 ft) has changed from 32% in 2009 to 58% in 2014. This is expected to increase to 64% in 2018. Capex in deepwater (500-1,499 m) has decreased from 41% in 2009 to 29% in 2014 and is expected to further decrease to 24% by 2018. This does not tell the whole tale with capex in the 1,000-1,499 m bracket remaining steady at a forecast period average of 19% while capex between 500-999 m decreases to 3%. Shallow water (0-499 m) is expected to stabilize over the forecast after falling from 22% in 2009 to 8% in 2014, but it is expected to rise to 11% by 2018.
Essentially, the Gulf of Mexico area is comprised of two distinct basins. Shallow water (less than 500 m) development in places such as East and West Cameron and Vermillion has been going on for decades. Future development is expected to mainly focus on small discoveries operating for a few years developed mainly from fixed platforms or subsea tiebacks. Deepwater capex is expected to be focussed on subsea tieback type developments.
In waters deeper than 1,499 m, the Gulf of Mexico is still a developing region. Over the period of analysis, 80 fields are expected to attract capex in ultra-deepwater Gulf of Mexico with 63 expected to see capex in the forecast period. This includes theStones FPSO, to be the deepest installed platform globally at a water depth of 2,896 m (9,499 ft) and only the second FPSO type development in the Gulf of Mexico. Floating platforms with large numbers of subsea tiebacks – the "hub and spoke" system, are expected to continue to remain popular as the Lower Tertiary of the Gulf of Mexico becomes increasingly developed.
− Kieran O'Brien, Energy Researcher, Infield Systems Ltd.