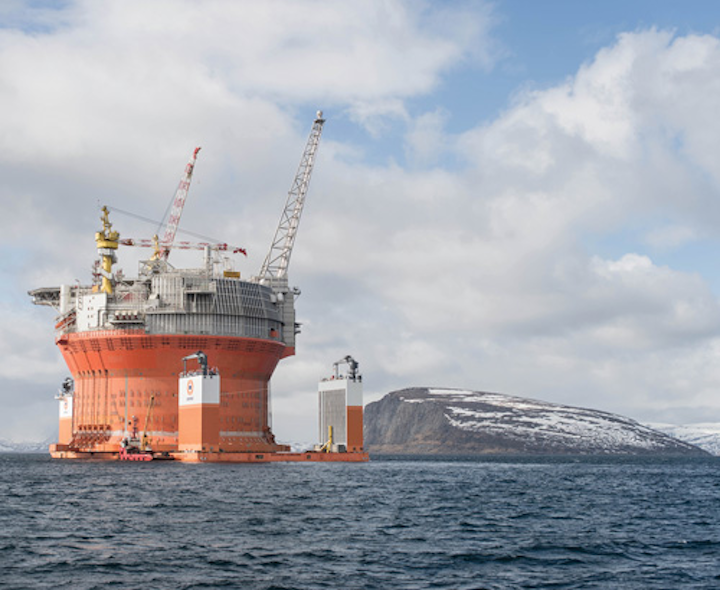 'Intelligent' approach can reduce engineering, commissioning costs
Håvard Devold
ABB
Oil and gas companies have been collecting huge amounts of data for many years. In 2014 BP spoke of petabytes of data becoming more common.1 And, the situation since then has only accelerated. This is not surprising, given that a single drilling rig, for example, can generate 1 terabyte of data per day.
Unfortunately, this data collection has typically happened via many independent pieces of equipment and systems – each with its own data and interfaces. This has made it difficult for people to take effective, timely decisions due to a lack of common visualization at a device, process, plant and enterprise level.
Managers have felt they are drowning in data but are unable to find the information they need when they need it. In fact, only one percent of information collected is being made available to key decision-makers and engineers are spending 70% of their time looking for and manipulating data.
But, when times were good, addressing such issues, while important, was not seen as an urgent priority. Companies would get to it "someday." That day has now arrived.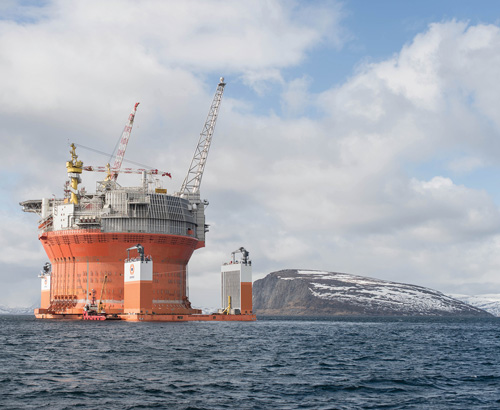 Digitalization has helped Eni Norge's Goliat FPSO come online with lower commissioning and engineering costs. (All images courtesy ABB)
Changing mindsets
This switch in mind-set over the last 18 months is partly driven by the growing realization that promise of a recovery in oil price is looking less and less likely. In fact, two years ago some Middle Eastern gas companies still went ahead with large recruitment drives thinking the price fall was a short-term blip. They are shedding many of those same jobs now that the "new normal" of low oil prices has become more established.
It is also becoming clearer that traditional approaches like layoffs and rig shutdowns are not delivering the scale of cost reductions required for the current margin squeeze. Increasingly, executives realize a new approach is needed and that digitalization – properly deployed – can deliver the results required. Working with early adopters of a widespread integrated digital approach to facilitate collaborative operations, ABB has proven, for example, that cost reductions of 30% are achievable, even more in subsea.
The new appetite for digital is evident in the growing number of conferences, seminars and journal articles devoted to the topic over the last two years. Additionally, the make-up of people actively exploring digital solutions is evolving. Previously, information technology (IT) specialists from the oil and gas majors had been the ones most interested in the topic. But, while IT managers are an important element in facilitating the digital dream, they are not the ones directly affected. Buy-in from the operational side of the business is key but, in good times, gaining sufficient engagement from there was often difficult.
Accompanying this groundswell of change are very pointed questions about digitalization which indicate a greater willingness than ever before to embrace such solutions:
• What is available to address my specific needs?
• What evidence is there that digital works?
• Here are the gaps we have; how can these be filled?
Previously questions about digitalization were more theoretical and conceptual. Now, more than ever, executives are interested in the practicalities of change.
Doing it right
With the proper will in place, the issue is how to effect proper change. The key thing to realize is that, while transformative performance is possible with digital, investing in technology is not enough. People and equipment need to work together more collaboratively and, for that, processes and habits need to change.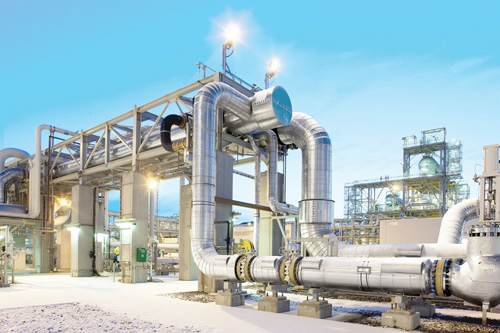 Ormen Lange's subsea wells and pipelines deliver gas to an onshore processing plant at Nyhamna, Norway, where it is dried and compressed.
Spending money on things which produce more data will do nothing to solve the information deluge that people currently experience; nor is this likely to transform performance to the scale required by today's challenging market conditions. Companies need to ensure their data is sufficiently interconnected such that people across the organization are working from the same set of information. Additionally, this consolidated ecosystem needs to extract and deliver actionable insights tailored for the needs of various stakeholder groups. This applies as equally for greenfield sites as for existing, brownfield operations.
Greenfield projects
Greenfield projects have been completed using the same methods for decades. Traditionally, projects involving controller-centric I/O solutions rely on the software and hardware tasks happening sequentially, with each stage dependant on the completion of the last. This is inflexible, with changes causing disruption, added expense and delays. In fact, 64% of today's projects face cost overruns, often to the tune of being 20 to 30% over budget. And, 73% report schedule delays, with as many as 30% of loops failing on commissioning due to errors in the engineering process.
Recognizing that the status quo needed changing, ABB has developed an approach called intelligent projects which harnesses the power of digital to streamline the engineering and infrastructural elements of a newbuild.
Intelligent engineering uses an integrated range digital technologies to remove software and hardware interdependencies and allows development efforts to proceed in parallel. This new way of working also makes it possible for project team members to share information more effectively thereby reducing scope for costly errors.
Under traditional approaches, the use of hard-wired analog instrumentation means signal types are fixed, increasing the risk of re-work or delay if the exact mix of I/O channels is incorrect. "Select I/O," by contrast, a single-channel, flexible I/O developed by ABB, allows each I/O channel to remain flexible and undeclared until a very late stage, often just before commissioning. This decouples I/O hardware engineering from software design allowing both to happen in parallel – lowering development costs and shortening the delivery schedule.
And, separating the I/O hardware from the process controllers minimizes the amount of rework through late changes in the project. It also allows for pre-tested, standardized cabinets that can be wired directly without the need for additional marshalling cabinets.
Cloud engineering further streamlines initial project execution by making standard designs, engineering workflows and support tools accessible to all project execution groups at all times for both application software and hardware. Engineers can perform a virtual factory-acceptance-test of the finished control system software, without ever leaving their desks. This allows control system hardware to be shipped to site much earlier.
Re-use and standardization avoids the additional cost and time required for technical clarifications, drawing approvals and factory acceptance testing associated with custom, one-of-a-kind project designs.
Automated data management converts project-specific data from a variety of sources into a common data format. It auto-generates application software and project documents, stores multiple revisions of design data, creates reports and handles all aspects of managing the integration of third-party sub-systems.
All of the above elements of ABB's intelligent engineering approach help eliminate many of the previously labor-intensive tasks thereby minimizing human error, and directly leading to lower costs and less time spent in functional testing.
While intelligent engineering simplifies and speeds up greenfield project execution, supporting these efforts with a similarly intelligent infrastructure delivers further benefits by way of an optimized equipment mix which reduces footprint size and complexity while maximizing operational performance. Intelligent infrastructure consists of a diverse range products and systems for electrical, automation and telecoms, such as CCTV, instrumentation, drives, power management and control systems. The intelligence of these devices refers to the fact that many have Ethernet IP interfaces and can easily join the industrial internet of things (IIOT).
However, it is worth noting that, traditionally, the infrastructure chosen by companies has been far from intelligent since people have not had wider integration issues top of mind. Instead, a narrow focus on optimizing their own small piece of the pie has led to a patchwork of disparate systems and interfaces with little chance of being effectively integrated to optimise overall performance.
Companies, however, who have embraced an intelligent projects approach to greenfield project development and have integrated their engineering and infrastructure more effectively have enjoyed 20 to 30% less capital and operating expenditures (capex and opex). They have also seen 25% quicker completion rates versus traditional approaches.
A case in point is the Eni Norge AS Goliat FPSO in the Barents Sea. ABB's intelligent projects approach delivered Goliat with 50% less commissioning and 30% less engineering costs. It also came online with less risk due to ABB's having single-source system accountability which meant there with fewer problems due to unexpected integration issues caused by disparate supplier technology. Additionally, the rationalized infrastructure reduced complexity and footprint. PDCS/PMS system size was cut 60% and system/FTC cabinets decreased 30%. And, given Goliat only has to oversee one system, it benefits from lower ongoing costs.
Another example is Statoil's Grane project in the North Sea where the project came to fruition with 20 to 30% fewer engineering hours, 10 to 20% reductions in equipment costs, half the change orders normally expected, and a four-to-six-month improvement in electrical scheduling.
Brownfield sites
With sites that are already operational, the focus is on optimizing processes by analyzing diverse data sets to gain enhanced operational insights which help operators reduce cost, increase productivity and ensure safety and security. Often, the answers already exist – companies just need to unlock the right information at the right time and send it to the right person so they can act on it effectively. To do this, companies need "Collaborative Operations," an approach which uses big data and data analytics to realize the potential of the IIOT. Ideally, it works from a solid bedrock provided by the intelligent projects approach described above and adds to it similarly intelligent services and applications. How does it work?
Oil and gas employees receive hundreds of alarms a day. The question is to prioritize responses such as those with the greatest risk of impacting production are handled first. After all, if an offshore rig shuts down it can cost some $1 million per hour of downtime.
In a Collaborative Operations approach, the integrated system of intelligent infrastructure, applications and services would alert all key people in real time about any priority alarms, i.e. ones with the potential to halt production if left untreated. In fact, it is also possible that the rig's maintenance teams, on-site or remotely, may have already been made aware, through predictive asset monitoring, of a related and potentially urgent maintenance issue. As such, a solution might already have been in the works. Either way, all key people would be informed with sufficient notice to take corrective action quickly enough to avoid downtime. Furthermore, the system would capture any relevant data to lessen the chances of recurrence.
In a less collaborative environment, considerably more time and money would have been lost if the customer had been distracted by too many non-priority alarms and non-urgent maintenance activities.
In fact, ABB has proven that Collaborative Operations can help operators reduce alarms by 50% and ensure these are prioritized so people can focus on the ones which matter.
An example of collaborative operations in use can be found at Norske Shell where Ormen Lange delivers 99% uptime each year – a feat the company recognizes as unusual for a facility as large and complex as this. To achieve such results, the data collected from the safety and automation systems is continuously analyzed by Shell and ABB to find new ways to increase productivity.
Together, they have also extended the operating life of Ormen Lange by an additional 20 years through the use intelligent services to develop an upgrade or replacement path for each item of hardware and software. The plan minimizes risk and expenditure while safeguarding Shell's existing high availability. Additionally, authorized ABB employees perform thousands of hours of work on Ormen Lange facilities from remote monitoring and operations rooms at ABB various locations in Norway. This remote access, facilitated by digitalization and trusted collaboration, allows ABB to implement changes safely, carry out health checks and troubleshoot as required, reducing the burden on Shell.
Conclusion
There is an increasing realization by senior oil and gas executives that, in today's challenging market environment, integrated digitalization is no longer optional. They need to explore how they can make better use of the digital technologies they already have to facilitate collaborative operations. And, they need to ensure that any new projects are delivered using new technologies to minimize cost, schedule and risk while also guaranteeing that the final output of each project can be seamlessly integrated into the company's wider digital ecosystem.
The author
Håvard Devold is Group Vice President, ABB AS and Chief Digital Officer for the oil, gas and chemical industries business unit. He is also Country Technology Manager for ABB Norway which is the main technology center for the company's oil and gas business, with a focus on emerging and disruptive new technologies. Devold has authored and continues to update the "Oil and Gas Production Handbook," and has published a large number of papers and holds several patents with ABB.
Endnotes
1. BP Magazine, "Big Data: The growing role of analytics," Issue 2, 2014.